Today, I'm sharing a bit more personal story from my move. Buying a couch… a simple thing that can't go wrong, you may think. Well, let me prove you wrong…
When I was searching for an apartment to rent, I was also thinking about what furniture to choose. I liked the simple foldable couch (that can also work as an improvised bed) my parents have at home. The thick mattress is comfortable to sit on even for a while, and to me, definitely more comfortable than any leather surface. While browsing the web back in early February, I found this piece: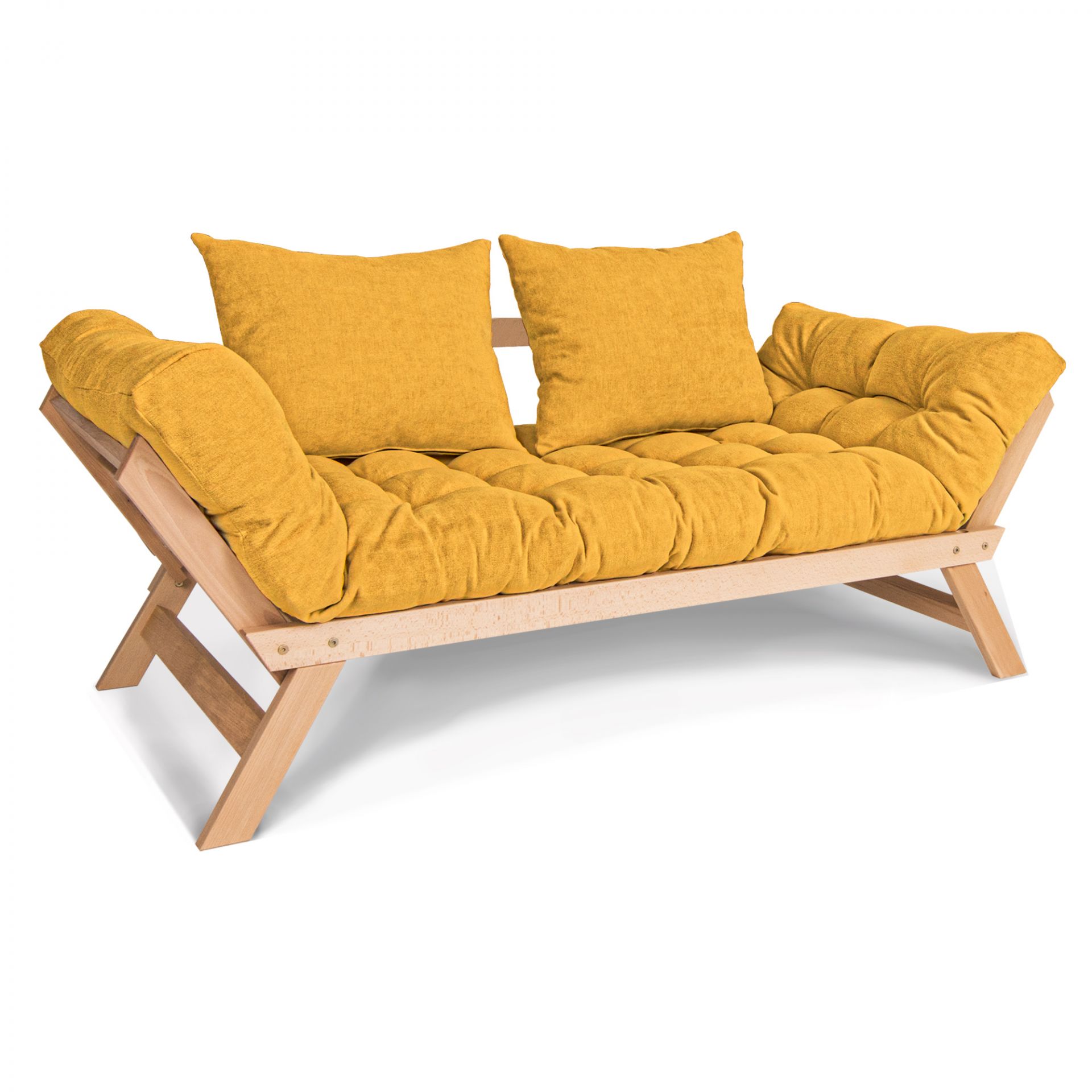 The shape seemed great for both sitting and half-lying positions for reading, especially when coupled with a lamp just above it. Perfect, right? So I bookmarked it to order it when my move would be near, to have it delivered right to my eventual new location.
Then, things happened. As this particular piece is manufactured by a Ukrainian company, I was afraid that the recent events would make purchasing it a bit… complicated. At the end of March, I contacted the seller in my country, asking if it was in stock and, if yes, what the expected delivery time is. I received a reply that their supplier still had some in stock, but the delivery time is expected to be 2-3 weeks. As this seemed to be the perfect timing for my needs, I placed the order within minutes.
After Easter, I expected a message or a call about the delivery but got… nothing. So I called the company. The woman on the phone apologized, saying that she maybe overlooked me among the rush of orders. I was told that their supplier will move them from Poland to their warehouse on 25th and the couch should be delivered either on 26th or 27th.
I allowed myself a feeling of relief. After all, I was already facing delays with my desk and cabinet and was afraid that I may struggle to even have everything in place by the end of my "vacation". Early on 27th, I got a call – a driver that he's on the way and should be in place within 15 minutes. When the driver arrived, he had two sacks in the trunk. A quick look revealed a major issue: he had two mattresses, but no planks!
After a short talk with the driver, he told me the best course of action is to not accept the delivery. He offered to call in the issue himself, realizing that someone else will be getting two sets of planks. I called the seller a short while after, for which I got an apology and assurance that the issue will be resolved fast.
However, the woman I've spoken with during all parts of this "story" was based in Prague while the couches were sent from Poland straight to me and the other person, with an exchange between a Polish and a Czech courier… somewhere. During that exchange, new labels were placed on the items by the Czech carrier for their own sorting – and someone had made a mistake. The woman, far away from the courier's warehouse, had no way to see the issue for herself, so all she could do was to call the courier and urge them to fix the situation. Which didn't seem to be happening.
On Friday, after we assembled the desk and the cabinet, I called the company again. She told me where the delivery was, and that the person was stuck sorting it out. As the warehouse was just 15km away, I offered a solution – to go there myself to pick the right parts. After a couple of calls between me, the seller, and someone from the courier, my idea was greenlighted. In haste, I and my father drove to the warehouse.
The only person in the warehouse – a guy using a forklift to load trucks – guided us to the packages. There, we found the two mattresses and two packages with planks. We took the mattress (in correct color) and one set of planks, and prepared to load it into our car…
…but it was too big! While we managed to squeeze the mattress into the trunk (with no space left at all), the planks were a bigger issue – too large to be put on the back row sideways, and even a bit too large to be put from the back to the front seat after reclining it. So we took a gamble, put it out of the cardboard, and tried again. It was… very tough fit.
After fiddling with the seatbelts to secure it at least a bit, we boarded the car and drove back. I had to hold the 20kg of planks at every turn of a 25-minute journey, which wasn't exactly easy. With my hands already tired from that, both packages were to be carried up to the 4th floor. The bag with the mattress was easier – I just chucked it on my back – but the planks were a bit worse even with my father's help. At least the assembly was quite short, as the couch was already partially pre-assembled into 6 pieces.
So, something as simple as buying a couch turned into quite a thriller (especially as I paid the full price up front when the order was approved). That said, it's quite comfortable both for seating and for reclined reading.
---
So, that's a short, personal intermezzo between my usual posts. Do you have any weird stories with shopping these days yourself? Feel free to share.