In today's post, I'll look back at two hikes that were almost a month apart, with the weekend trip described last week between them. As with the weekend trip, this offered a lot of mushroom photos.
10. 9. – Summer's damp farewell
I originally considered describing this hike in the mid-September post but that one was just a day after and I had yet to sort through the photos.
While past years had seen the mid-September quite warm, this year, things were back to cold and damp. Like in my teens, back before climate change screwed up the weather in central Europe. And this… statistically normal… weather felt strange. Anyway, the forecast wasn't too optimistic: cloudy with a high chance of rain showers.
The reality seemed a bit better – while it was cloudy, the clouds didn't seem to be too compact and thus any major rain seemed to be unlikely.
The early part was through fields for a major part. And it was there I could take the first mushroom photos.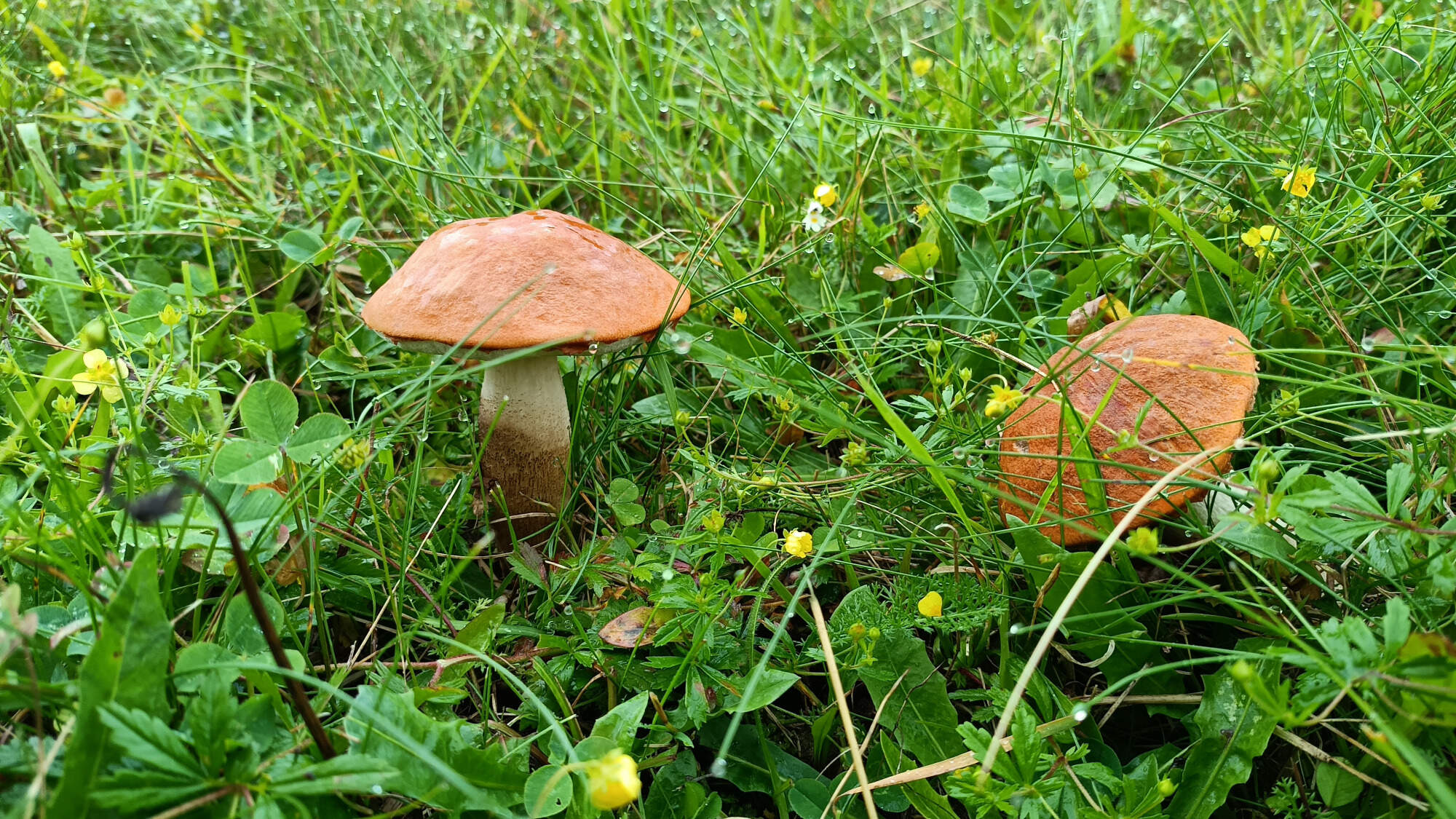 However, with still over 20km to go, neither of us was willing to pick them. We moved on, and on another field, found a knife in the grass, along with several cut mushroom parts. Strange, but given that a lot of old people go to gather mushrooms in the morning, losing it seemed a normal scenario. A short distance uphill, we found a full bag of gathered mushrooms. And, not far away, a bottle of vodka – unopened. At that point, we wondered what could've led to this and hoped that the person wasn't chased (or even mauled) by a bear that could still lurk nearby. Naturally, our pace picked up until we reached the chalet some 3km away. Standing on the upper part of a field, the chalet is a decent lookout point… if the weather cooperates.
From there on, it was down the grassy slope and then following a path that gently weaved up and down for a while, until we reached the foot of the main peak. It was during this ascent that we were hit by a light rain shower, though it passed by the time I reached the peak at a brisk pace, the others a bit behind. The peak itself provided a scenery that could fit a horror movie poster.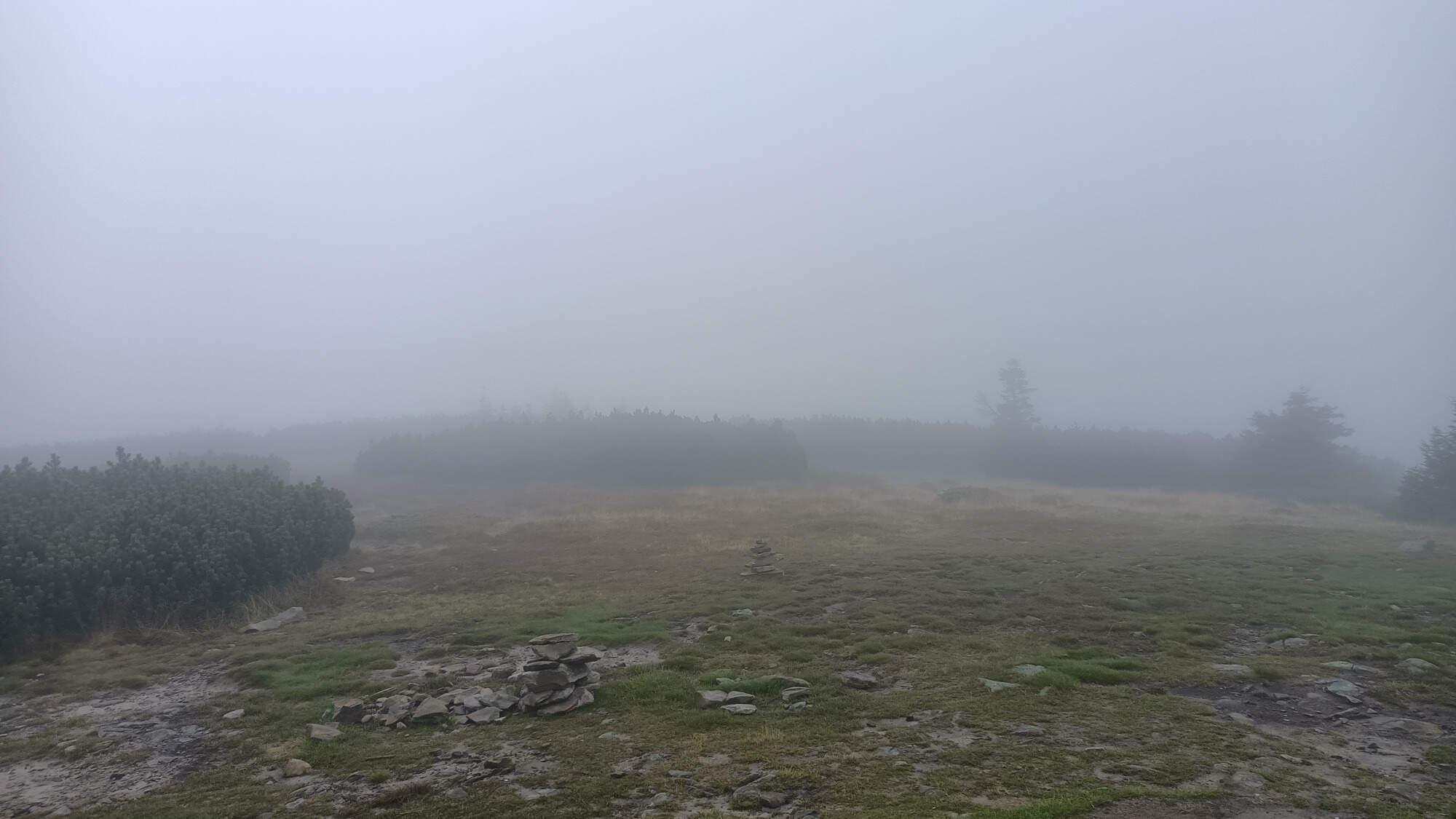 After a short break on the peak, we descended to the second chalet. Our stop there was short, and we continued towards our destination village. With the day progressing, the skies began to open up more, though the main peak remained shrouded in clouds. But it was more than enough to dry my jacket.
In the end, the afternoon remained a bit warmer for a while, and I had my last ice cream of this hiking season at the stand at the end of our trip.
8. 10. – No lookout from the lookout
The destination for the hiking trip was a new lookout tower. I've mentioned it in the post from early September – a replica of a tower that stood on one of the nearby mountains until the 70s. The forecast was quite similar to the abovementioned September hike.
I was hoping to replicate this picture from early November 2016 – this time without the snow and in an earlier stage of autumn…
…because I remembered the field where I took it, it was supposed to be easy. Well, here comes the weather again. Nailed it.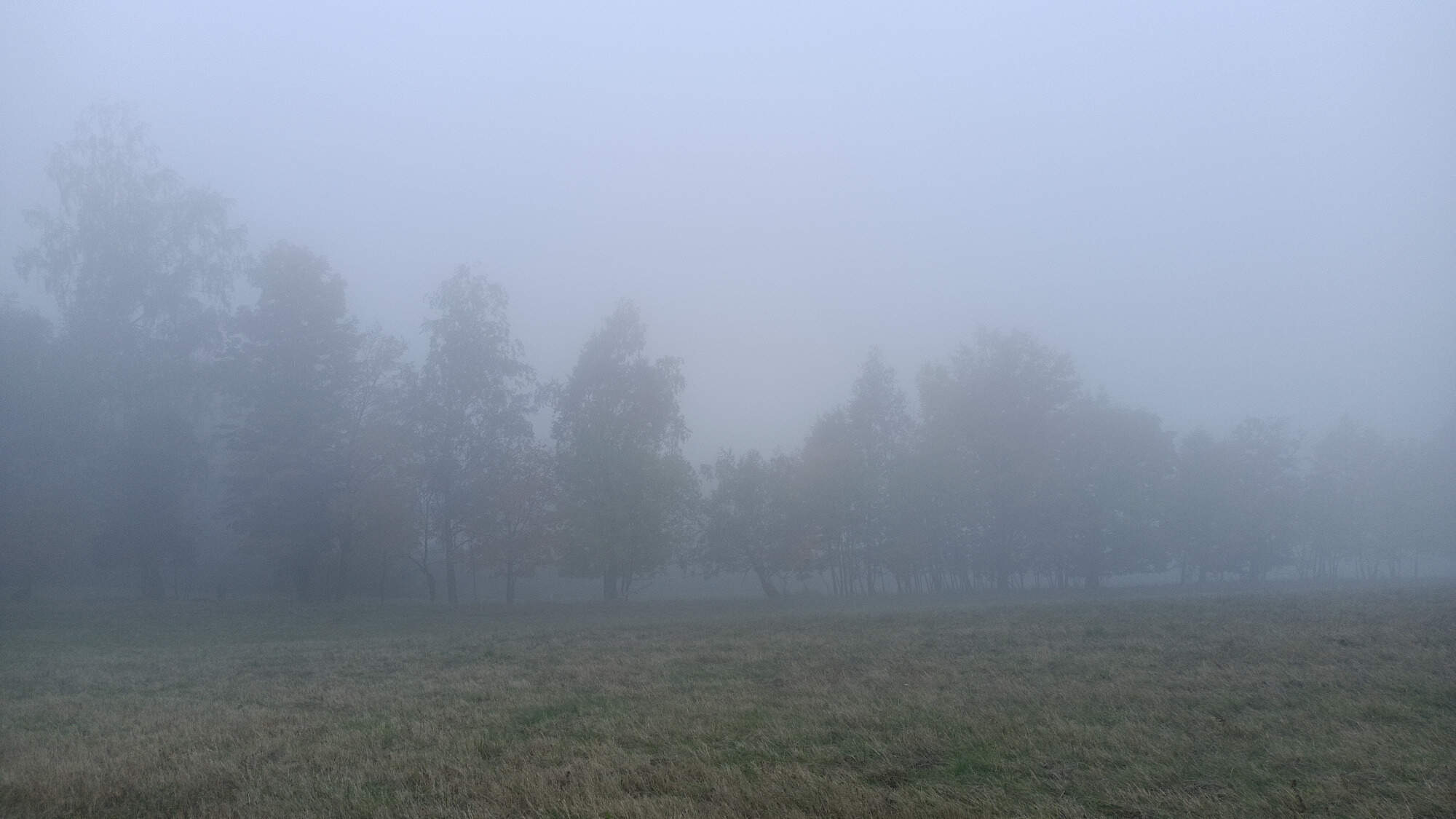 However, the mist wasn't too dense to prevent taking all sorts of mushroom photos. For many, late September and early October is the main season, whether edible or not.
However, I decided to take a couple more pictures showcasing the gloomy weather. Especially with the deciduous trees turning yellow.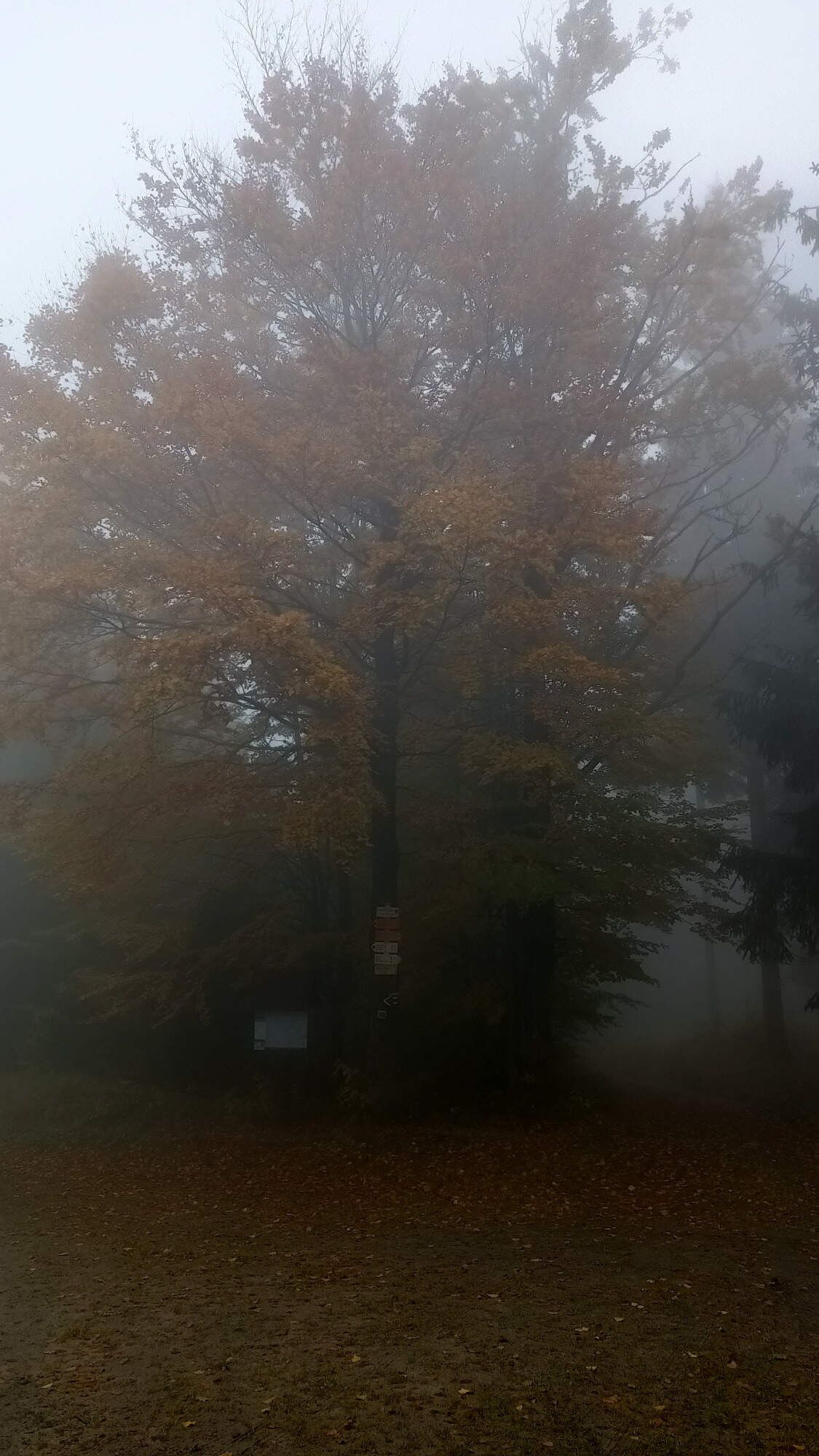 And, as with my previous post, photos proving that some fungi don't tend to give a damn where they grow.
Most of the hike was following a damp trail in a very autumn-like atmosphere at a relaxed pace, as my company for that hike was my sister and my uncle, both not used to regular hiking. Two-thirds through the hike, we reached a chalet where we had a short break (and grouped up with my mother, who took a shorter trail), then headed for the lookout tower. However, the weather didn't let us appreciate the replica tower much…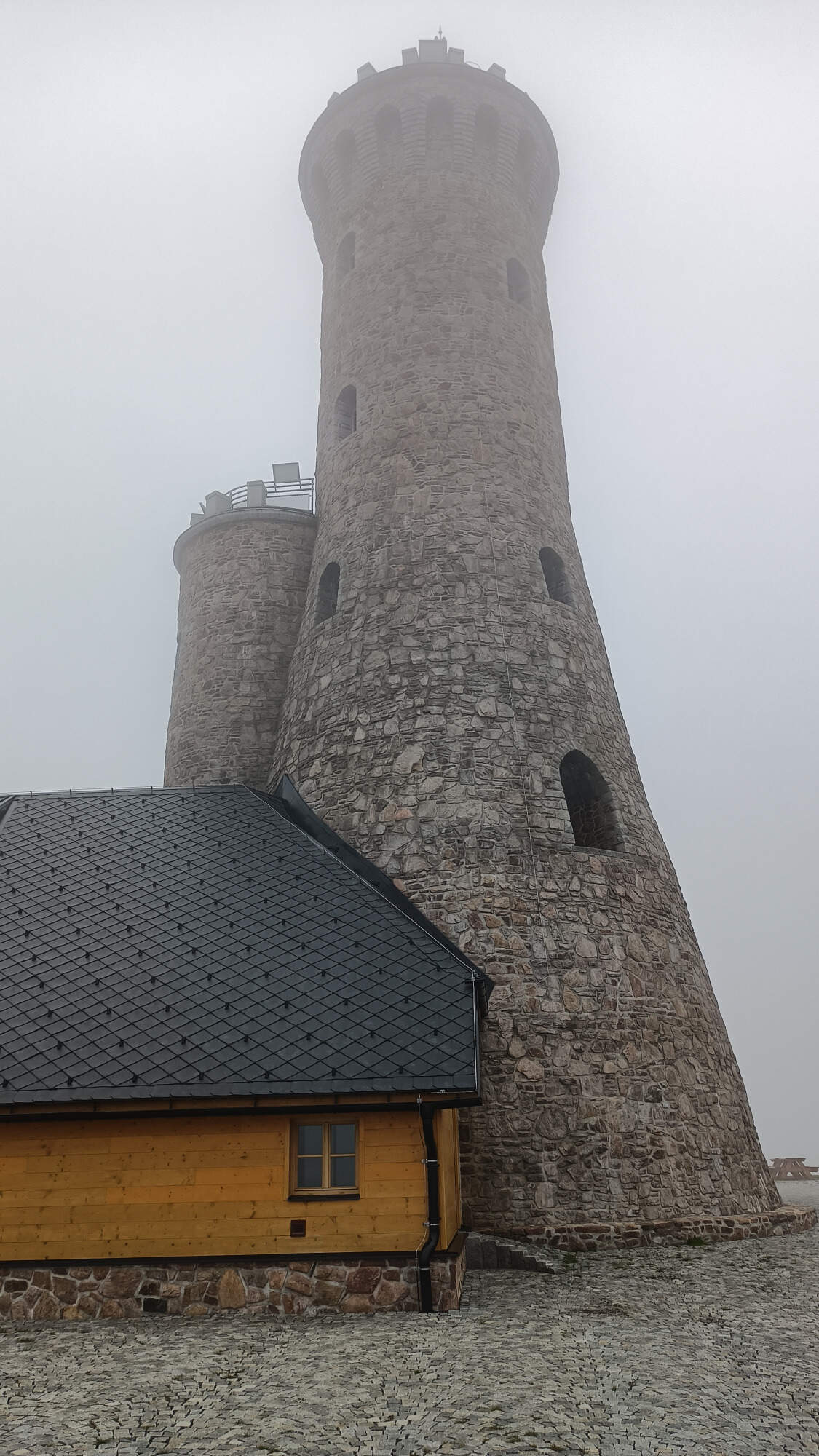 The descent then led us through misty fields with trees of all colors.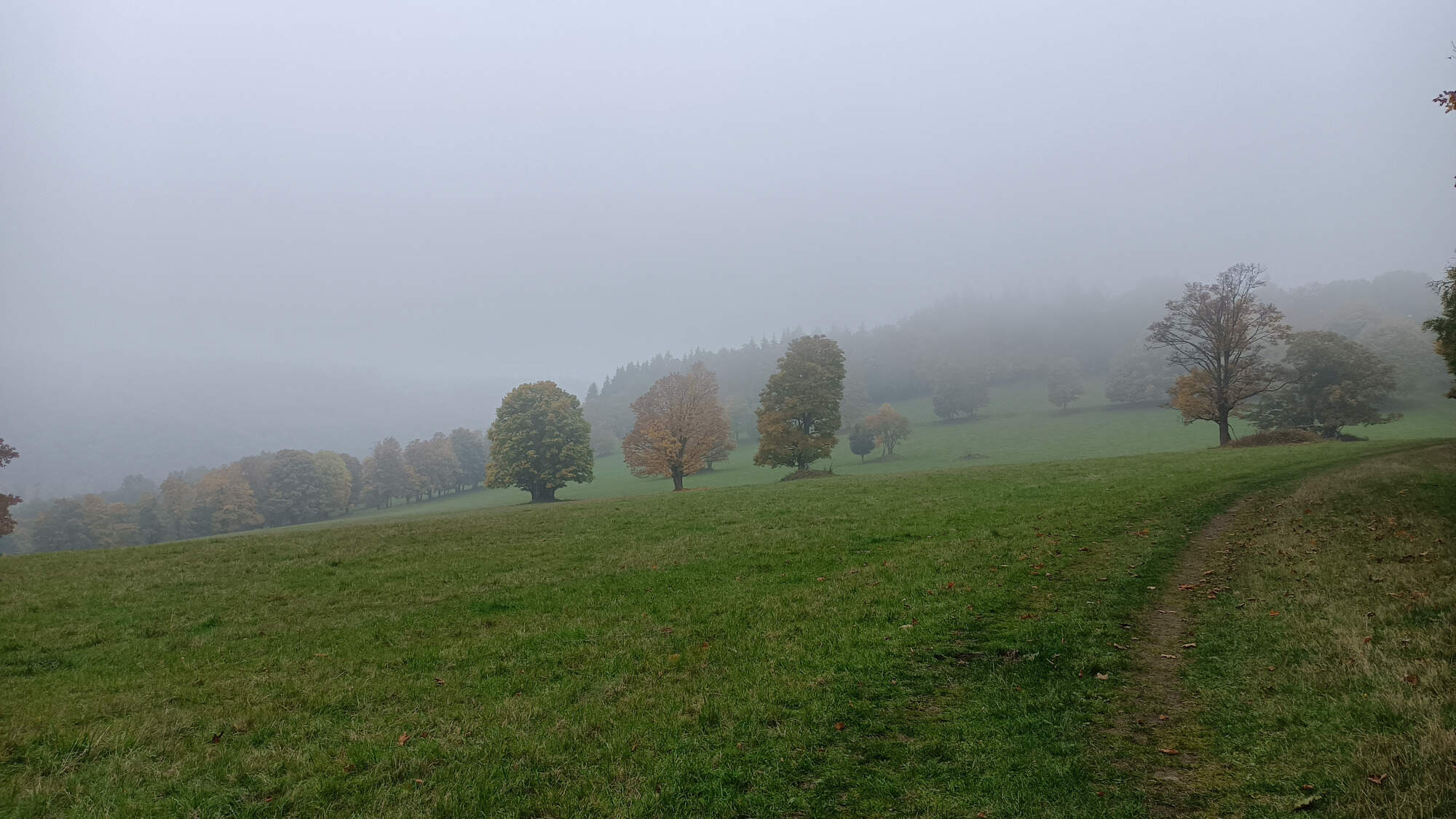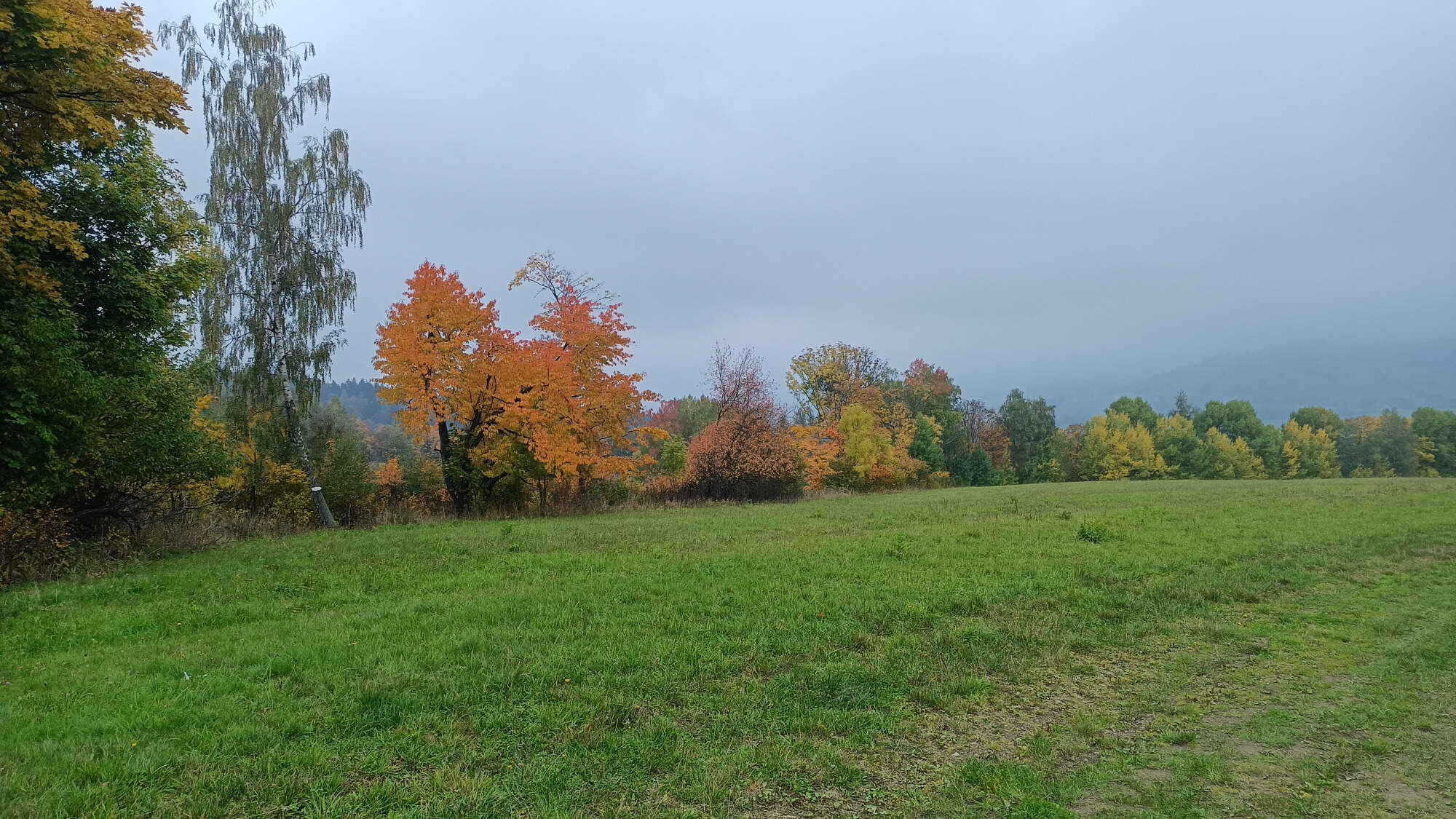 ---
That's it for those two hikes. I do realize that's been the majority of my recent posts, but I'm getting back to reading and writing, so there's a good chance for some more variety in my posts in the coming weeks.
Until then, I hope the beginning autumn is treating you well.
See you next time.