The transition from August to September had seen me go with a minor – but yet major – change when it comes to my hiking: replacing a backpack that served me well for quite a long time.
Before I go to describing the relevant hikes, a small look back in time: the backpack I have used so far served me for some 7 years. It's hard to put a precise date on it but as the first convincing photo comes from June 2015 (seen to the left), it's likely it was a gift for my 25th birthday in April 2015 – in time for me to get used to it and be accustomed to it for the August 2015 holidays.
However, my quite thorough archive doesn't note what backpack I've used for each hike. Since April 2015 until the end of August 2022, the total sum is around 5700km, but some winter hikes near my home were done with a smaller backpack, which would put the lifespan of this backpack somewhere in the 5200-5500km range.
The fact is, I've been considering a replacement as soon as late 2019 when some parts were showing signs of wear, but neither of them was a crucial spot so it kept being delayed. It was only during the last hike of October 2022 I noticed that some more crucial parts of the backpack are getting dangerously damaged by the long use – the shoulder straps. The seams were damaged almost half-way through and I knew that this bears a risk that they could snap any moment…
…which brings me to the hike that ended up a farewell with my old backpack.
27.8.2022 – A farewell
I noticed this damage three days before the hike. I have bought a new backpack two days before it but life caught me in a bit busier time and I haven't had the time to move things from one backpack to another, so I decided to risk a "farewell hike" with my old backpack.
The forecast was… gloomy in the best case. A wave of rain to pass through the night with not-so-small chance to continue through at least the early part of the day. During the journey, we rode through a couple of rain showers (and even enjoyed a rainbow, though it was tricky to capture it from a moving bus and I ended up deleting all the photos for being too blurry).
The start of the hike was a sharp ascension up a ski slope at first, then a turn to a gentler ascension on a hard-packed road used for maintaining the ski slopes. The early part was through a place that has been growing into one of the largest mountain resorts around (no longer limited only to skiing) and their newest attraction is called SkyBridge721 – a suspended bridge (you guessed it) 721 meters long.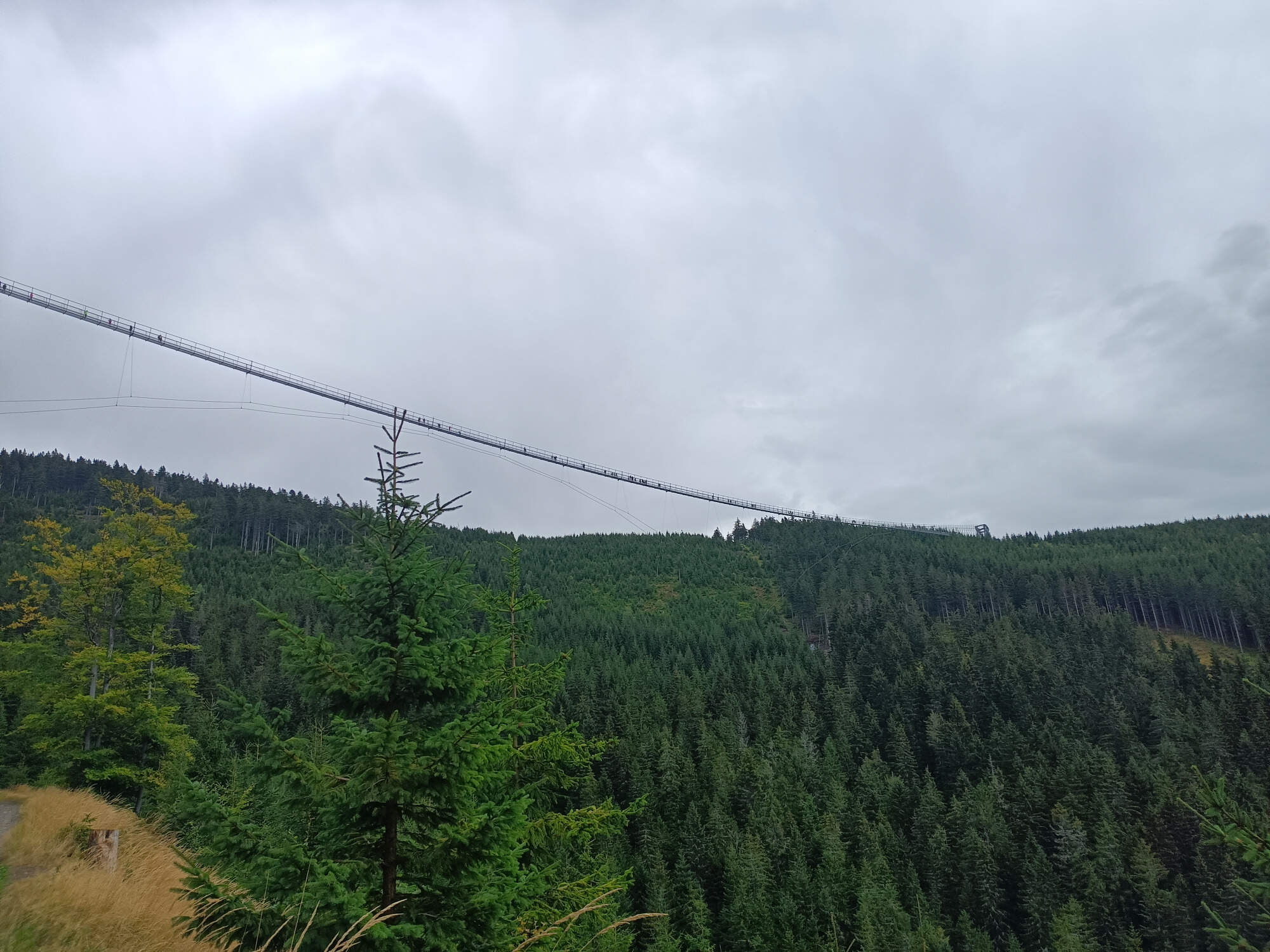 Despite the gloomy and chilly weather, it had attracted a decent amount of people, including several from our group who took the easy way – a chairlift up the hill. To my surprise, this included my mother who isn't fond of heights.
Maybe on of the contributors was the fact there was no wind, that would deter a lot of people, I assume. Just next to the chairlift upper station and the beginning of the bridge is also a lookout in a strange shape where you can also take the easy way down – a slide designed to be durable enough to be used by adults as well.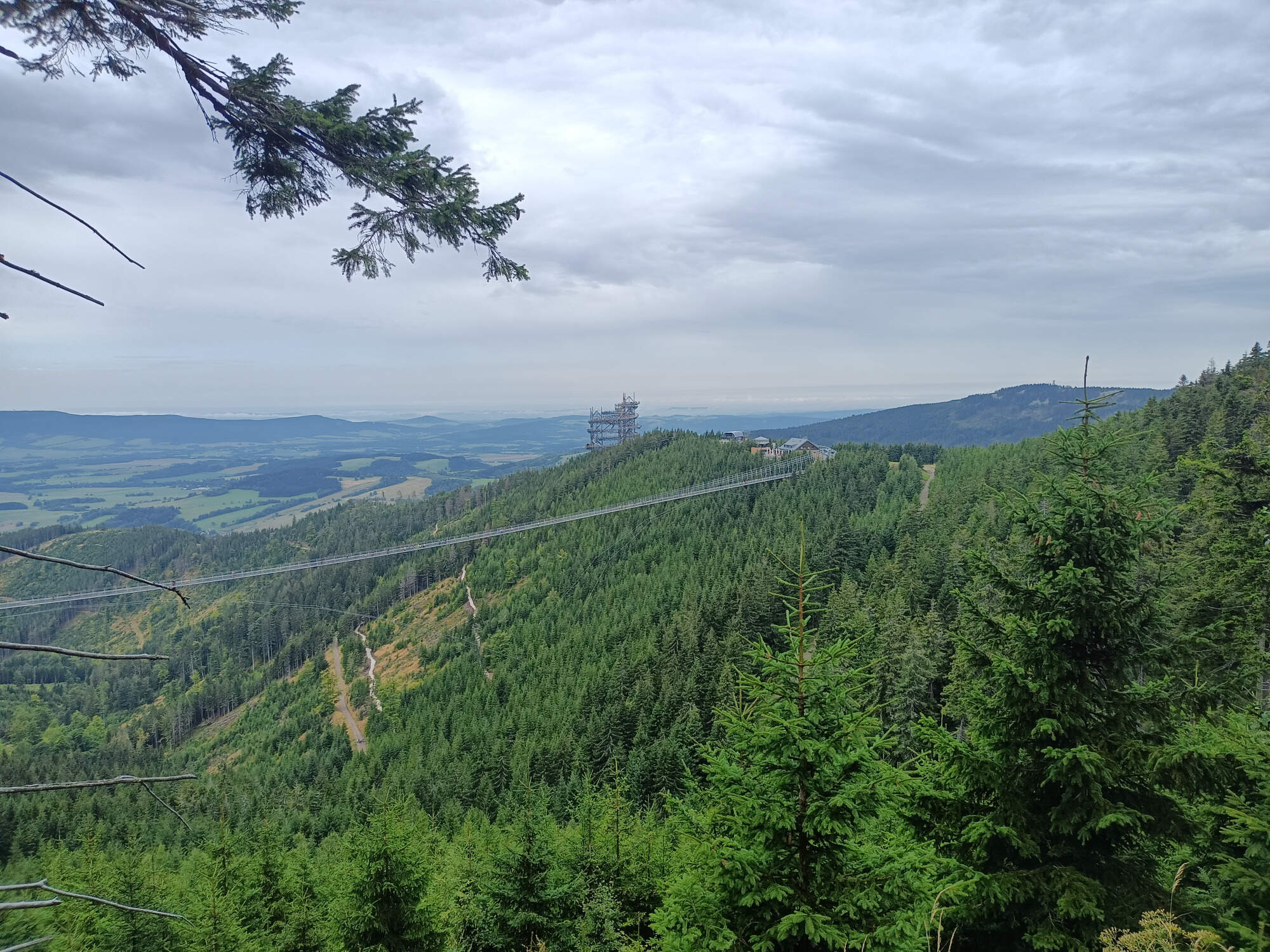 I have passed on both, given that my plan included quite a long hike and that the weather wasn't favoring lookouts. However, I made a note to consider returning in winter, preferably on a clear and very cold day. That is, if the train schedules are cooperative which, in this particular place, is a challenge.
Leaving the resort behind, the trail changed. The flatter upper part of the hills was made muddy by the night rain. It seemed that a storm had to hit the hills in the morning as I found piles of ice balls up to 1cm large – a clear hint of very recent hail.
Weaving left and right, up and down, through a muddy trail and between damp blueberry shrubs had soon led me towards the main peak. From distance, I could see the silhouette of the new lookout tower – to me, resembling a torch – though this one is yet to be finished. Another reason to return again. The board with the usual construction site warnings and estimated date of opening at 30.9.2022 also mentioned a staggering price of €4,1M, of which I guess a major part was airlifting the material up the hill…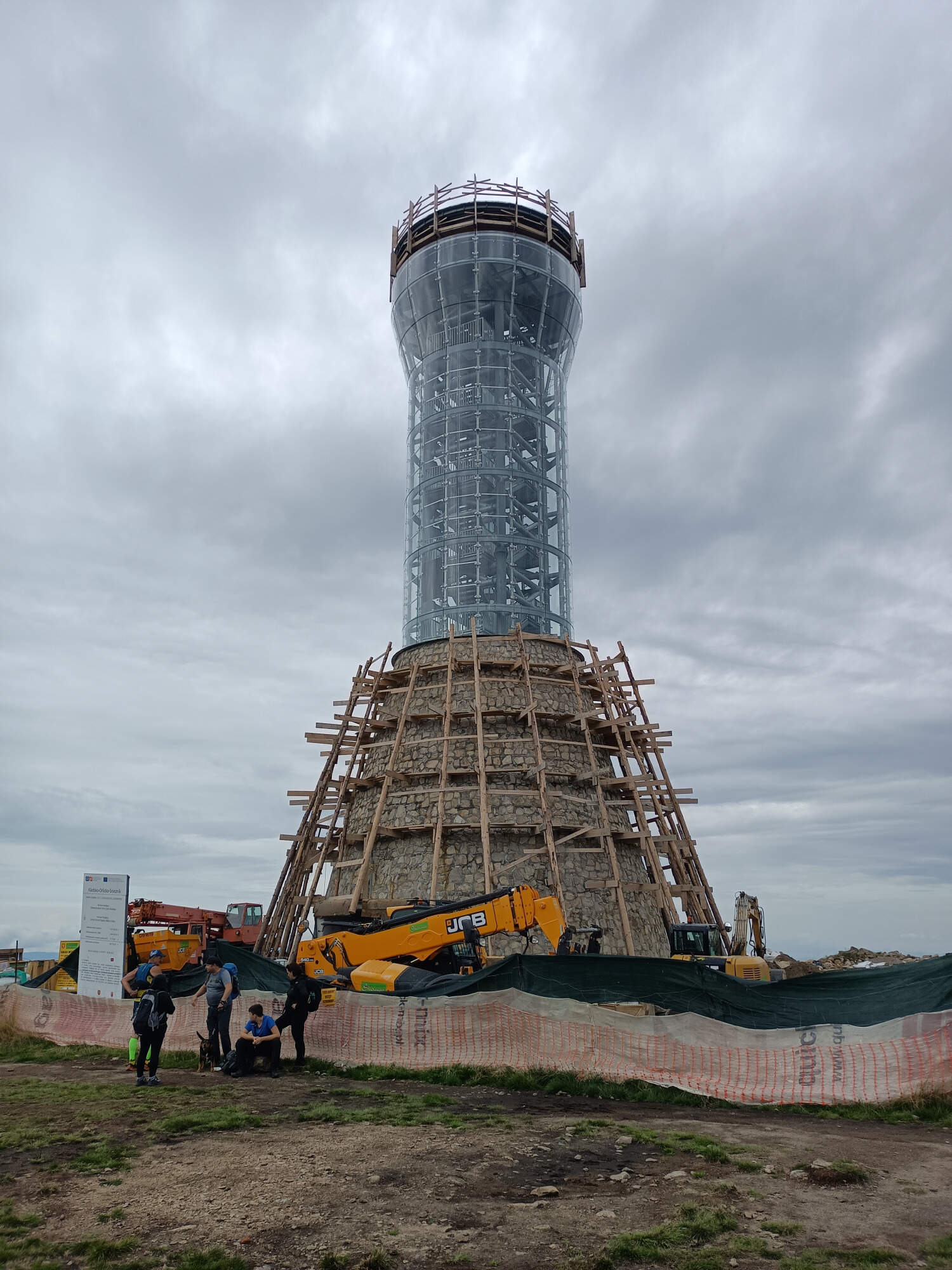 The peak had hosted a lookout tower in past, but the last one was deconstructed in the 70s due to being in a state of disrepair. A replica of the original tower was meanwhile built on a different nearby peak, which is in my schedule later this year. Anyway, I had to enjoy the views from the natural ground level for now.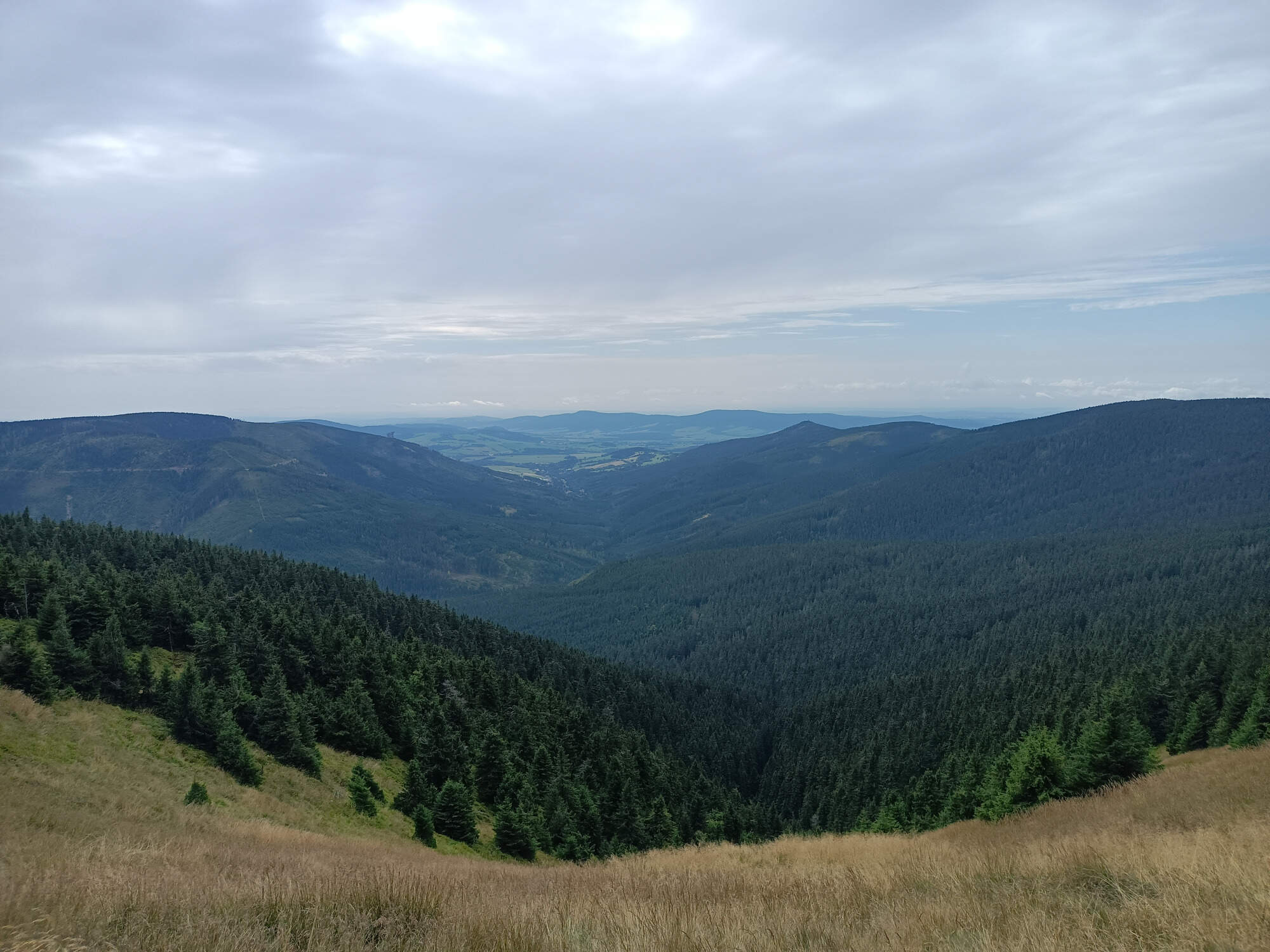 The descent was quite sharp at first. At the place where it levels out a bit, I decided to search for a small waterfall hidden in the woods. There was a faint footpath leading to it, so I managed to find it just fine (though not everyone in our group did, as I later heard).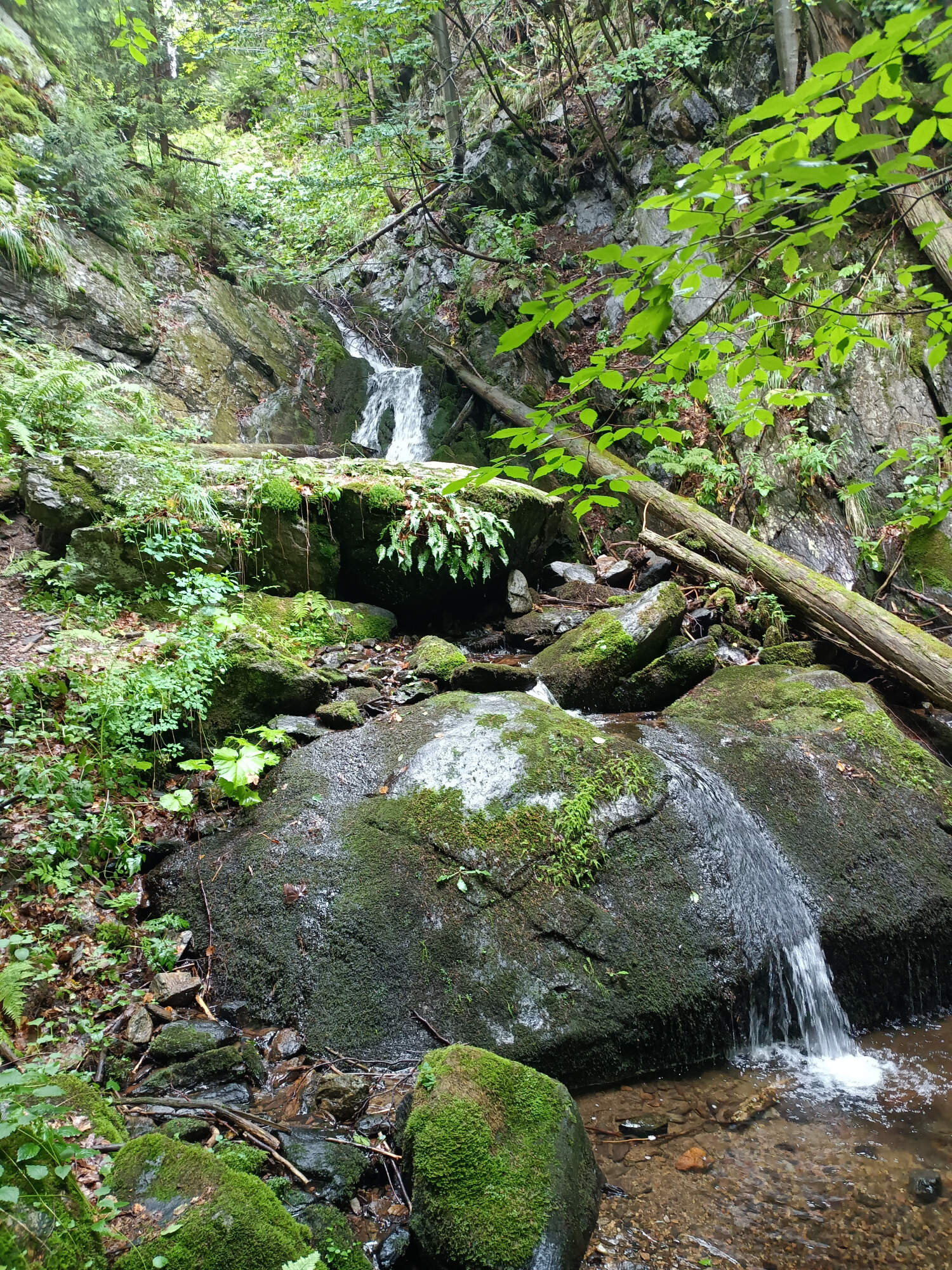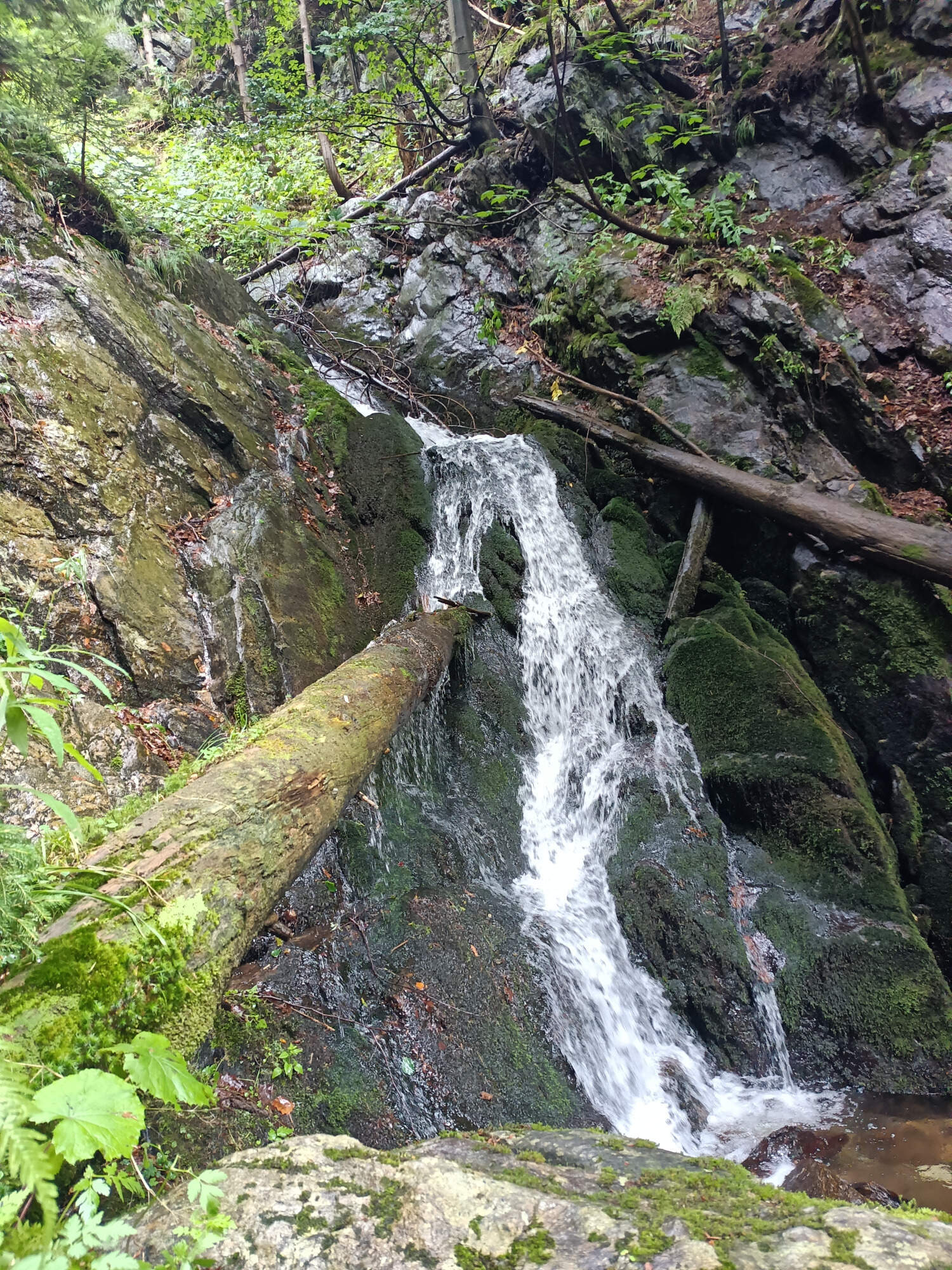 3.9.2022 – testing the new backpack
With the forecast being quite pleasant, I decided to go out for a hike the next weekend. Early September can be deceptive, and so the morning was quite cold, but the day warmed up faster – and more – than I expected. Reaching the hills, the sky was almost cloudless…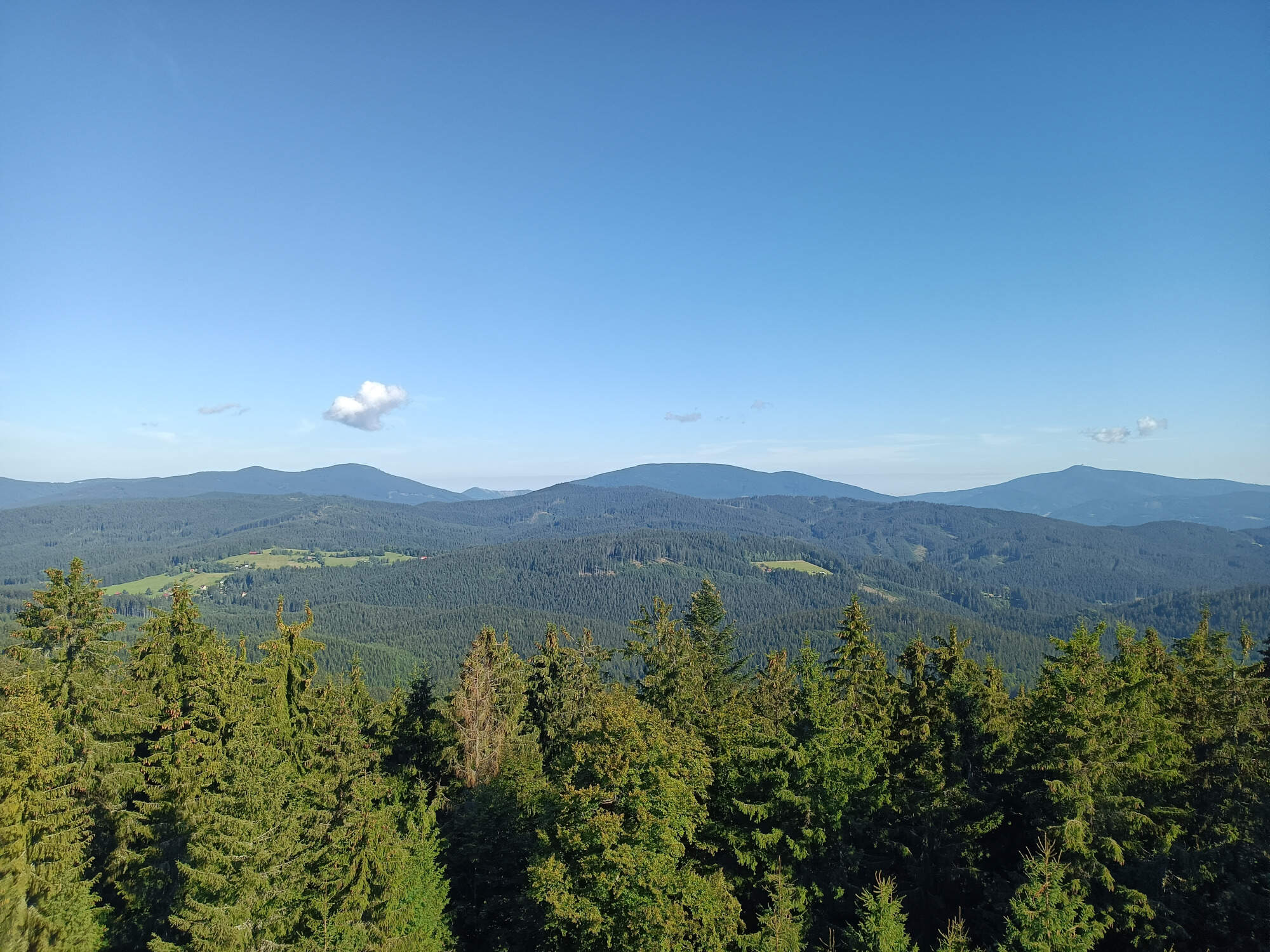 I admit it took me a couple of adjustments to balance my new backpack, but I took what was supposed to be a light trail I knew well. Most of the time, it weaves through the woods, and the hills on the way are gentle and not that tall.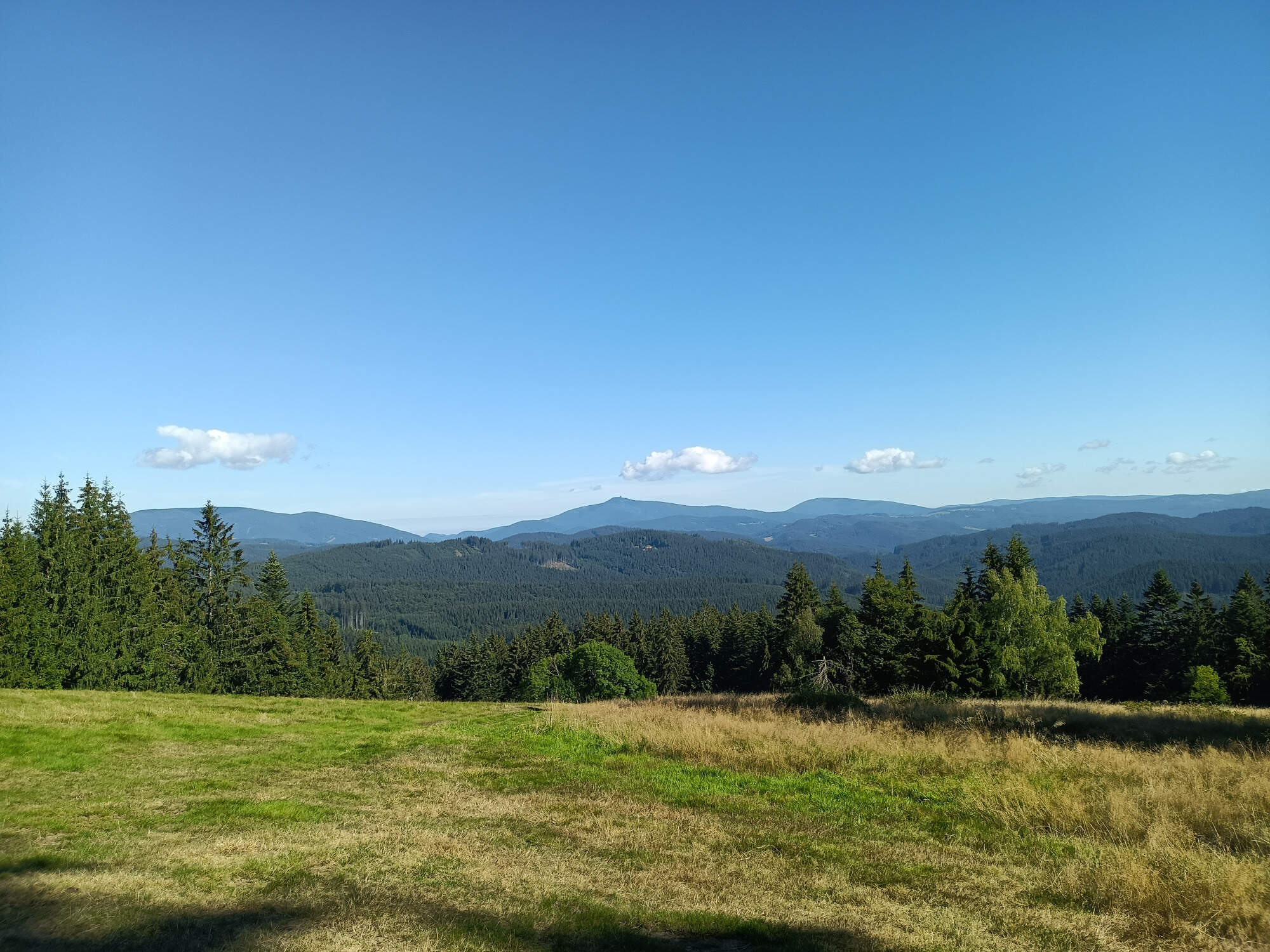 Most of the time, I enjoyed the calm and solitude as the three days before the hike were a bit hectic for me and I found myself tired, more mentally than physically. As the day progressed, clouds gathered a bit more, but I had faith in the forecast that rain showers wouldn't come until the next day. Which turned out to be the case.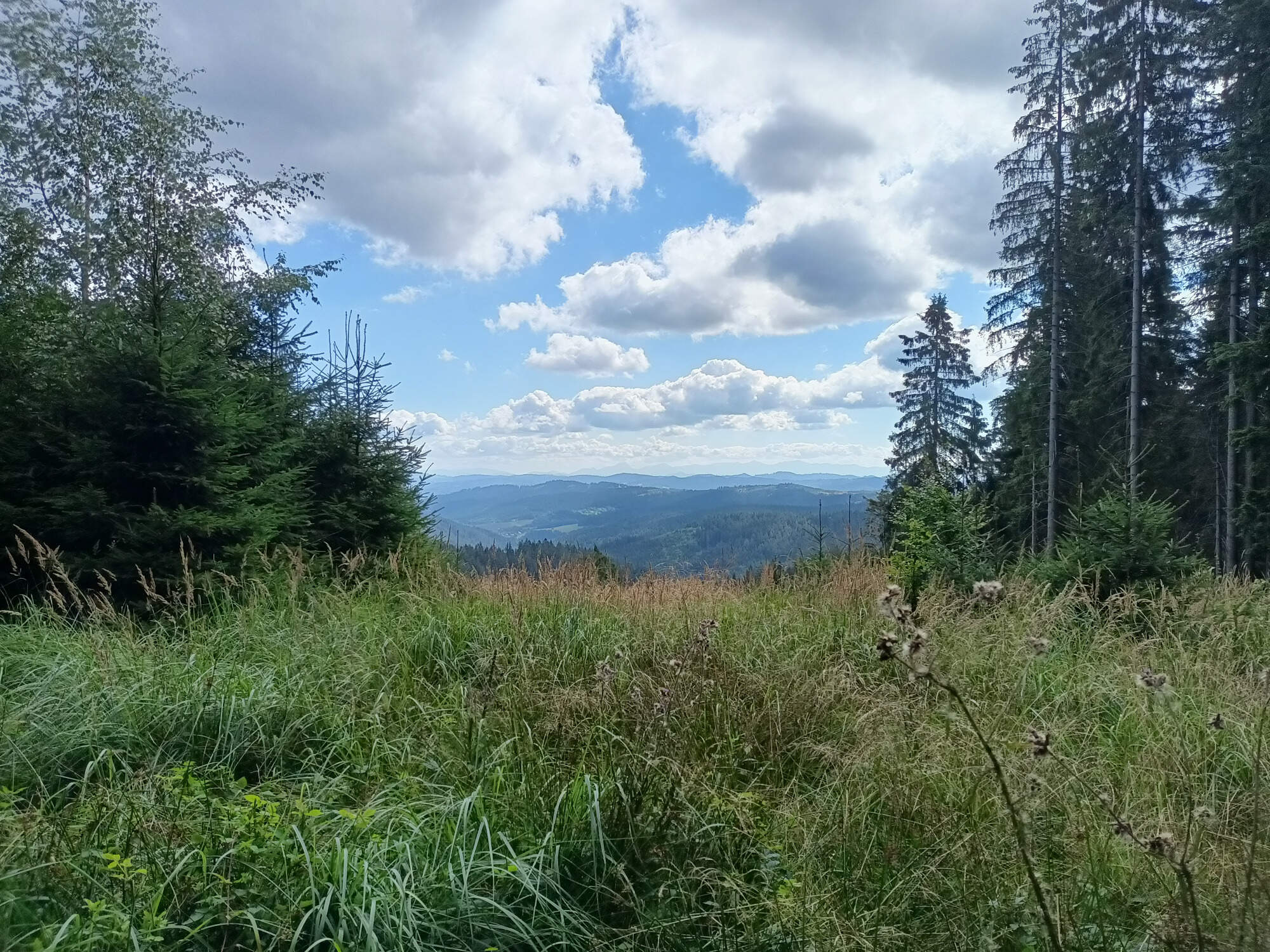 At one place through the trail, some of the locals had an outdoor chapel built, and even an unreligious person like me could appreciate the architecture.
A short distance from there, I stopped in a chalet for some refreshments before moving on. Fortunately, I had only a light meal, knowing that the last hill to ascend is still ahead of me. Reaching it around 13:45 and knowing I have no way to catch the 14:00 bus (with the stop being some 25 minutes away at a brisk pace), I took a small detour using a side trail to reach the stop around 14:40, in time for the 15:00 bus.
I almost ended with a walk through a town as a bonus as I managed to fall asleep half-way through the 40-minute journey but, fortunately, I snapped awake when it announced "train station" and thus was spared finding my way from… wherever that line ends.
Unfortunately, I had no picture taken of me with the new backpack. That was only on the next hike which I'll describe separately some other time, as this post had been quite long already.
---
That's it for today. I hope the new backpack serves me well. I'll see you soon and, in the meantime, I hope life's treating you well.