As the year draws to an end, I'll look back at a couple of memorable moments from my hikes, focusing on not-so-serious parts of the year. Warning: long post!
A head start (1.1.2021)
The COVID situation at the end of 2020 was so weird for me that I completely gave up on waiting for midnight. Seeing a favorable forecast, I packed my backpack, went to sleep around 21:30, and headed to the hills right on the 1st. In December 2020, my lungs still struggled with the after-effects of my November 2020 COVID infection, so I decided to take it easy – my original plan was an easy 14km hike. But I found myself full of energy and stretched it to ~28,5km.
Knee-deep in snow (16.1.2021 and 12.2.2021)
Just two weeks later, I went for another hike. The previous night had a heavy snowfall, fortunately, it was just light powder snow so walking through that wasn't an issue.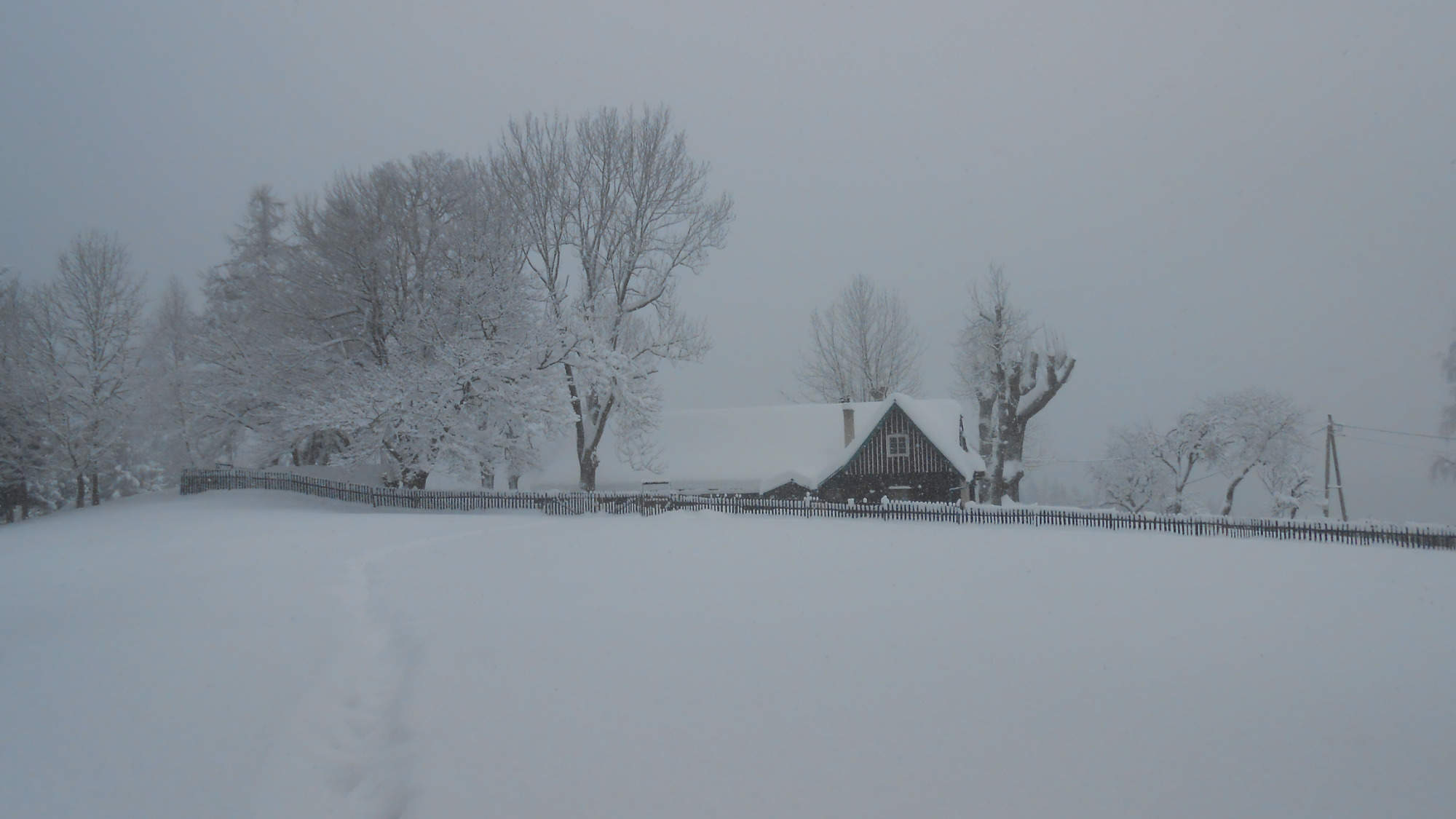 That wasn't the case a month later. I chose to go on a hike in quite cold weather (getting to -15°C). It proved harder than I expected – the snow wasn't as heavily frozen-through as I expected and the wind had played with it a bit, meaning that I often ended knee-deep in snow. The amount of energy spent for what was a relatively short (20km) hike was more akin to double the distance. The COVID restrictions and thus reduced train schedules also made my journey back home longer than usual.
Ice cream with a side of hail (29.5.2021)
Quick summer storms are something I'm used to… in summer. They come quickly and leave just so. The hike at the end of May was in typical summer weather (despite the date) and had brought rain showers later through the day. The first came when I was just 5km away from my destination and was relatively light. The second came by the time I reached the castle ruin and thus weathered it inside. Sometime after it ended, my mother (who took a shorter route) caught up and, after spending some time in the ruin's museum, we walked back to the town to grab an ice cream to cool off a bit. As you can guess, the third rain shower came, this time with lightning and a bit of hail. It passed in less than 10 minutes (typical summer storm) and I needed just as much after to dry up, but this was my first ice cream with a side of hail.
Trust me, I'm not lost (1.6.2021 + 4.6.2021)
There are many nice places in my country. My plan was to visit one of them for a longer stay – I presumed around 5 days – but the situation about COVID restrictions and accommodation was still in flux mid-May and I had my two-week vacation already planned at work for early June. So I decided to take it on with one-day train trips instead. I couldn't reach all the places this way, but I could take two main locations of that area.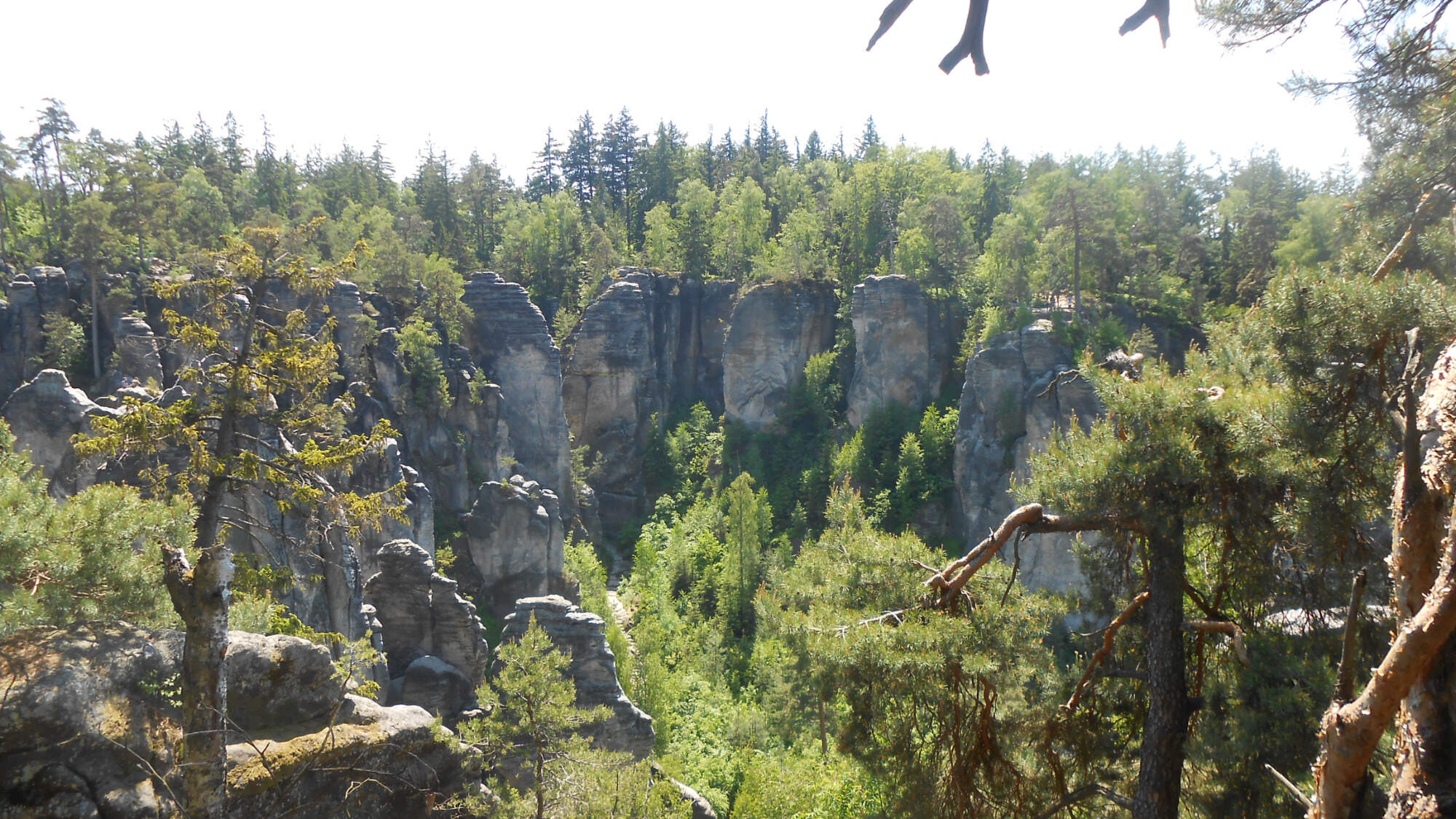 The thing was: when I reached the main part of the reserve with all those rock formations, I wanted to see ALL of it. This leads to the point that I weave in all directions from one lookout to another and the log of my GPS then looks like I was lost while my route was, in fact, thoroughly calculated.
If you want to see more photos of this place, some are in this post.
Jabbed (12.6.2021 + 24.7.2021)
On 10th June, I had my first COVID vaccine. On the 12th, I was to lead a scheduled event of the hiking club (as group events under 100 people were allowed from the end of May). On 11th, I had felt all sorts of weird, so this was a bit taxing, more so with the hot weather, but everything ended up well.
The situation repeated after my second shot on 22nd July – I went for a hike, though this time solo, two days after, on 24th. Just the same, the day before and even the morning of that day had me feeling all sorts of weird, though I managed to walk it off.
Let my try this new sleeveless shirt (31.7.2021)
Given the frequent warm days, I decided to add a sleeveless shirt to my collection of hiking gear. And I decided to try it right away – I bought in on Friday, gave it a quick wash in cold water to get rid of the warehouse smell, and off with me to the hills. I was undeterred by the "low chance of rain showers" but damn my luck. First, the bus driver had the AC on full, so I had to put my hoodie on despite the warm day. As I neared the hills, the rain shower came, and turned into a light but persistent rain. So, as I was to get off, I swapped the hoodie for a rainproof jacket and off with me.
Fortunately, the rain ended just twenty minutes later but it cooled the air enough that, by the time I could walk around just in the new sleeveless shirt, it was near noon and I was nearing the peak. But I had a chance to test it – I decided to try to catch the train at 13:00, which tends to be relatively empty compared to the 14:00 train. With the sky now clear and the temperature rising the shirt got the thorough test (even if shorter than I intended). If you wonder, I reached the train station at 12:55.
Just toss those sandals already (7.-14.8.2021)
Ah, my week-long holiday. Mid-October tends to be good when it comes to weather and since my feet sweat a lot, I decided to hike in outdoor sandals. But even those have their lifespan, and the ones I had back then were at their end. I decided that this holiday is to finish them off.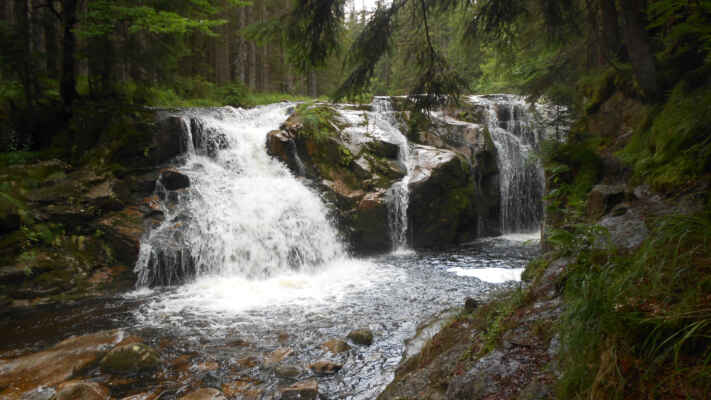 I guess that alone was a risk, but I had normal hiking boots as a backup, so I believe the risk was calculated. But I may be bad at math… One of the guys decided that he'd find a couple of people to play tennis with (borrowing the equipment from the hotel) on the fifth day. I decided to tag along for laughs (as I never played tennis before)… in those worn-out sandals. Long story short, the heel section broke mid-hike the next day. Fortunately, it held all the way to the hotel – I didn't carry those hiking boots with me.
If you want to read more about that holiday, I made four photo-heavy posts (one for two days) back then: parts one, two, three, four. This wasn't the only misadventure – our driver suffered a heart attack on the fifth day as well. He's okay, though on the way to early retirement.
Learn to fly, fool (4.9.2021)
The beginning of September often brings nice weather, despite the colder mornings. I had new sandals ready back then, but the cold mornings meant I wasn't willing to wear them. So I took the hiking boots and went off the beaten path, the second time after my October holiday (more about it here). I will only mention the way-too-talkative guy on one of the peaks whose stories – including the emergency shutdown of a nuclear reactor – had almost blown my head off. On my descent, I let myself get carried away a bit too much and went full speed, to the point I tripped on a root. Fortunately, what could've been a nasty fall ended up with just an insignificant scratch because it's pretty much an unused path with soft, instead of walked-down, soil.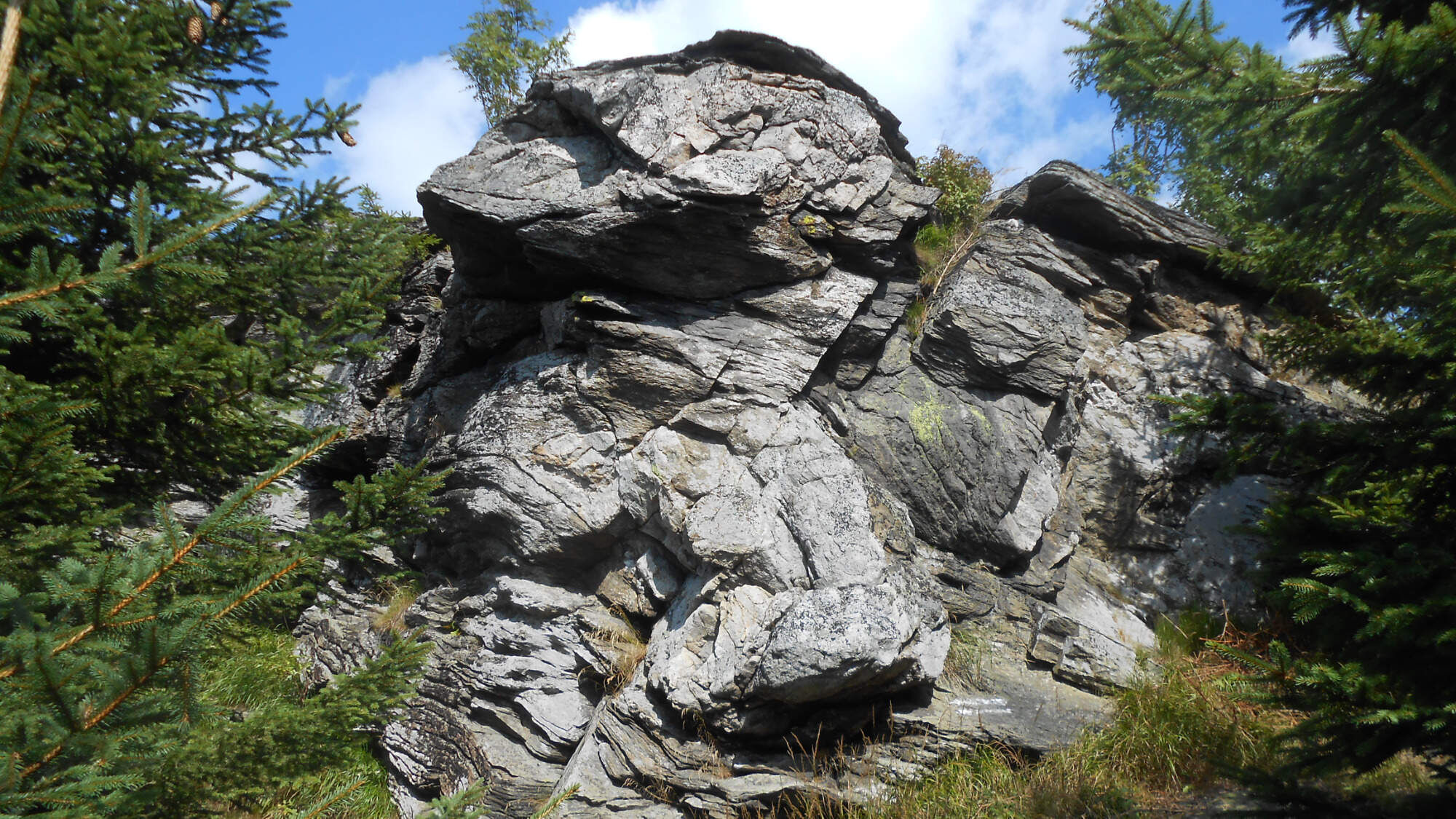 ---
Fortunately, that was pretty much the end of the weirder stuff. I had some further nice moments – such as two hikes to see the sunset – during the rest of the year.
In retrospect, I expected little hiking-wise from 2021 given how the end of 2020 had seen me, and the lockdowns in early 2021. It ended up being one of the best years, despite all the hiccups mentioned in this post. Given the unpredictability of the present time and some major things that will likely happen in my life (which I won't mention now), I'm setting no goals for 2022.
I hope you had a lot of fun – even if gimmicky at times – during 2021 and that it'll hold for 2022 as well. See you next time.