I've covered two hikes in the previous post. I'm covering two more in this. Again, they have something in common. In this case, the link is in sandstone rock formations.
WARNING: The following post is long and contrains many photos of beautiful landscape*. Wieving this post might cause urges to travel and/or bursts of inspiration.
(*Beauty of landscape is subject to personal intepretation).
Background: 2010's failed plans
Back in 2010, I went for a four-day trip to this location. The idea of this trip was simple: sandstone rock formations + colored autumn forest = four days of awesomness.
We got two cloudy days and two rainy days. Bah. We got to see the well-known part on the first day but missed most of the rest.
This year, I've found myself lacking ideas for where to go on my typical one-day trips. I've exhausted many of my 2019 ideas in April and June and two of them were intentionally delayed. Then, I found out the Czech railways are repeating their summer promotion: unlimited 2-week train ticket for 990CZK (~40€ / ~$45) – which meant I could travel much further than usual at minimal cost and don't worry about missing a follow-up train. Thus, I looked up the first train I can reliably take (departing at 5:23) and looked up where I can branch from the mainline. Returning to this place became one possibility.
The first return
My first hike there was to visit the two places I missed because of the bad weather back in 2010. Being close to each other, I decided to try taking them both at once. The journey was not so pleasant as I slept poorly that night (and was getting up at 3:20). Anyway, at 10:00, I reached the town Broumov and headed towards the hills…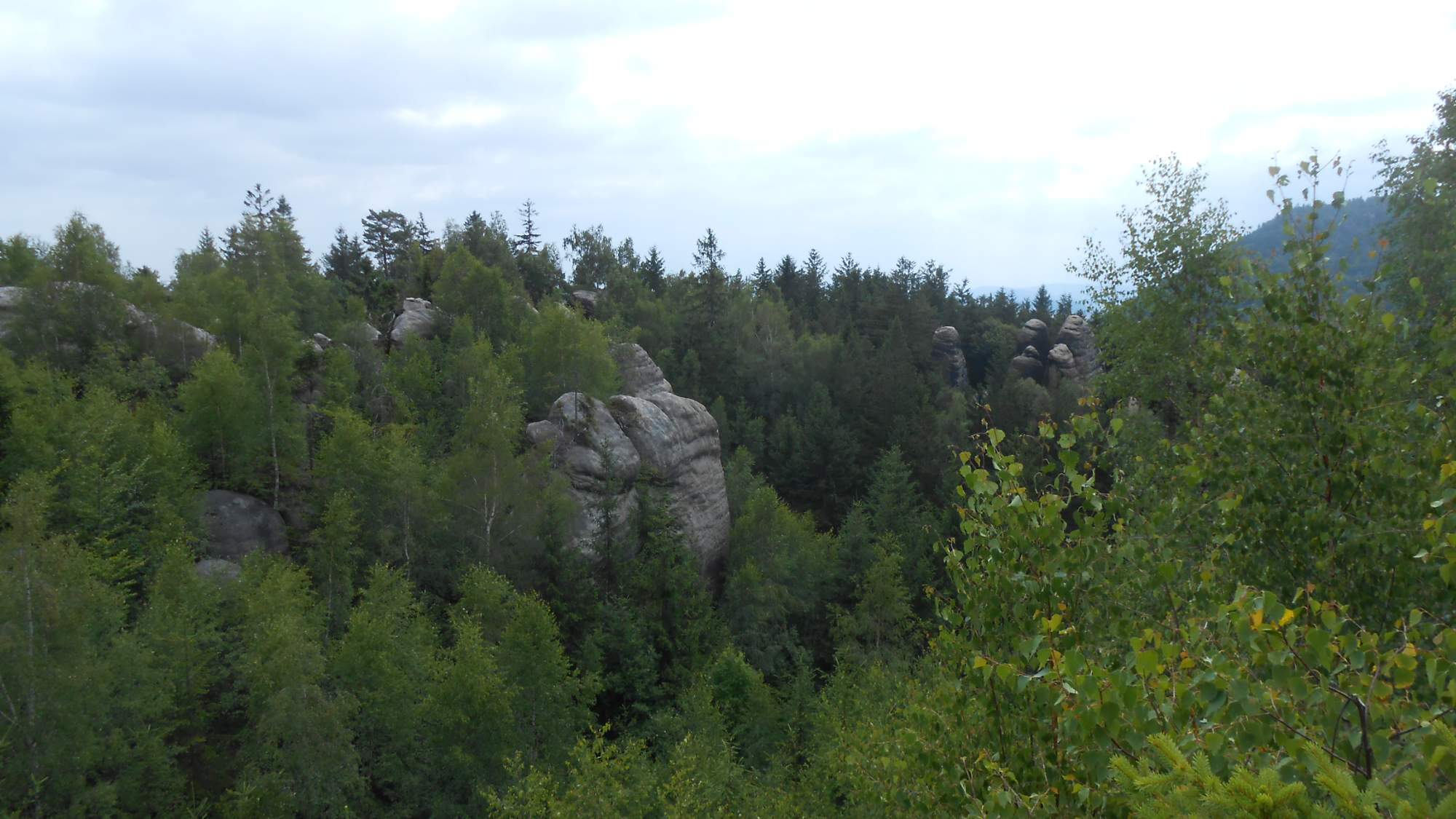 Now, the major upside of these sandstone rocks is that they are hidden in the plain sight. Well, forest, actually. The grown trees make them hard to see from distance but add to the beauty when you get up close. What you then see is a mosaic of trees and stones which, I admit, will likely look even better during autumn.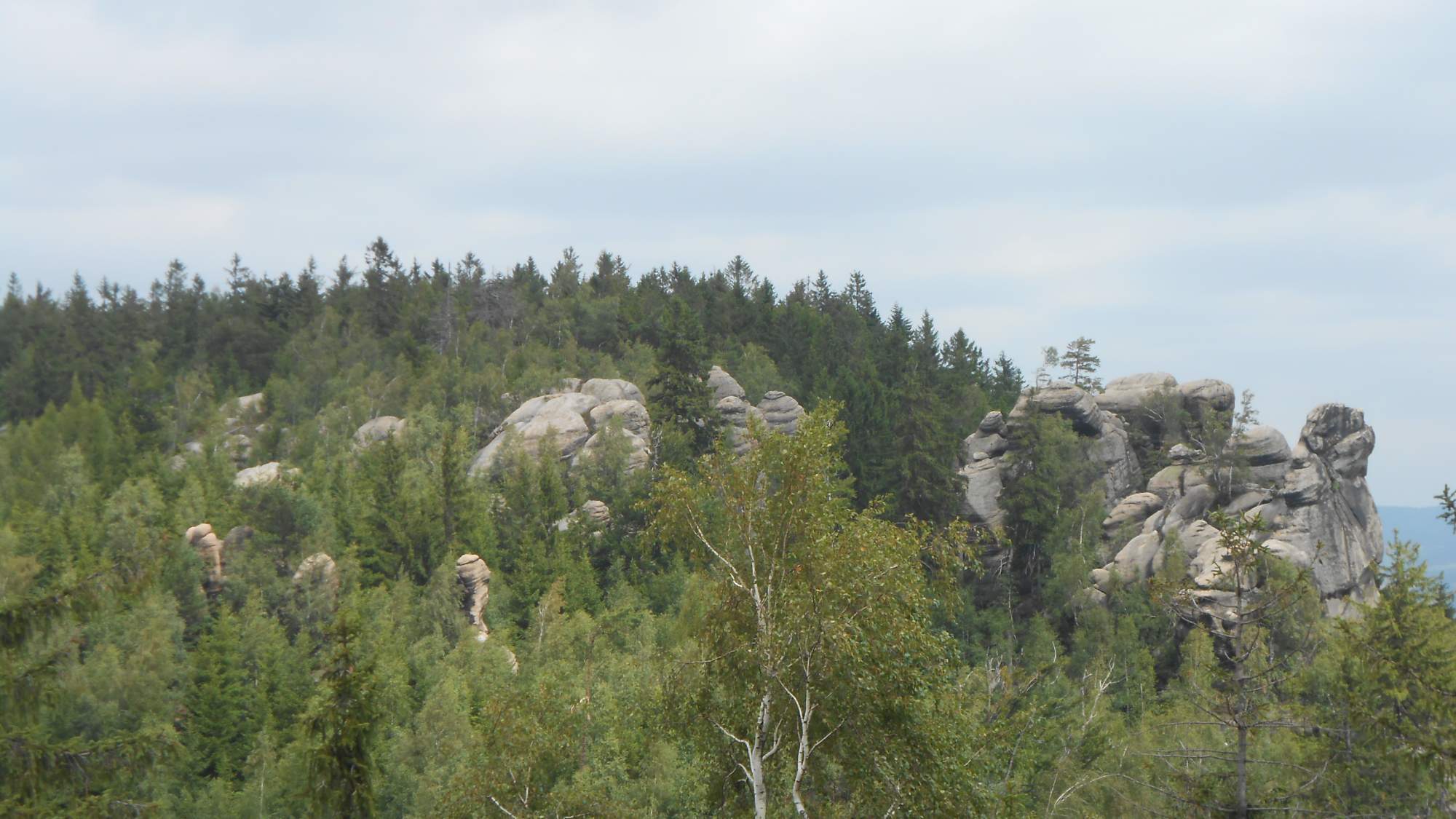 Then, those formations can also give a nudge to your imagination, trying what you'll see in them. They are usually named in similar style, though some are a bit obscure: one of the rock formation is named 'devil's mother-in-law', no kidding. (I believe it's the right one on the photo above).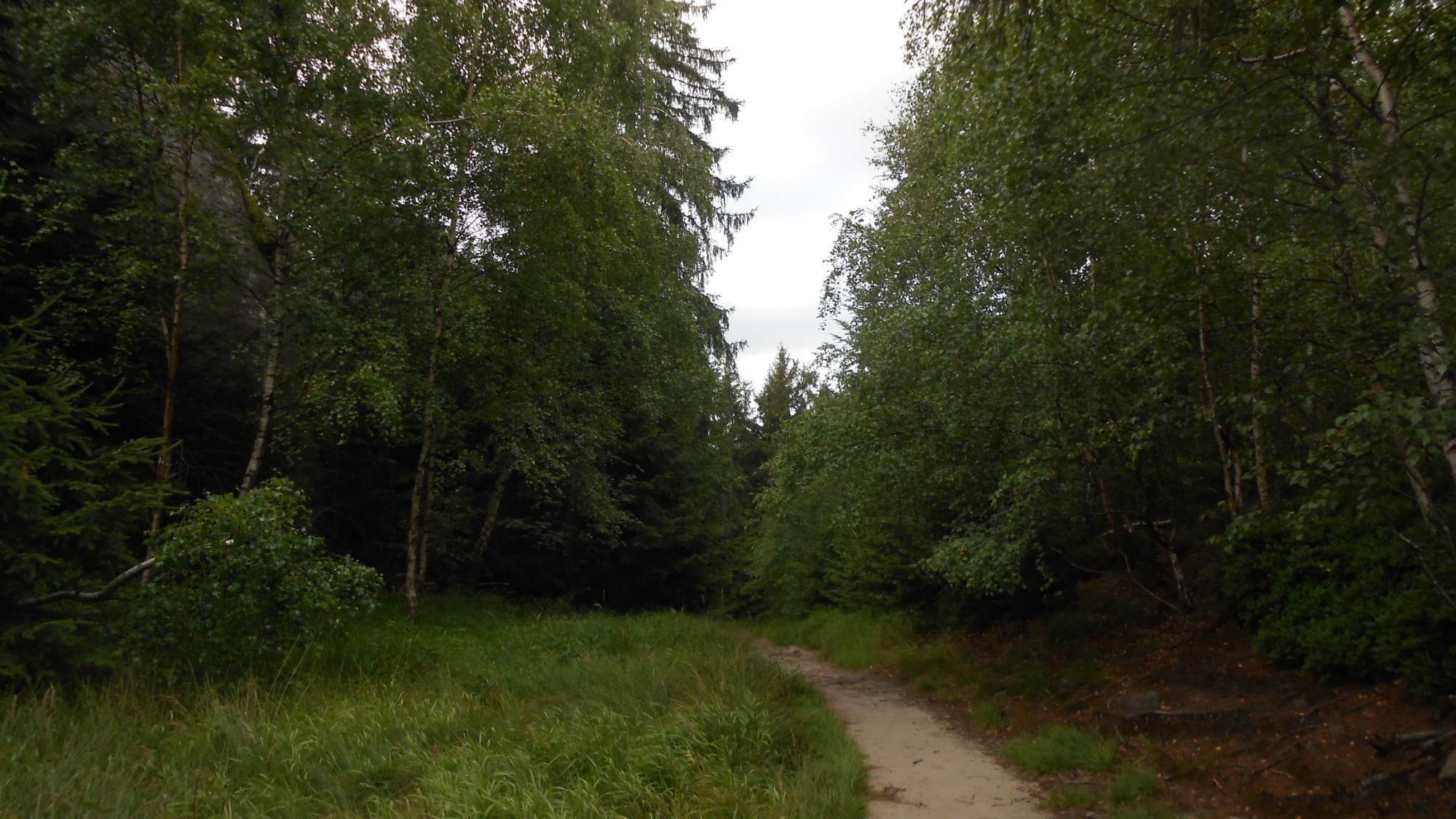 My luck for this trip was that it was a bit cloudy and the temperature dropped to 18°C – almost perfect hiking conditions. With the sun appearing and disappearing and the trail mixing soil and rocks, wide and narrow parts, it featured diversity I haven't seen for a while.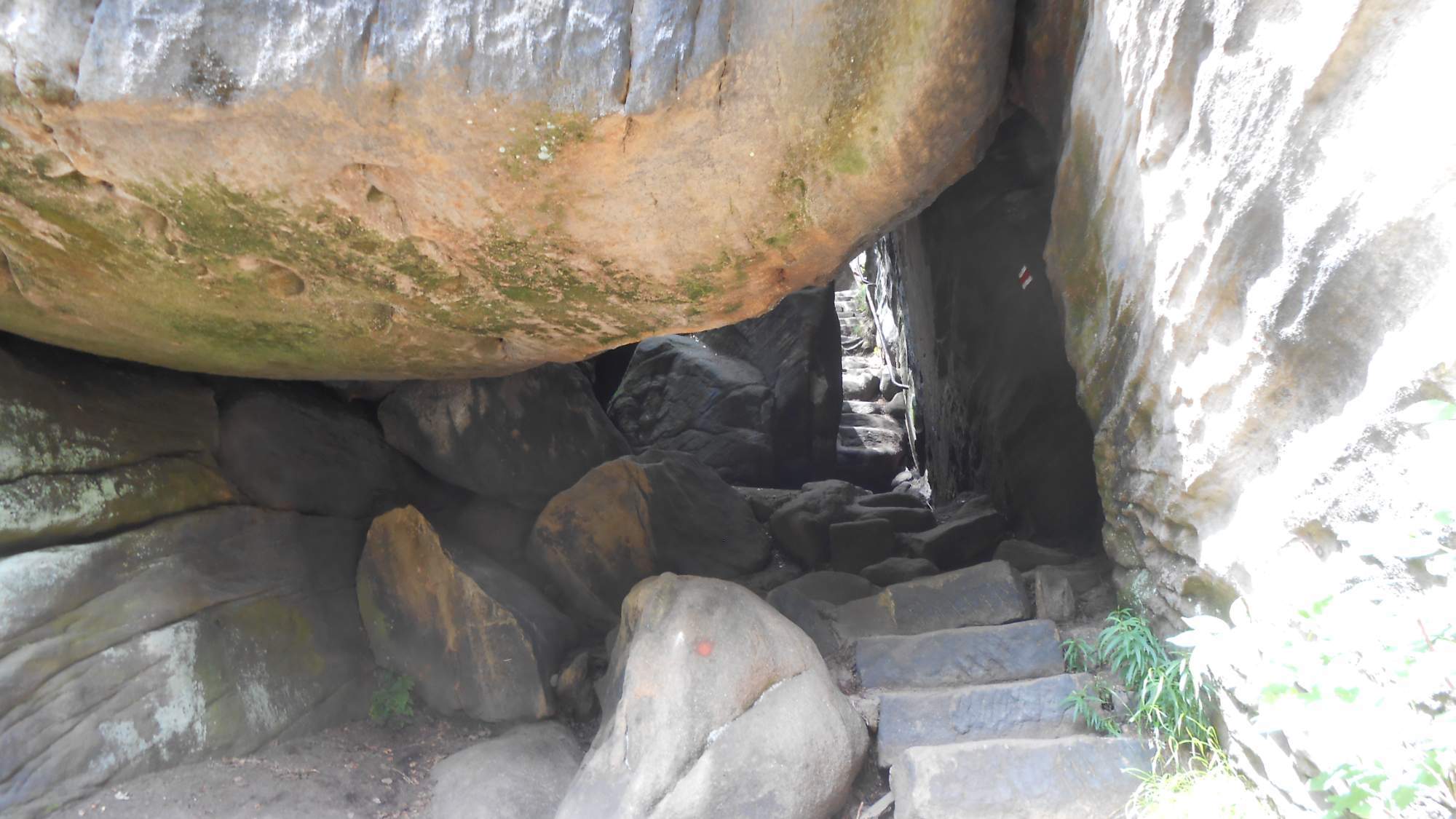 Eventually, the trail became even 'cooler' by passing through narrow gaps between the individual sandstone spires or even passing through stone gates, created by collapsed parts of the rock formations.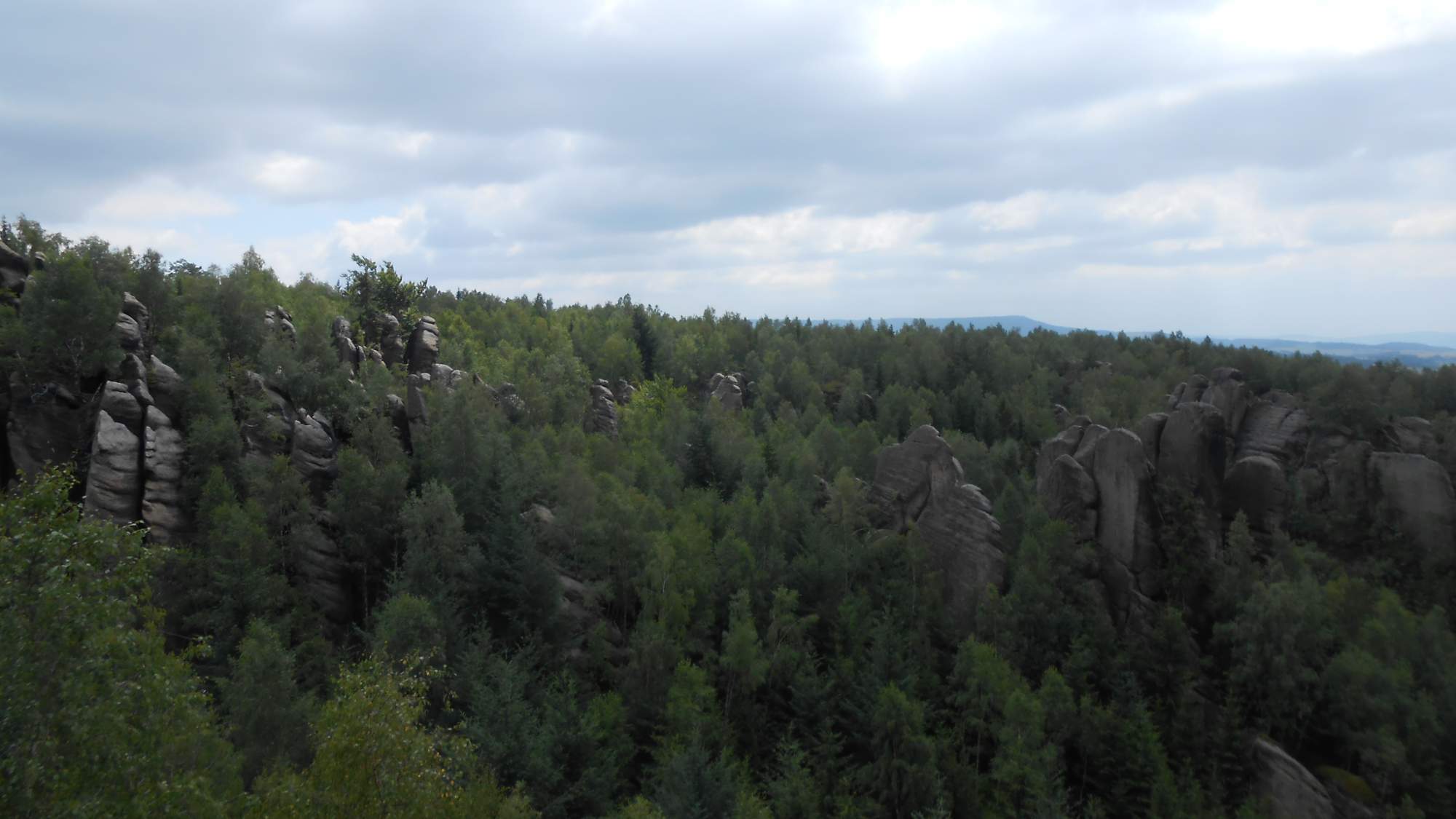 Even though this rocky part was just ~6km long, it was well worth every single step – and I often feel the photos I take can't show it well enough. Anyway, after crossing this part, I took a short break before going into a full speed mode to cross the distance to the second part: the sandstone labyrinth of 'Ostaš' peak.
The trail inside the labyrinth often led me to zigzag around individual stone spires, squeezing between them and then led around to emerge above them.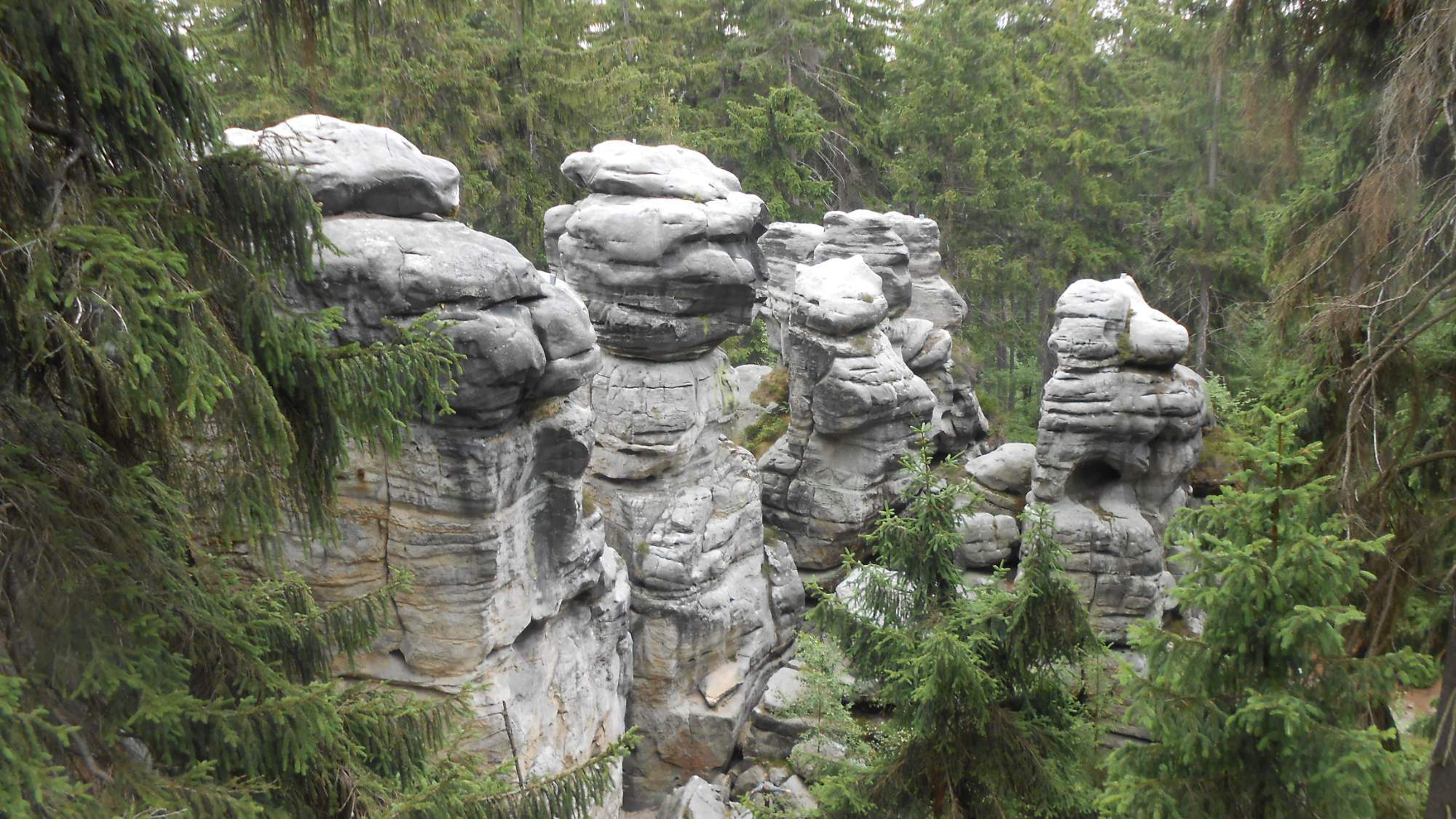 When I finally reached the peak after countless turns and twists, the lookout allowed me the lower part of this place – and eventually led me to decide to visit that part as well, even though it was not in my original plan and I was doing intense calculations to guesstimate how much could this set back my plan to return home before midnight.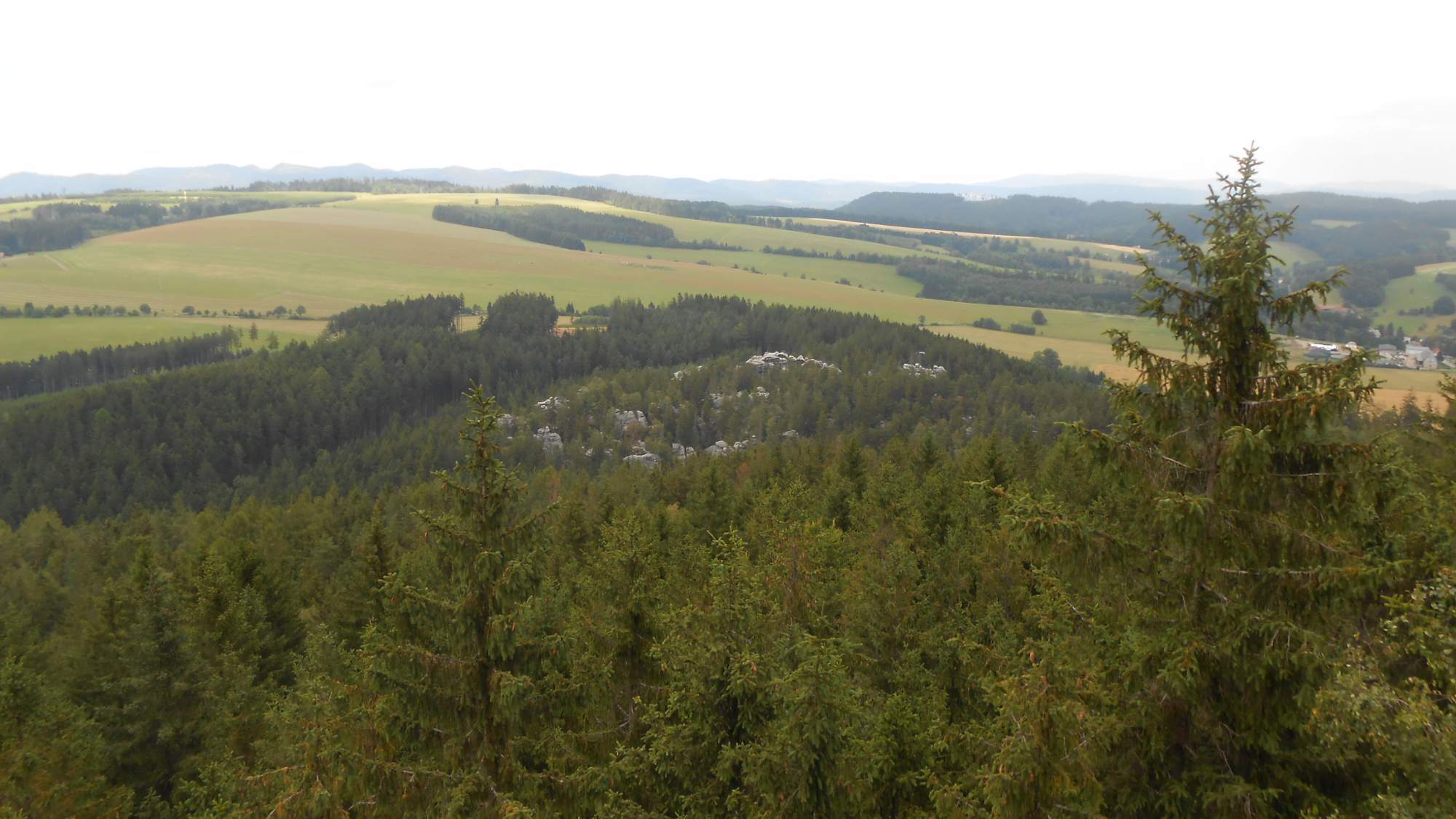 To my luck, the lower part required no more walking uphill (the short sleep, long time spent in train, and 20km already walked started making their mark on me) while still having an abundance of magnificent sights.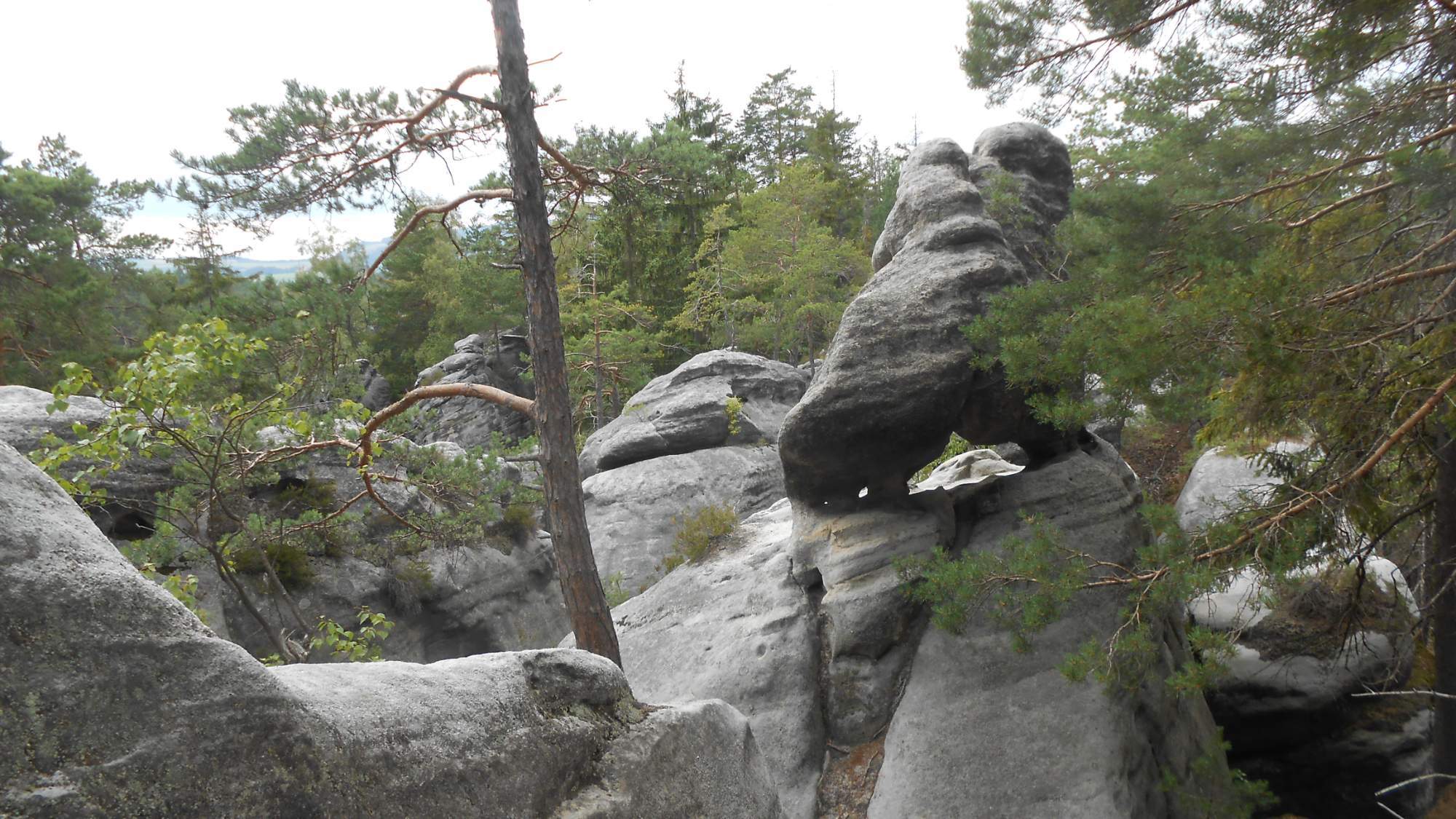 One of which was fittingly named 'severed head'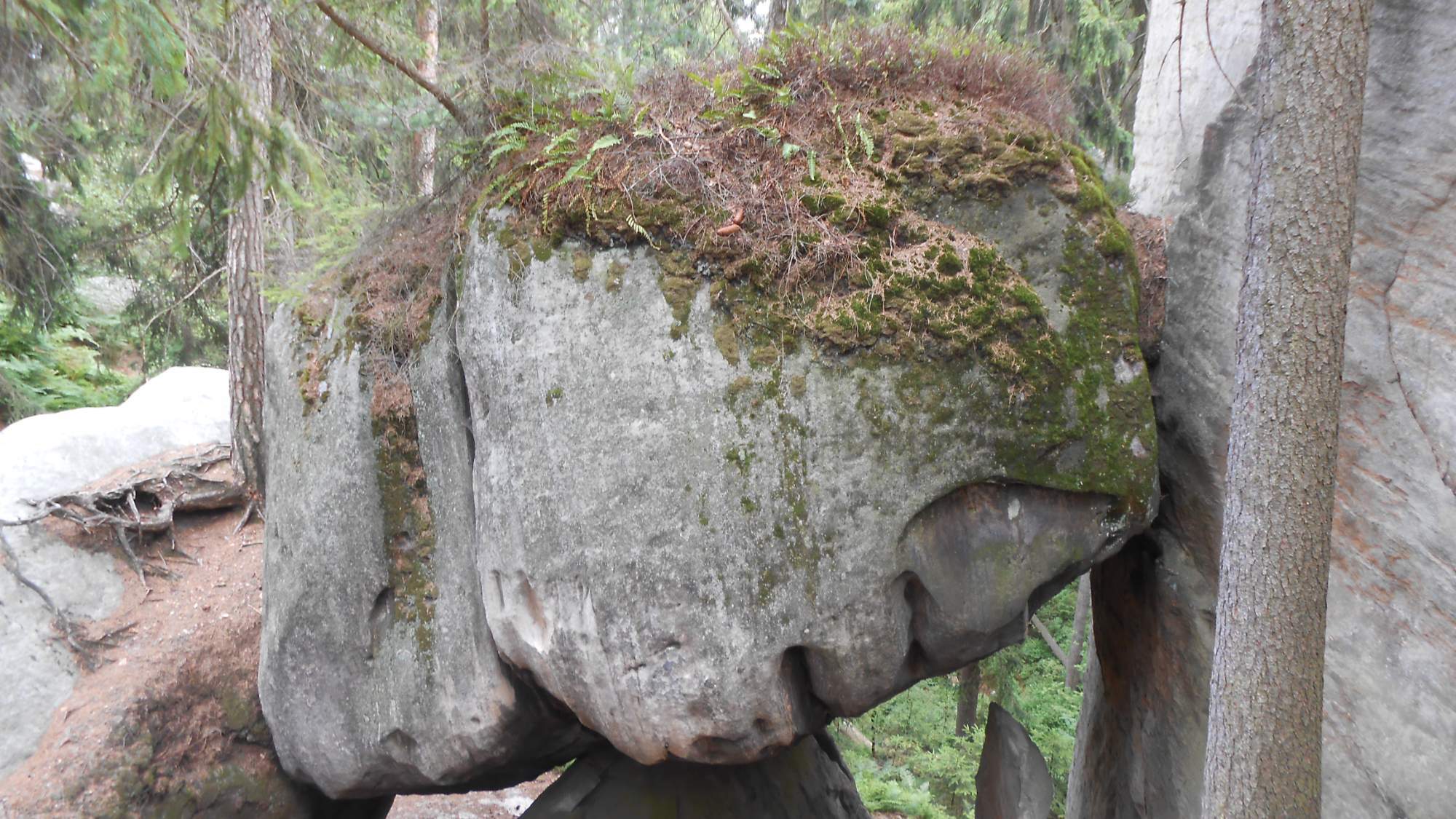 After leaving the area, I headed for the nearest train stop – and eventually returned home around 22:45.
The second return
A week later, I decided to see at least something of the other part. My plan was to improvise a bit and take a different trail than we did the one day back in 2010 but I was waylaid by some issues on the railroad and forced to improvise again, starting my hike on a different stop.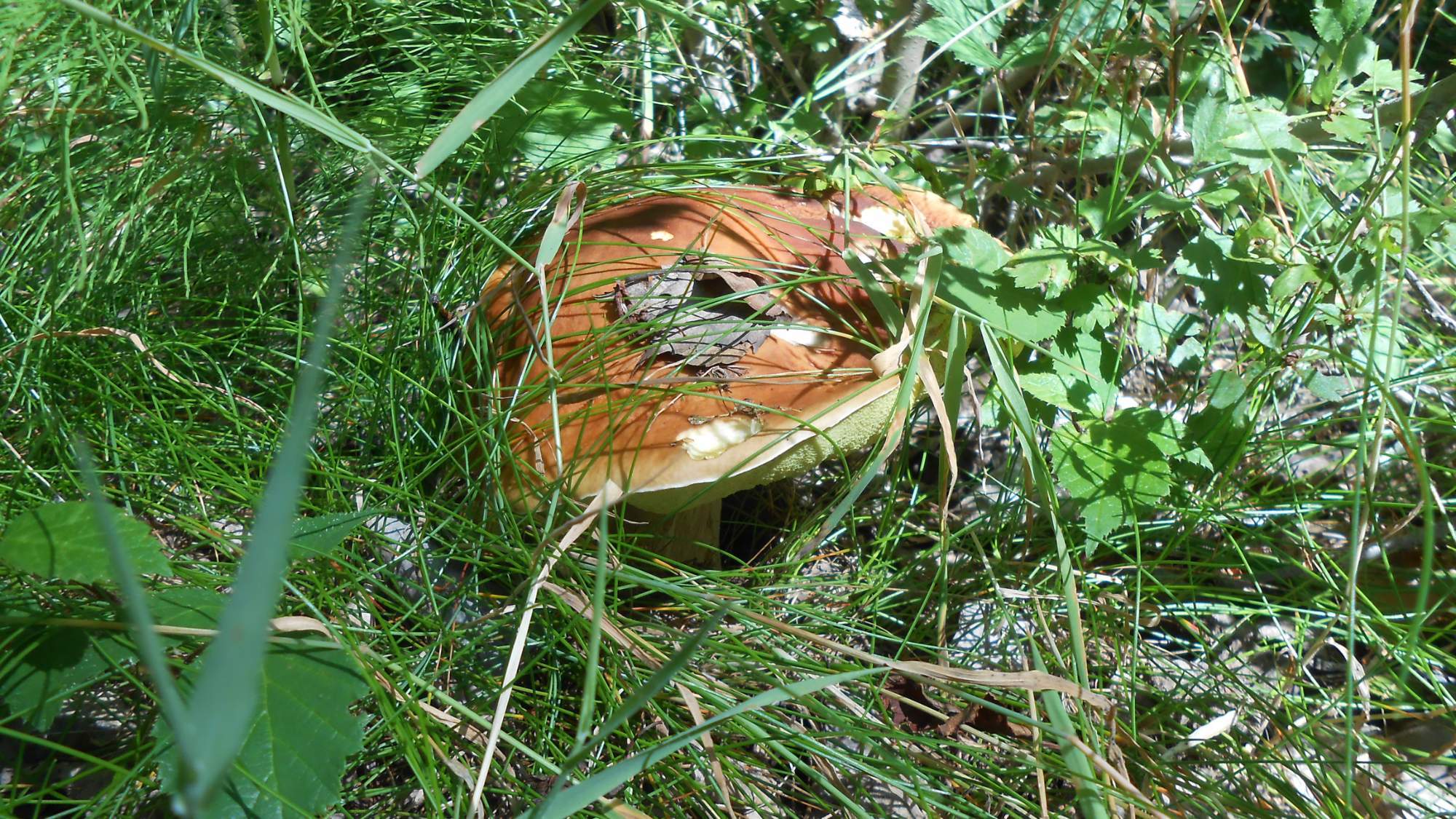 Thus, I approached the area from the opposite direction compared to the majority of visitors. It had a major advantage: the trail was not as crowded until I reached the heart of the reserve.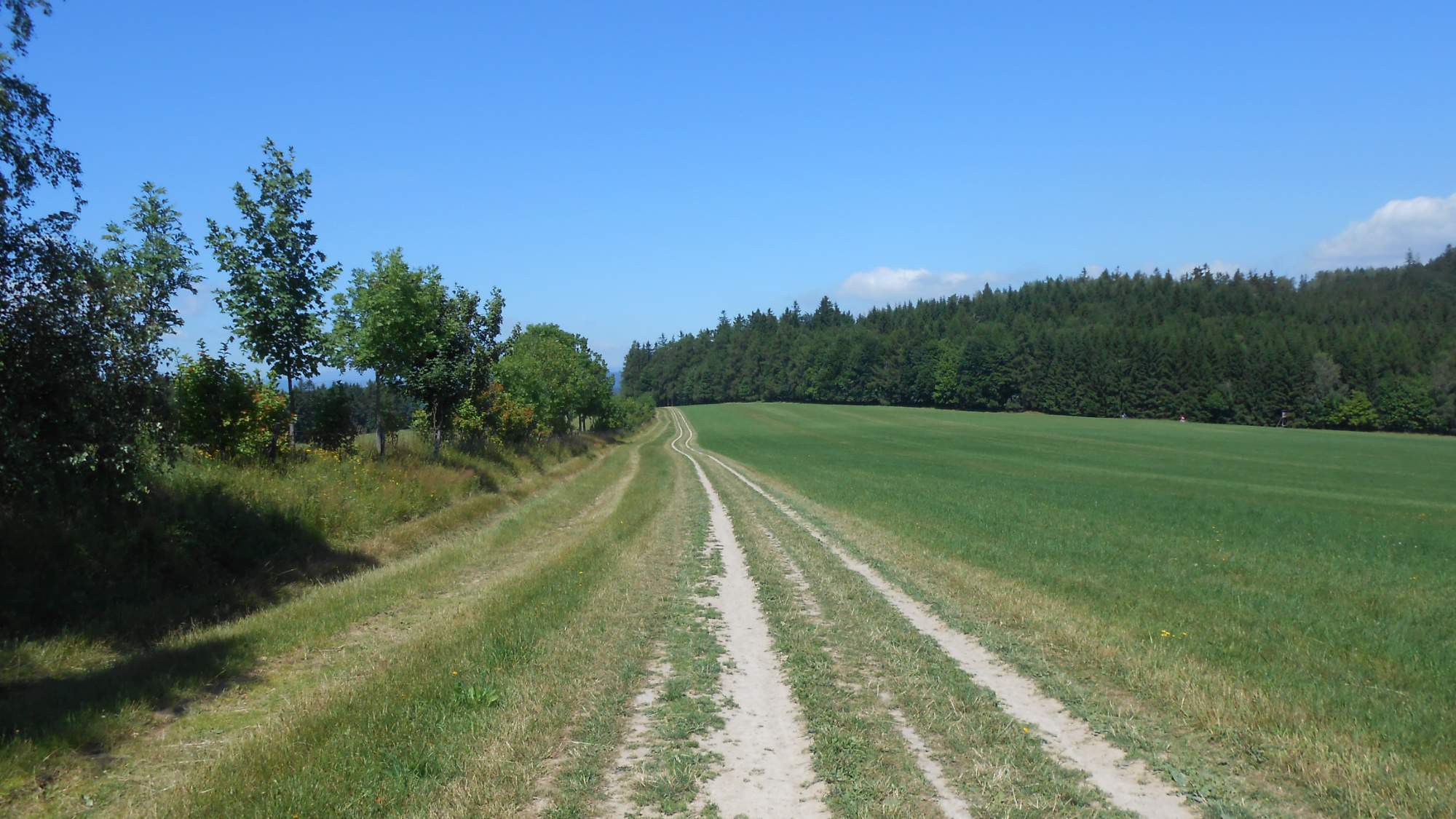 And I soon had hints of what's inside those woods.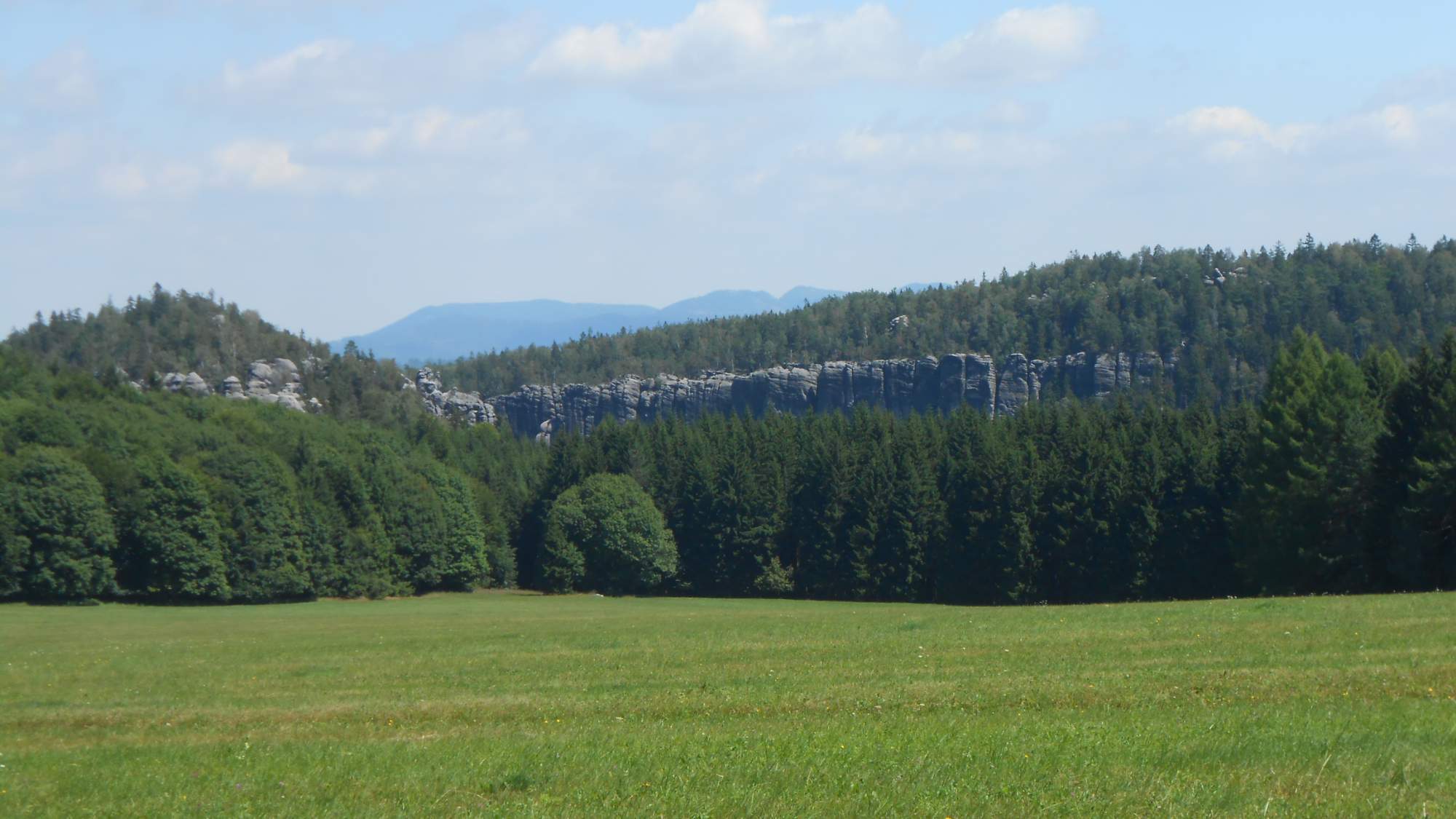 Entering the reserve, I ascended one of the higher peaks in the area and saw some parts of the place from above – as well as having some limited lookout into the distance.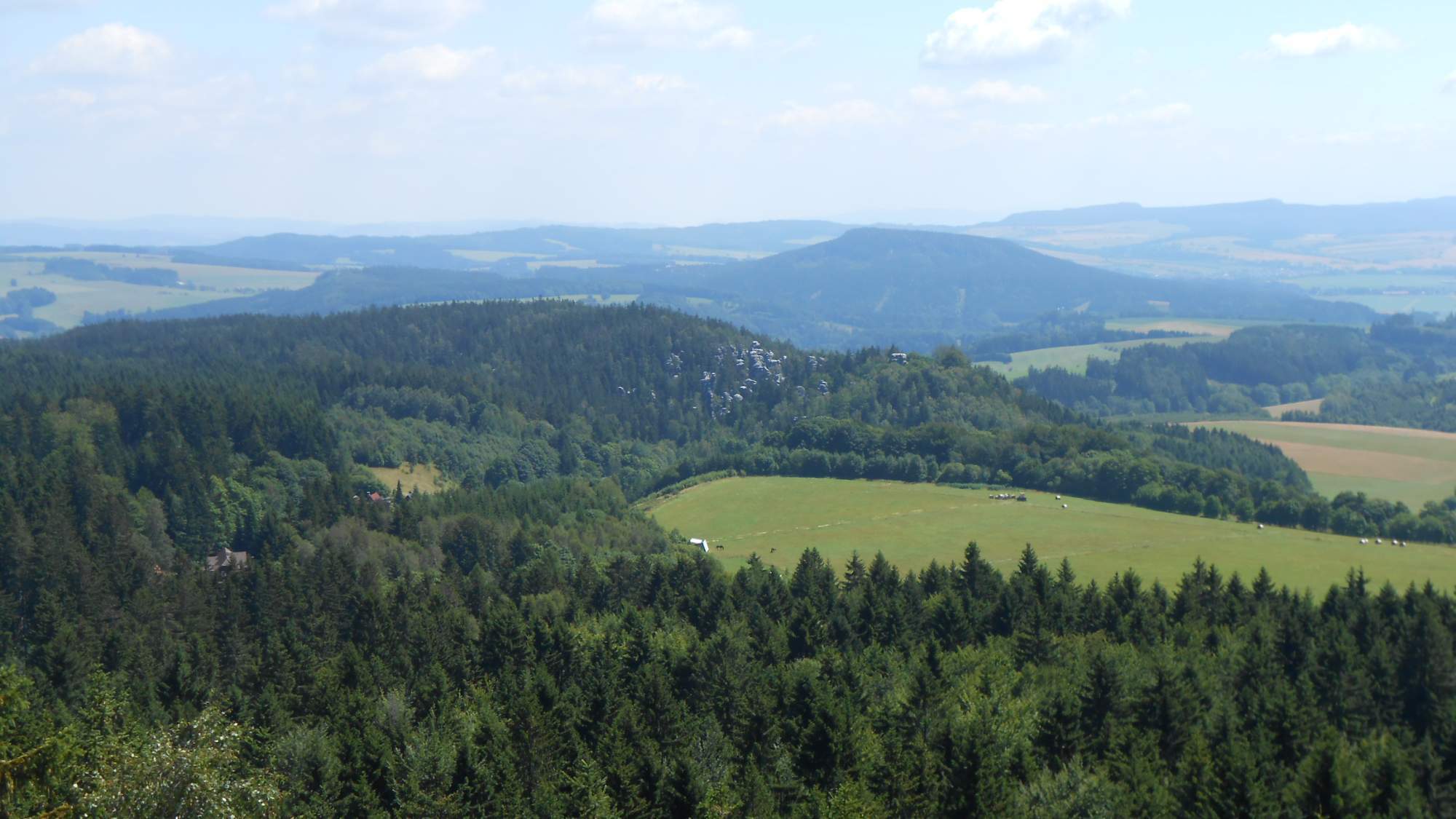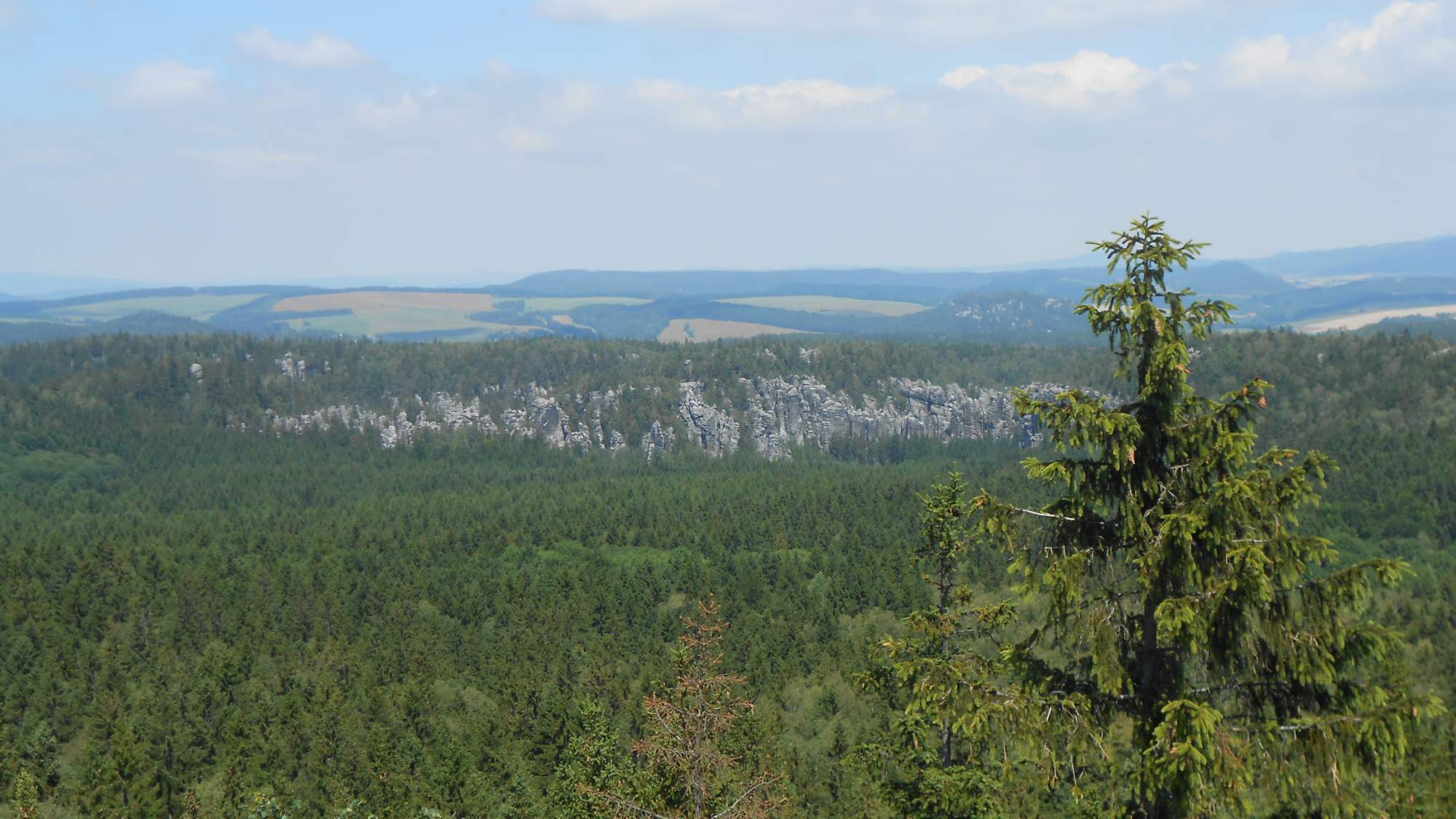 From the lookout, I then descended to the labyrinth – the part most crowded by people. Taking photos or just walking on my own pace became a bit harder but I've came to the conclusion I'll want to return after a few years again and pick a time when it's not as crowded. Maybe to give autumn another shot.
At that point, I've decided to try and find the lookout where my father took the picture I posted on the very beginning of this post. So, I've crossed the labyrinth to its south end, took a sharp turn to another trail, and ascended above it.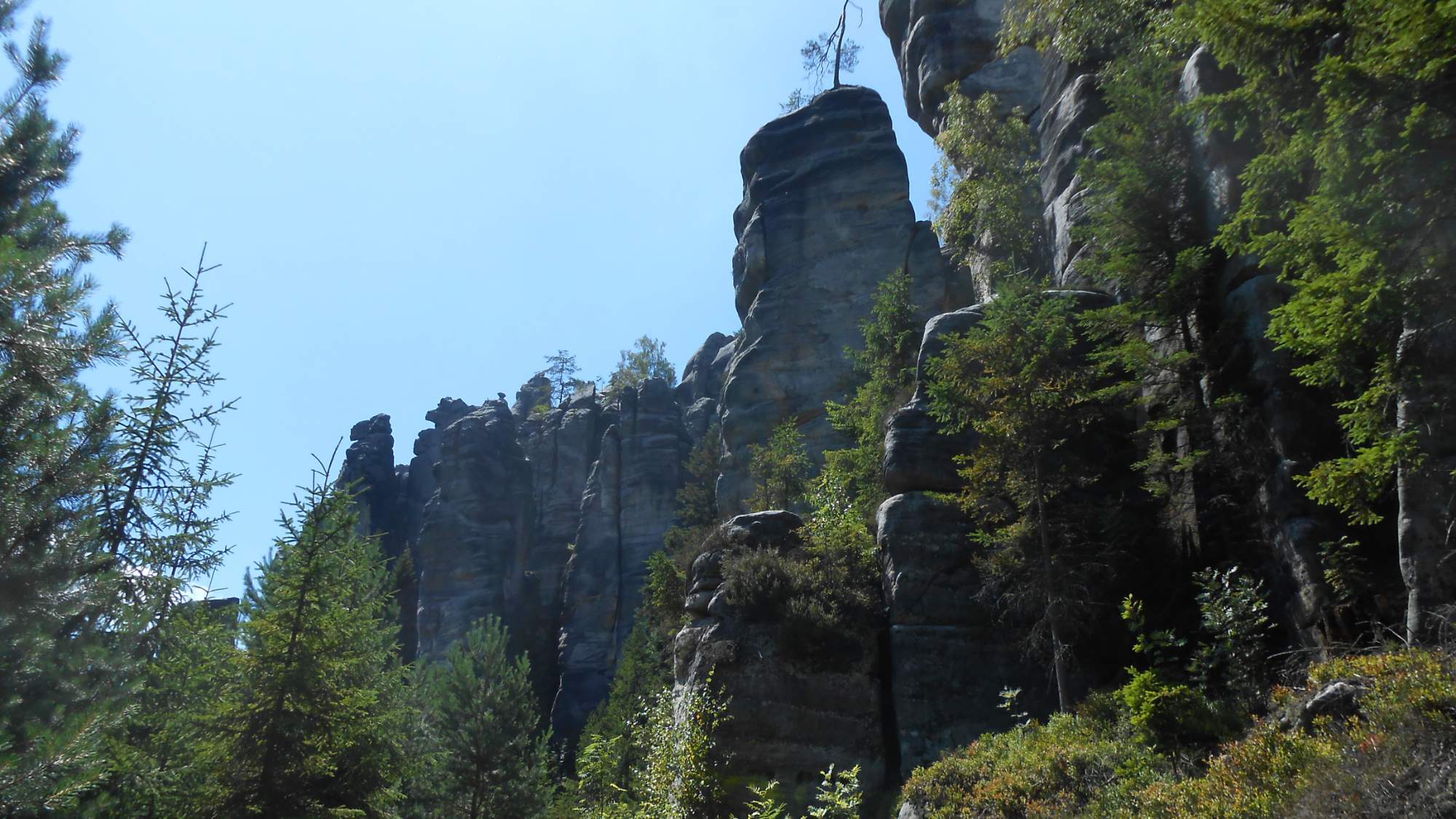 The trail led me around several smaller rocks hidden by the forest…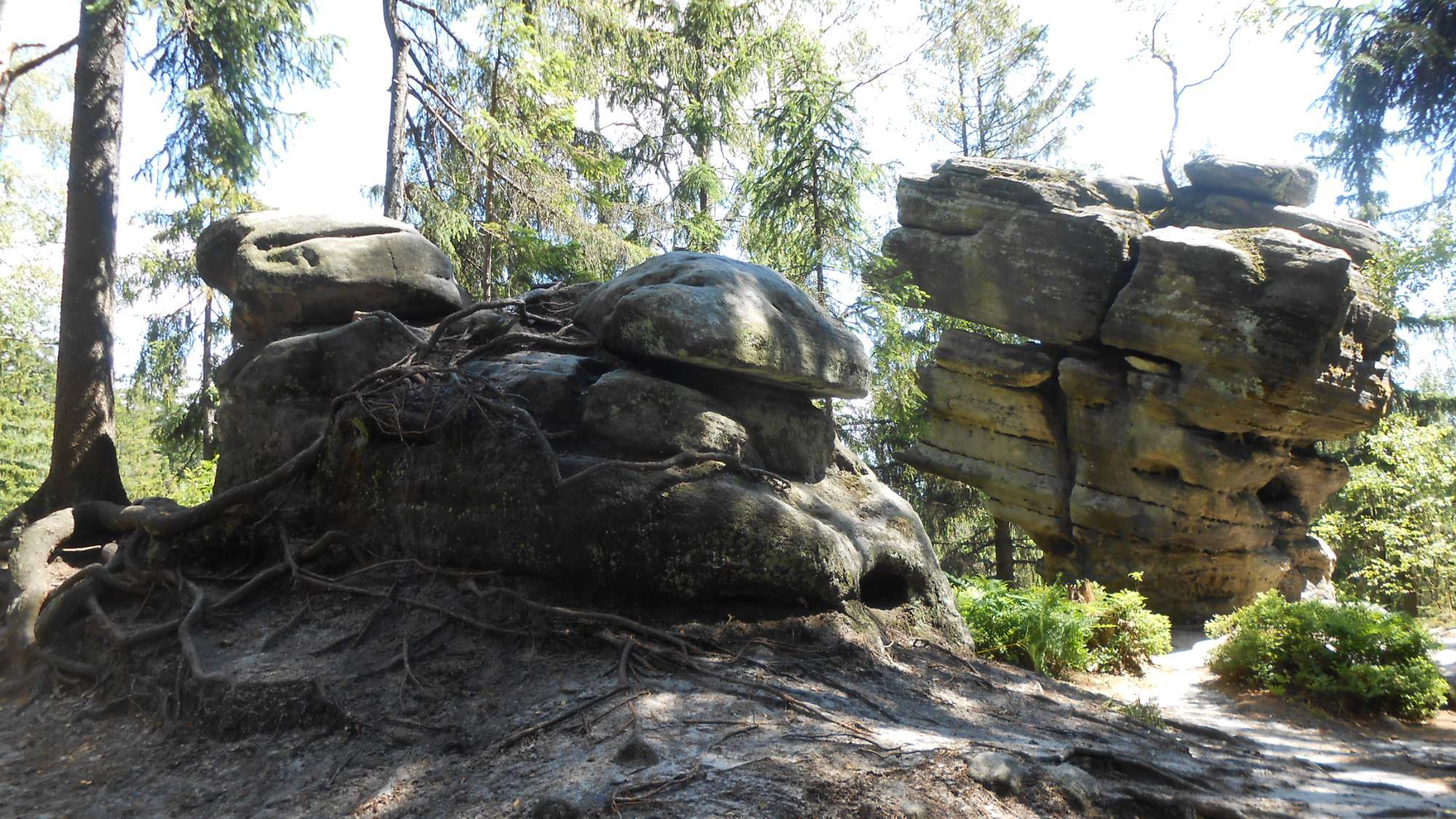 …but finding the lookout was not as hard as I expected, because most of the trail was in the woods and so the few lookouts were quite obvious.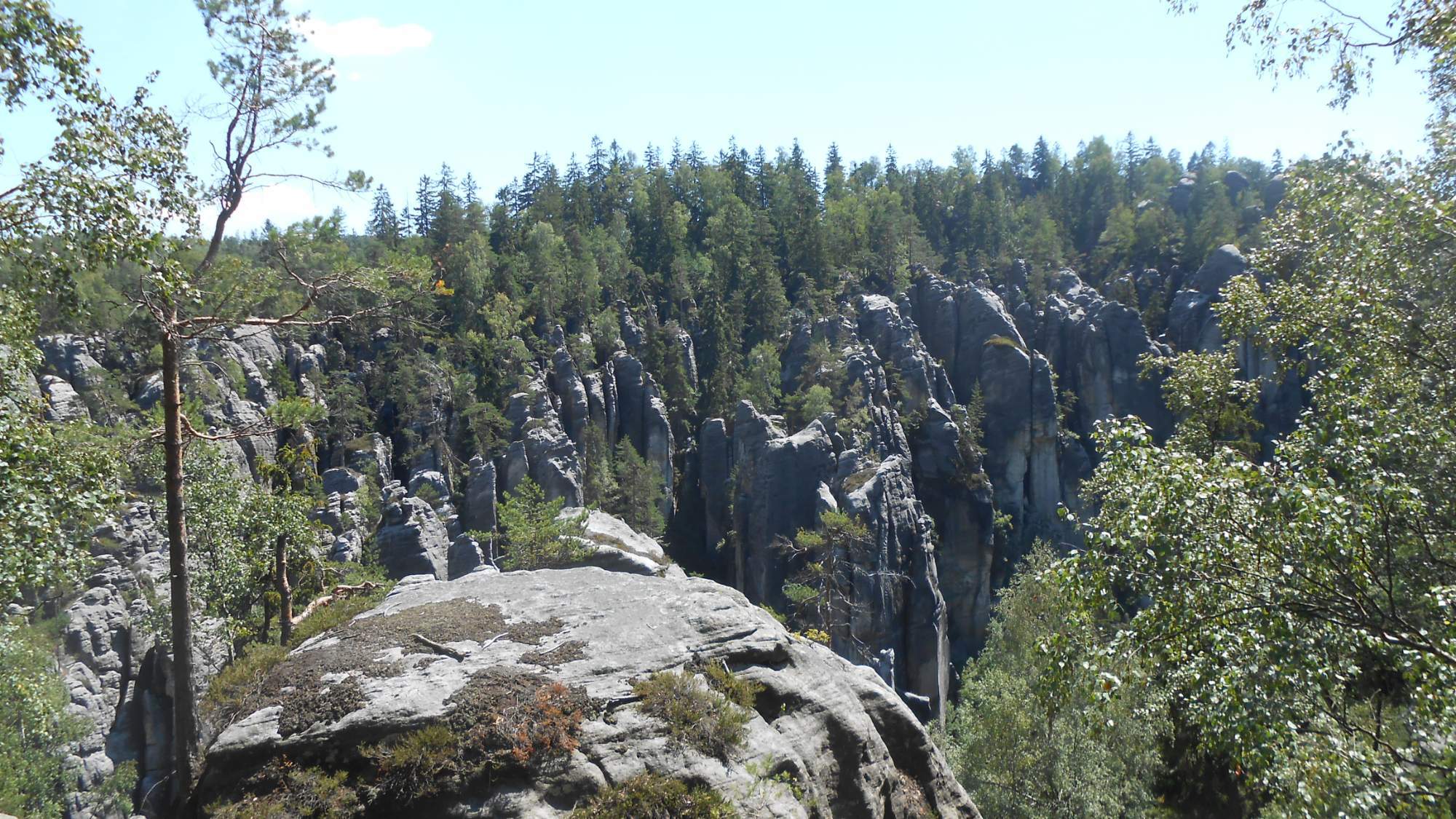 Then, it was to descend and head to the exit from the reserve, hoping to get on my way home.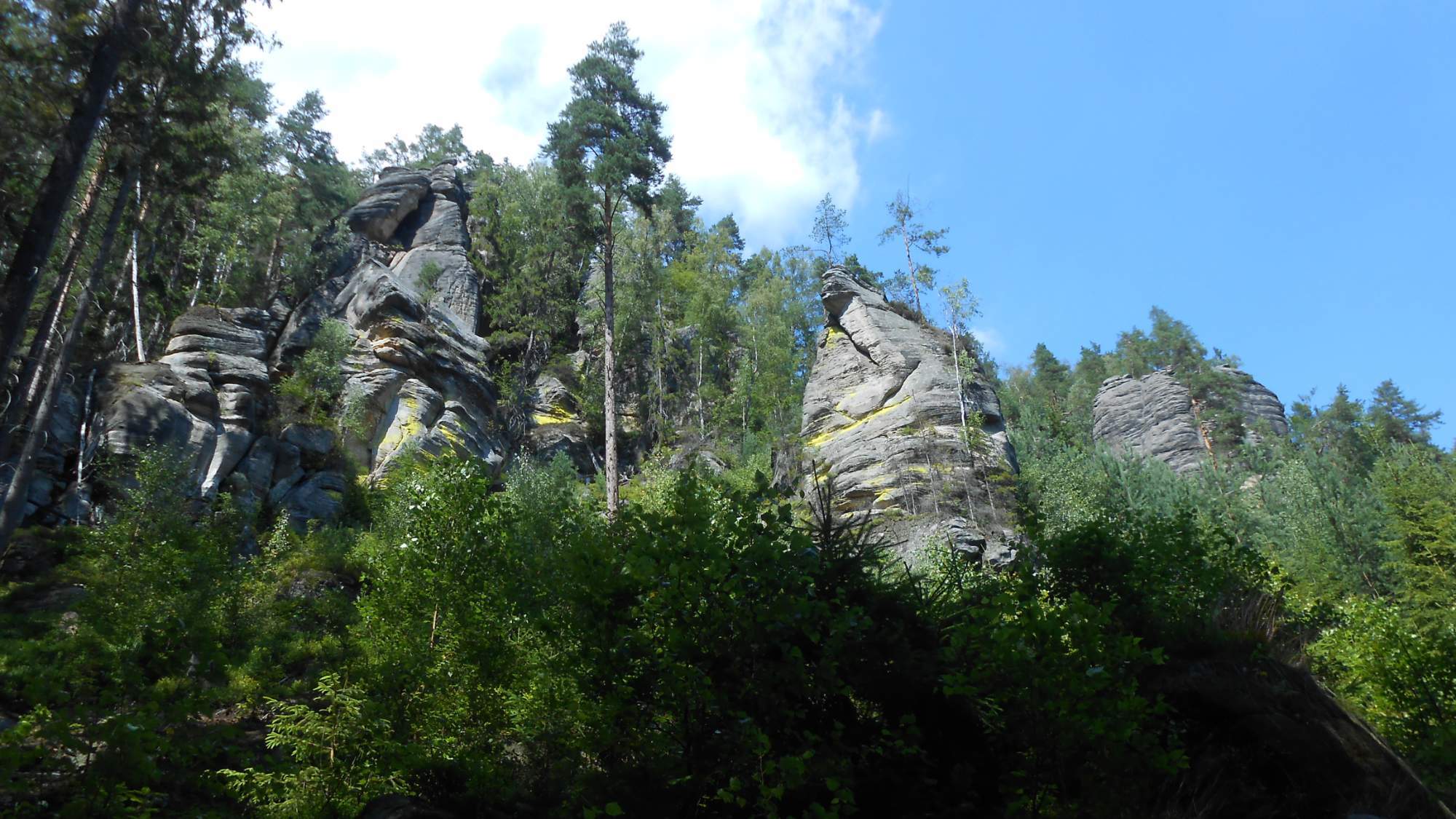 Fortunately, due to a bit of luck and improvisation, I returned home earlier than the previous time (around 20:40) which let me have a better rest during the night.
Which gets me to the end of this long and picture-heavy post. I hope you liked it and the summer's treating you well. As usual, feel free to comment or ask.
---
All photos taken by me in July 2019 unless stated otherwise. Should you want a full-definition version for personal use (phone/PC wallpaper or something), feel free to ask (does not apply to photos showing people).