I went for a few hikes in July. While they all had one thing in common – rock formations – they were of two categories. The first one was about nice but forgotten places near a major city.
While cities are practical for living, they are often considered poor places for relaxation, unless you're completely satisfied with public swimming pools (indoor or outdoor) or a ZOO. The main issue is that people who believe this are often considering only the 'core' of the city and don't look at the outskirts or places that are just a few minutes of ride away.
Of course, going to places near to other city than the one I live in made that a longer journey for me (2:45hr and 4:15hr spent in train, respectively) but that's just me.
Another factor is that should there be a very well known place near any city, almost anything slightly away from that place will be unknown, forgotten – and thus a perfect destination for a relaxing walk.
So, while there's a well-known karst reserve covering some 90 square kilometers, the places just across a valley on the reserve's west border are barely known about. The target of my trip was a 2km long chain of sedimentary rock formations, of which roughly half is accessible (due to terrain constrains).
In my typical approach, I did not take the shourtest route, instead visiting a few other places on my way, though none too interesting – small overgrown ruin, almost overgrown overlook of a river's valley, and overgrown almost-ruin. Thus, reaching this place took me over 10km (while the nearest train station is 3km away, making it easily accessible).
So, here I was. A 1km long section of a trail hopping and zigzagging around and between rocks looking protruding from the ground at angles up to 80 degrees almost alone despite the decent weather, the school holiday, and the vicinity of a major city from which you can take a train in this direction every 30 minutes.
Hidden in plain sight. Yep.
And that's pretty close to the truth – the dense forest left to the nature's devices masks the rock formation from being seen on distance. As you can see on the photo below, the rocks are barely visible even from a lookout tower on the chain's end.
By the way, if you wonder about the purpose of the red-and-white stripes, that's Czech trail marking system: a colored (red/blue/green/yellow) stripe between two white stripes. Similar system is used in Slovakia and Poland, and a few other countries.
---
The other hike led me close to Prague. The place I visited is more interesting to cyclists as the meandering river allow them to ride in nice and easy terrain. So, foolish me got up at 3:20 and spent over four hours in train to cross 400km (as if there weren't undiscovered places closer to my home) to see this place.
The similarity to the previous hike is obvious: rock formation near a major city, made of sedimentary rock (this time quartz-based) near other well-known places (mostly castles or their ruins in this case). What caught my attention after reaching the first formation were metal 'scopes' to show some other landmarks in visible distance, names of respective landmarks welded on the sides.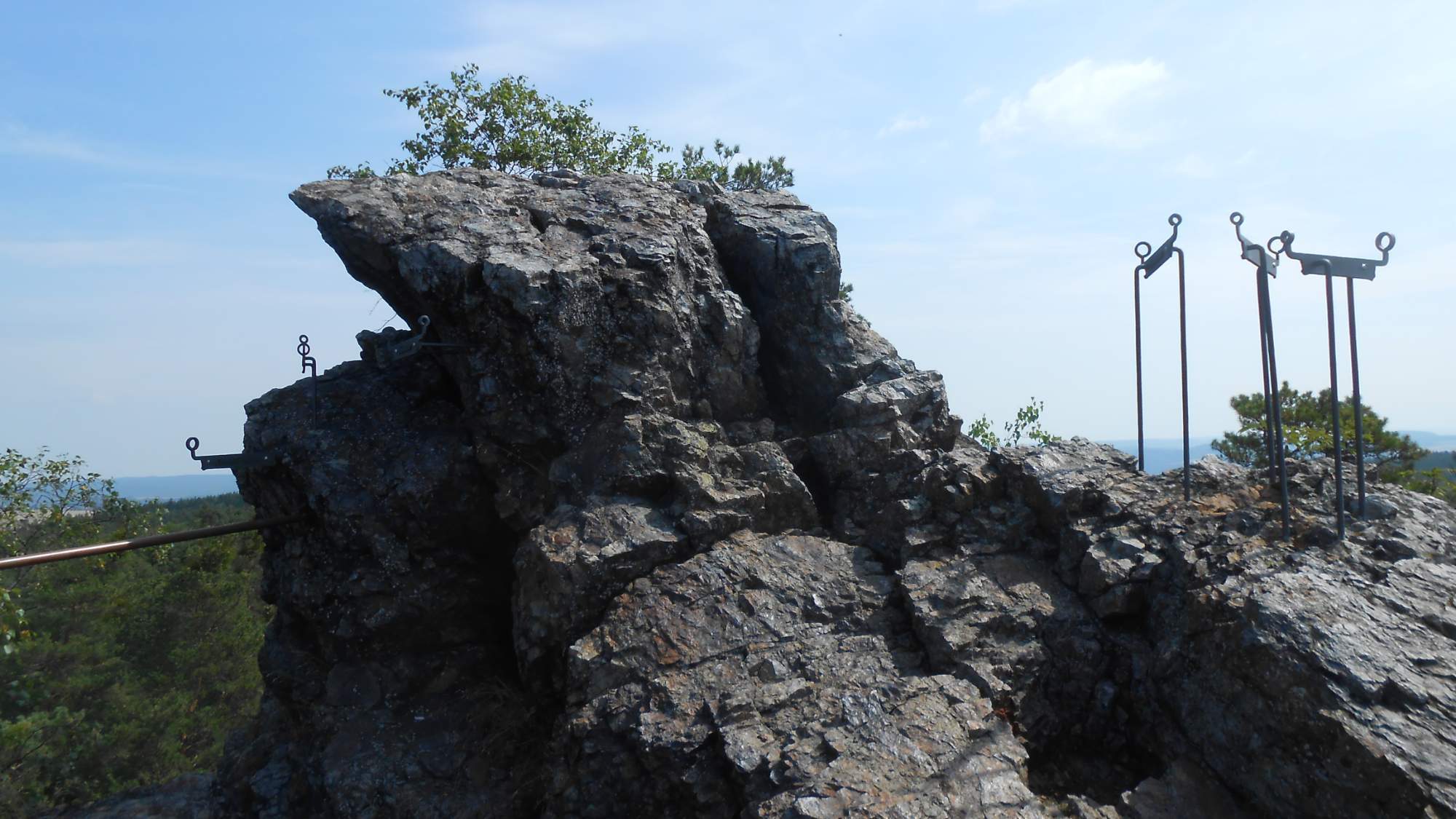 My next stop was a nearby lookout tower – made mostly from wood in a way that made the spiral staircase wobble a bit when walked either up or down – not the best idea for anyone with vertigo or something like this.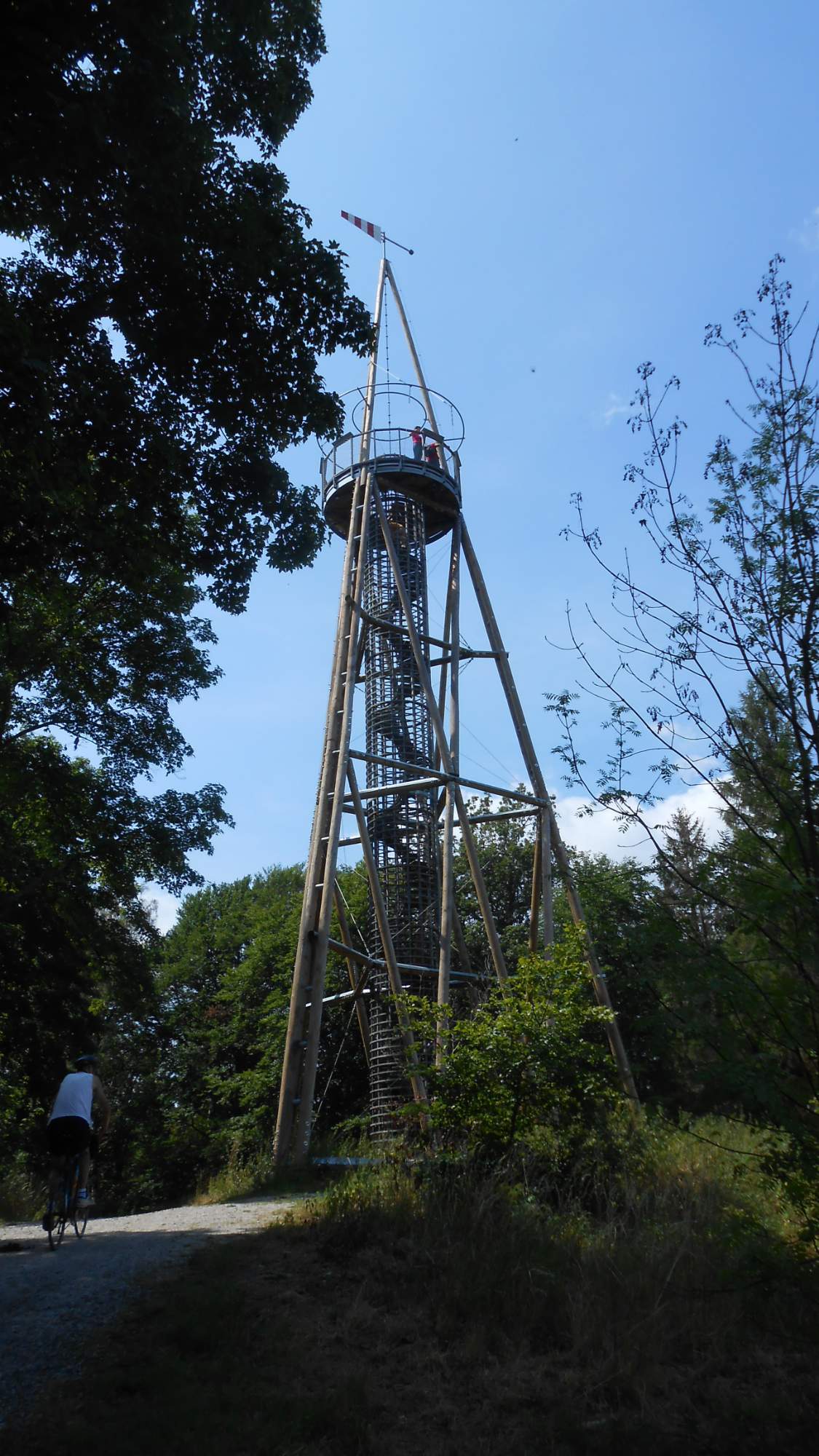 The visibility was not as good as I'd like, limited to maybe 30km, so I struggled to see the Prague TV tower even with the boards on the lookout giving away its direction.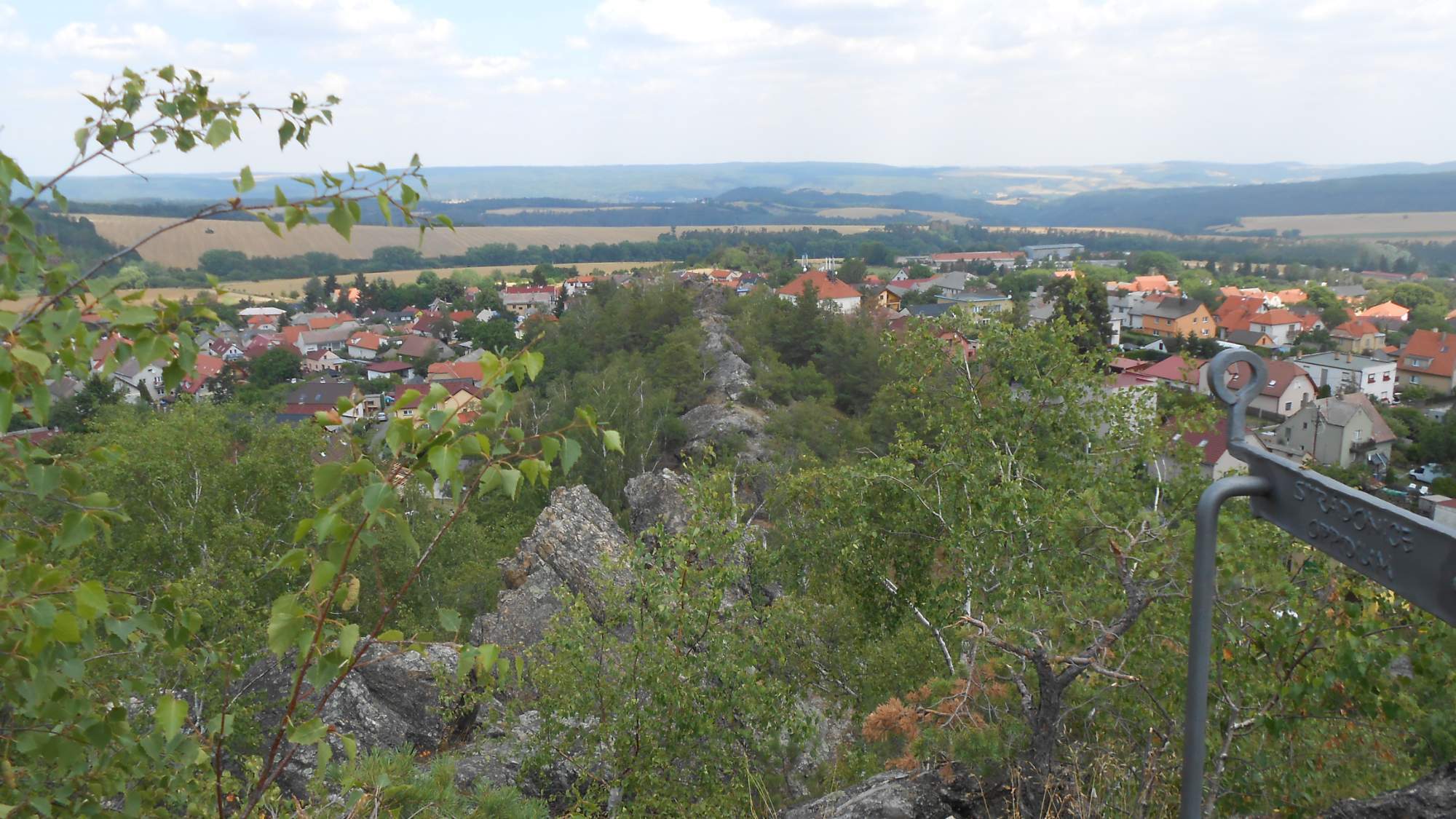 My third stop was another rock formation. This one was interesting mostly by the fact that standing on the top made it look like it split the village below it in two (of course, the village was built around it, but you know, imagination…). Again, with a few of the 'scopes' of which some 'aimed' for the first rock formation and the lookout tower I visited shortly before.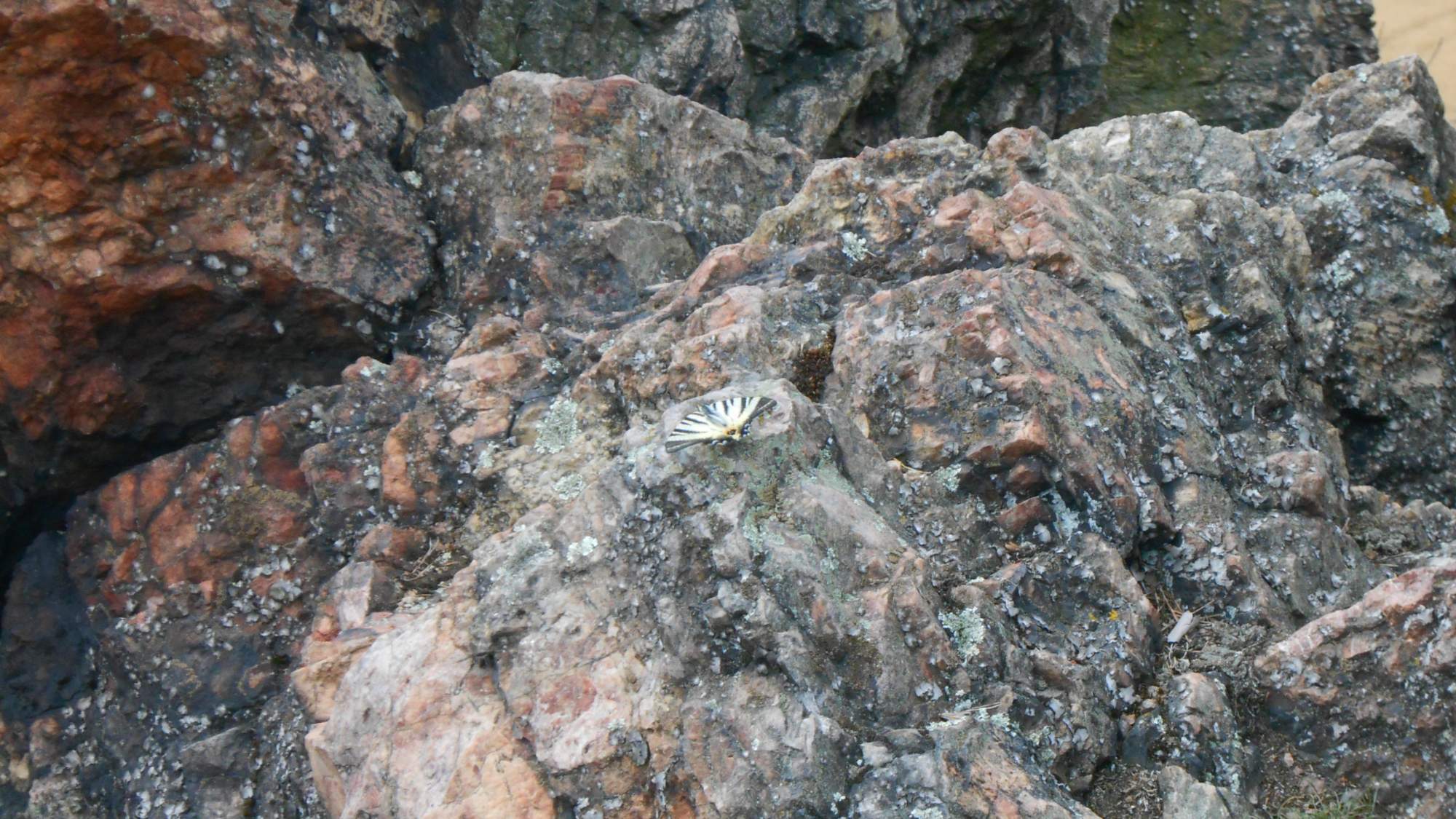 From there, I walked across fields and forests to the second lookout tower, where the view was (due to the tall forest) limited to a part of the town below.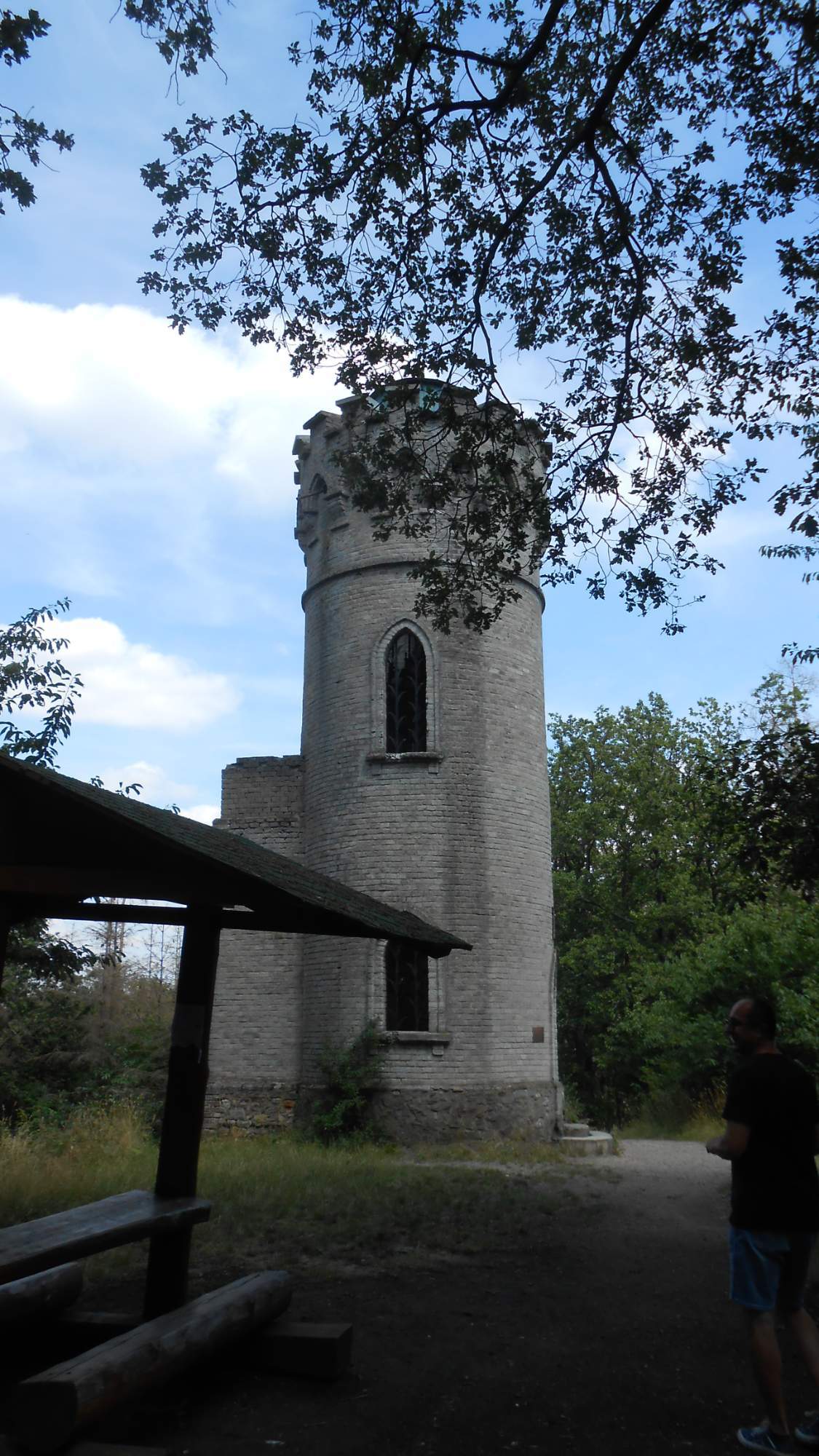 From there on, I descended towards the town, crossed it to reach the train station, and headed home.
Now, since all of this might not make it look as insane, a rough schedule of the second trip:
3:30 – getting up
4:10 – leaving the house
4:30 – boarding the bus
5:10 – reaching the train station
5:25 – boarding the first train (reaching Prague main station at 8:20)
9:45 – leaving the second train (with 5-minute delay), hike starts
11:00 – reaching the first rocky lookout (6km walked)
12:05 – reaching the first lookout tower (12,3km walked)
12:55 – reaching the 'village splitting' rock (16,3km walked)
14:15 – reaching the second lookout tower (23,2km walked)
15:07 – reaching the train station (27,7km walked)
15:10 – boarding the train (reaching Prague main station at 15:55)
16:25 – leaving Prague main station in the second train
19:55 – leaving the train
20:06 – taking a bus from the train station
20:35 – leaving the bus at my 'home' stop
20:45 – getting home
I'll wrap this here. Enjoy the summer and, for your own sake, try to avoid 400km train journeys, unless your country has trains going at 200+km/h.