The second half of September had me go for three hikes, during which I had a nice taste of the early autumn while the weather was still relatively warm.
The first hike was pretty much a spontaneous improvisation. On the friday before it, I saw the forecast is good, so I decided to just go somewhere. As the mushroom season was in full swing due to the frequent rain periods (which avoided weekends, yay!), I've chosen a place where I had a chance to find something. Going close, it would not be just for photos this time, I decided I'd bring a few edible pieces home if I found them.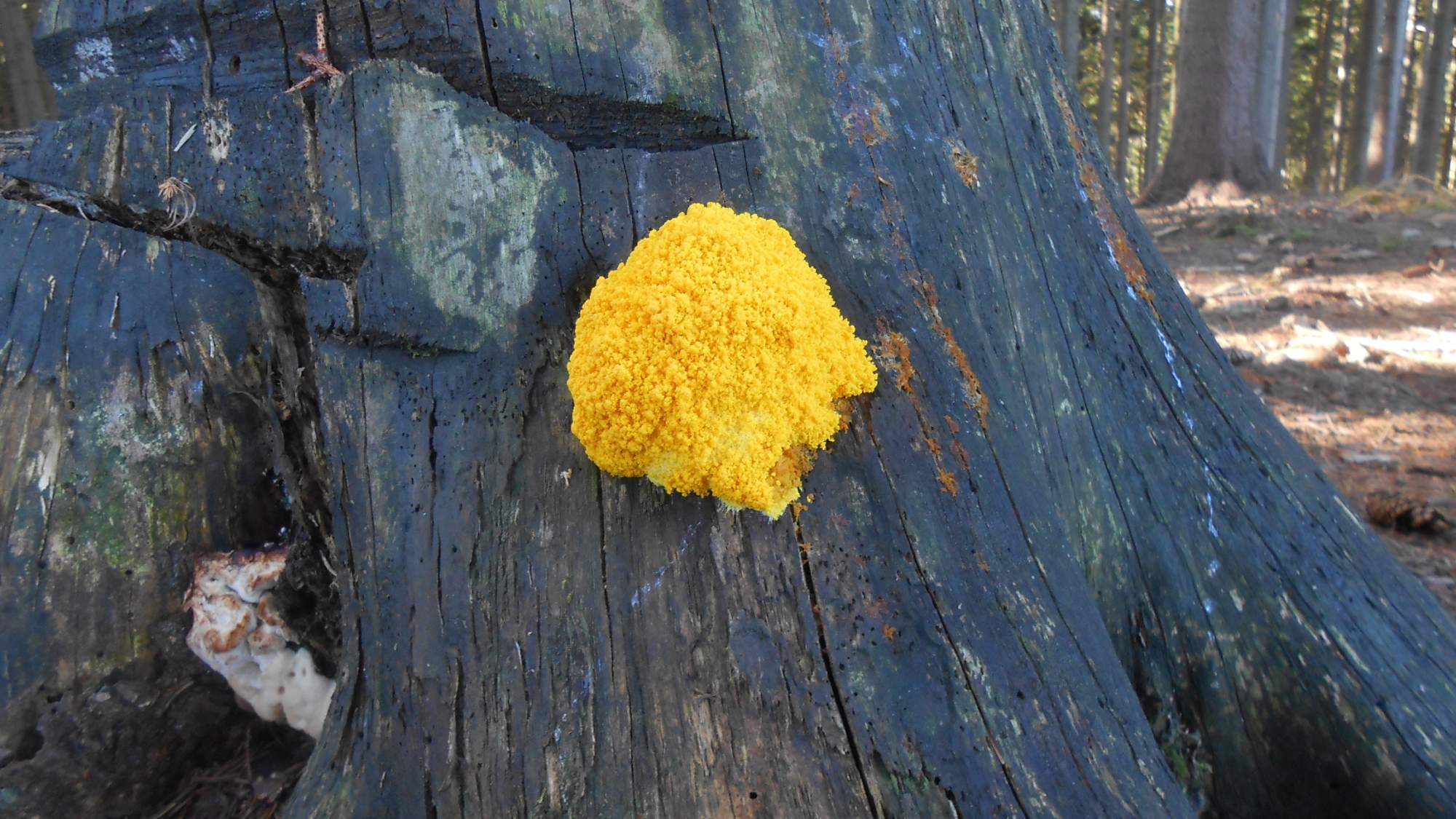 But, as it was well-known edible mushrooms are growing a lot, so did many other people. For the first hour or so, I found two or three pieces so tiny I could not even take a picture of them (let alone to bother picking them up), and the above-pictured fungus growing on a tree stump – which looked photogenic, at least.
I was beginning to accept that I'd been beaten and probably return empty-handed when, after two hours of walking, I reached a spring. I just looked towards a random blueberry shrub and…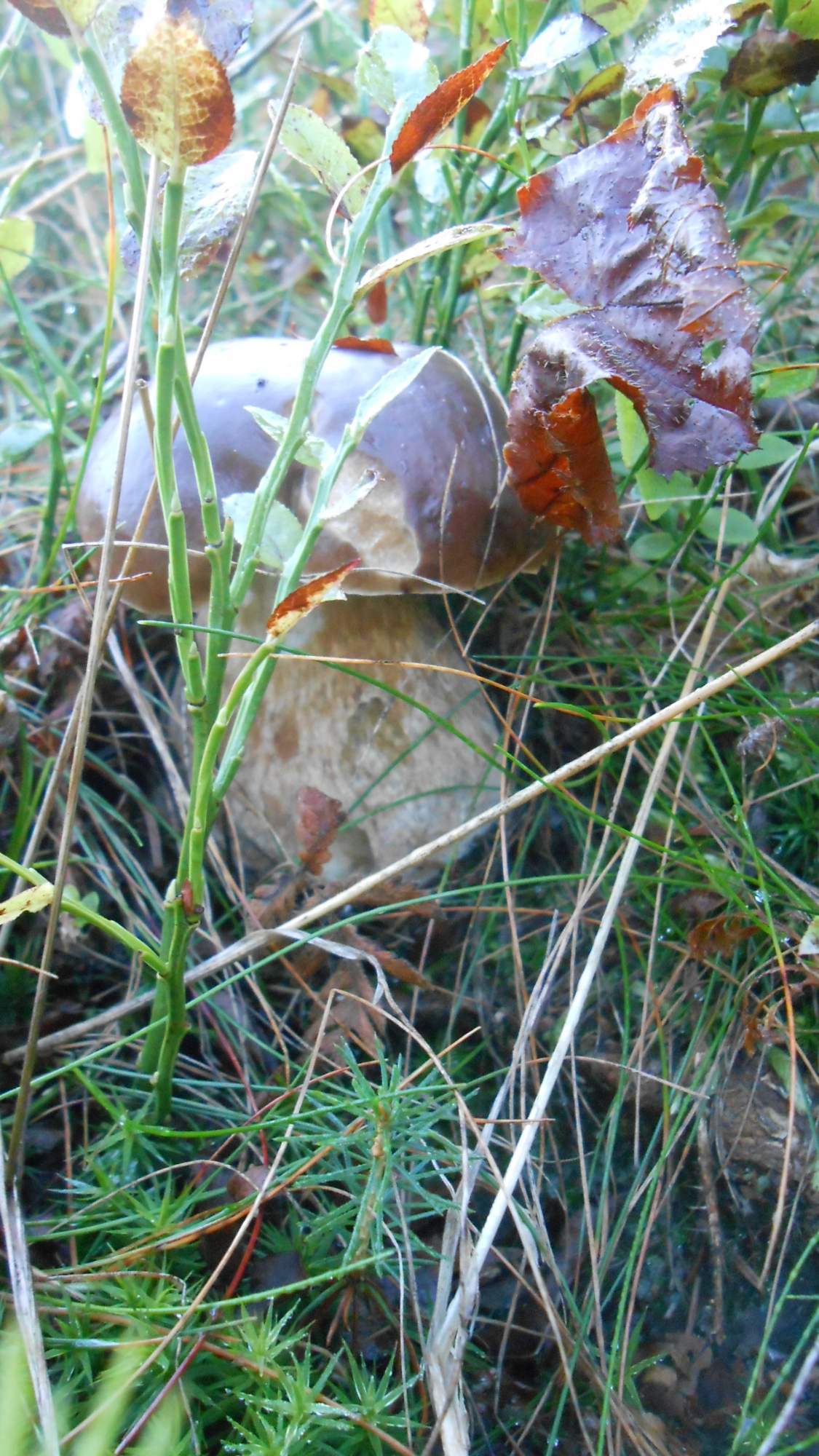 Found five pieces like this (10-15cm tall) as well as several smaller ones.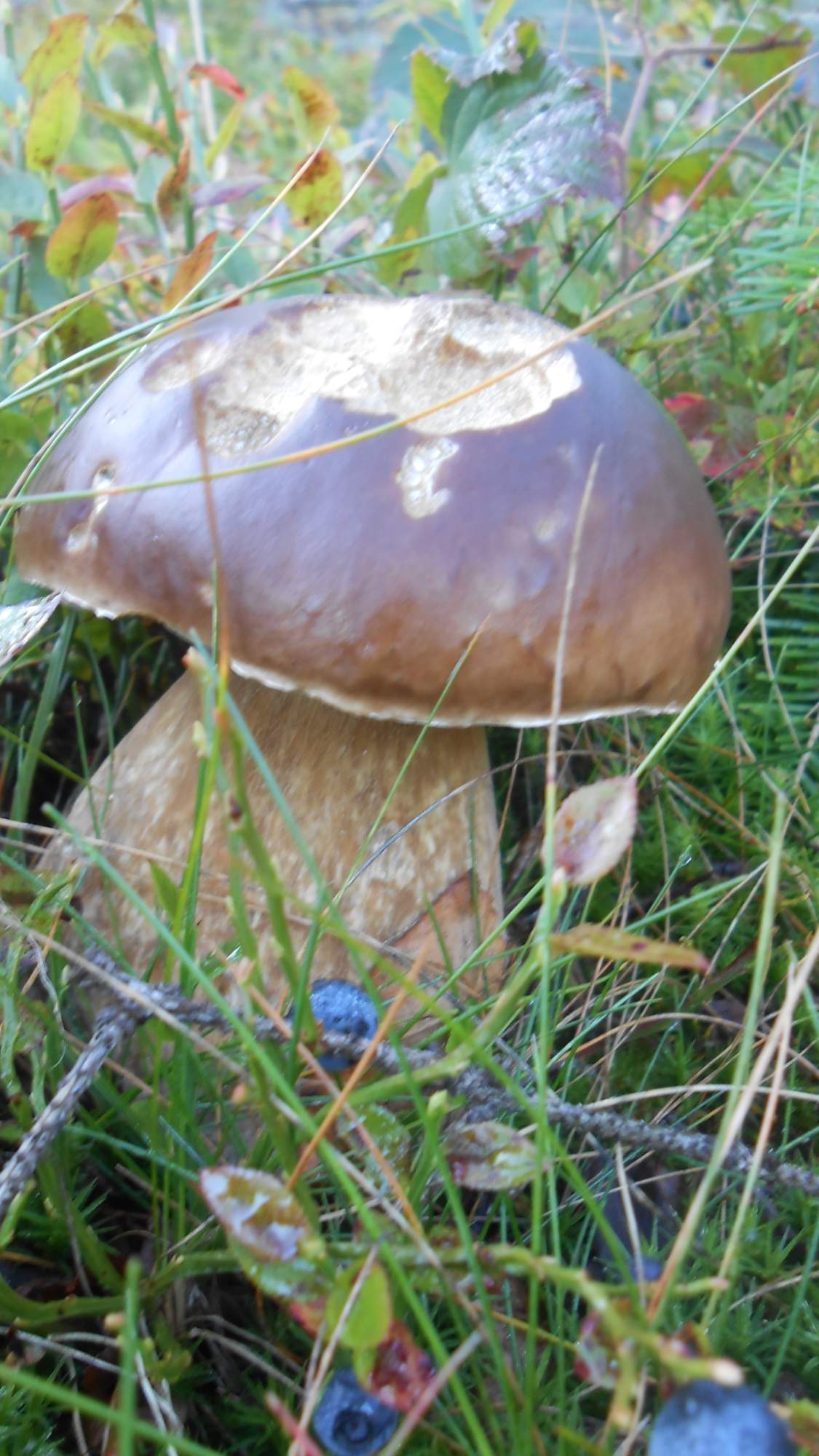 After the short stop I needed to pick them, I resumed my hike, at slightly slower pace, just in case.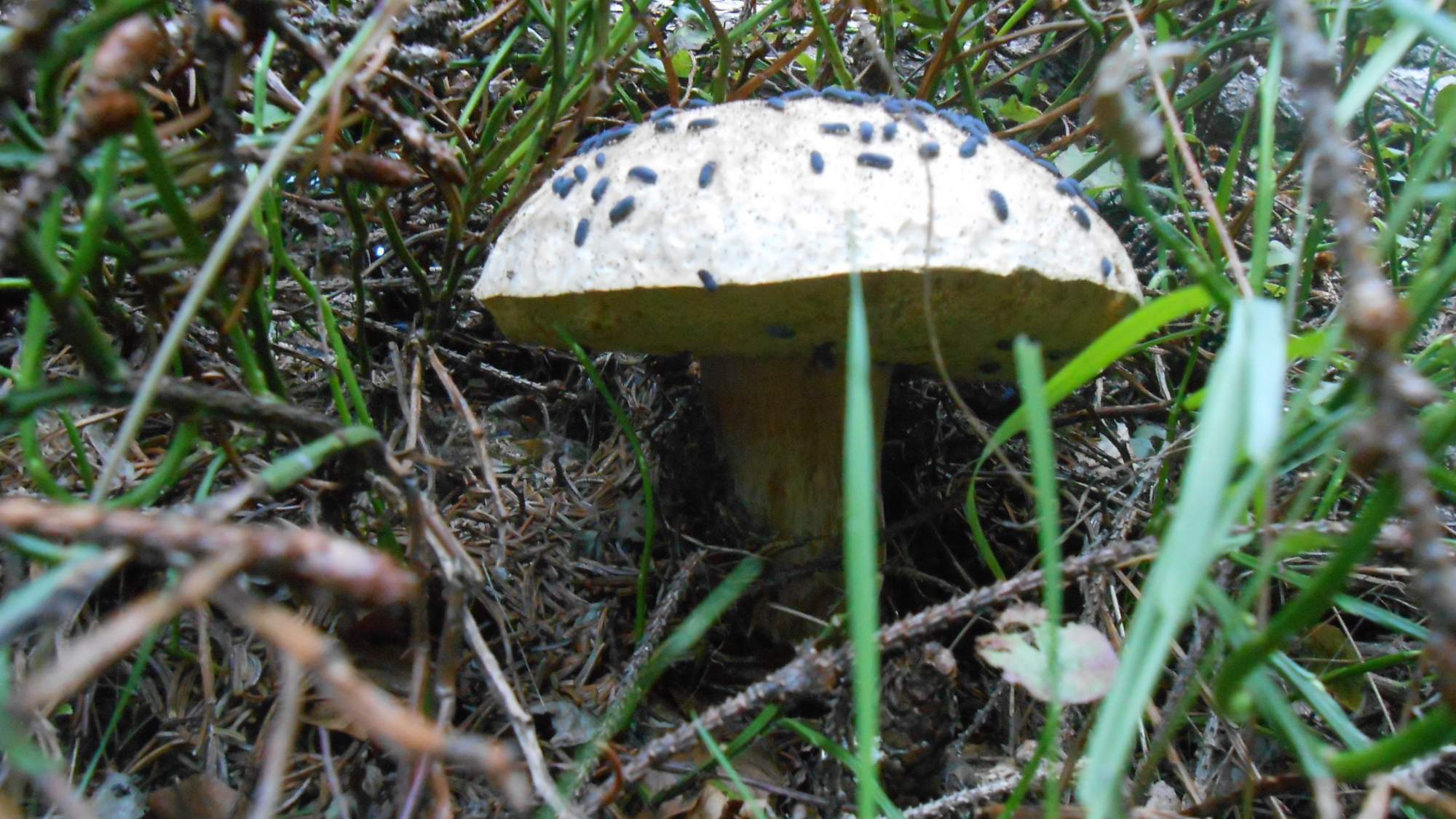 And made a few more finds.
Leccinum genus mushrooms, especially the orange-capped ones, are extremely photogenic – I'd call it the autumn's blossom – so I was happy to find one (it was six, actually, but only one was this large).
---
The second hike led me to a place I visited not-so-long ago. It was much further from my home and a longer hike so I was not about to pick any mushrooms anymore (and what I found during the previous hike would last a few months at least) but I was not against taking pictures of them.
The beginning of this hike was the same as one back in November 2016 (I had to verify, and I hardly believe it's almost 3 years already) when I went there to take some pictures of the first snow.
This time, being late September, snow was out of the question.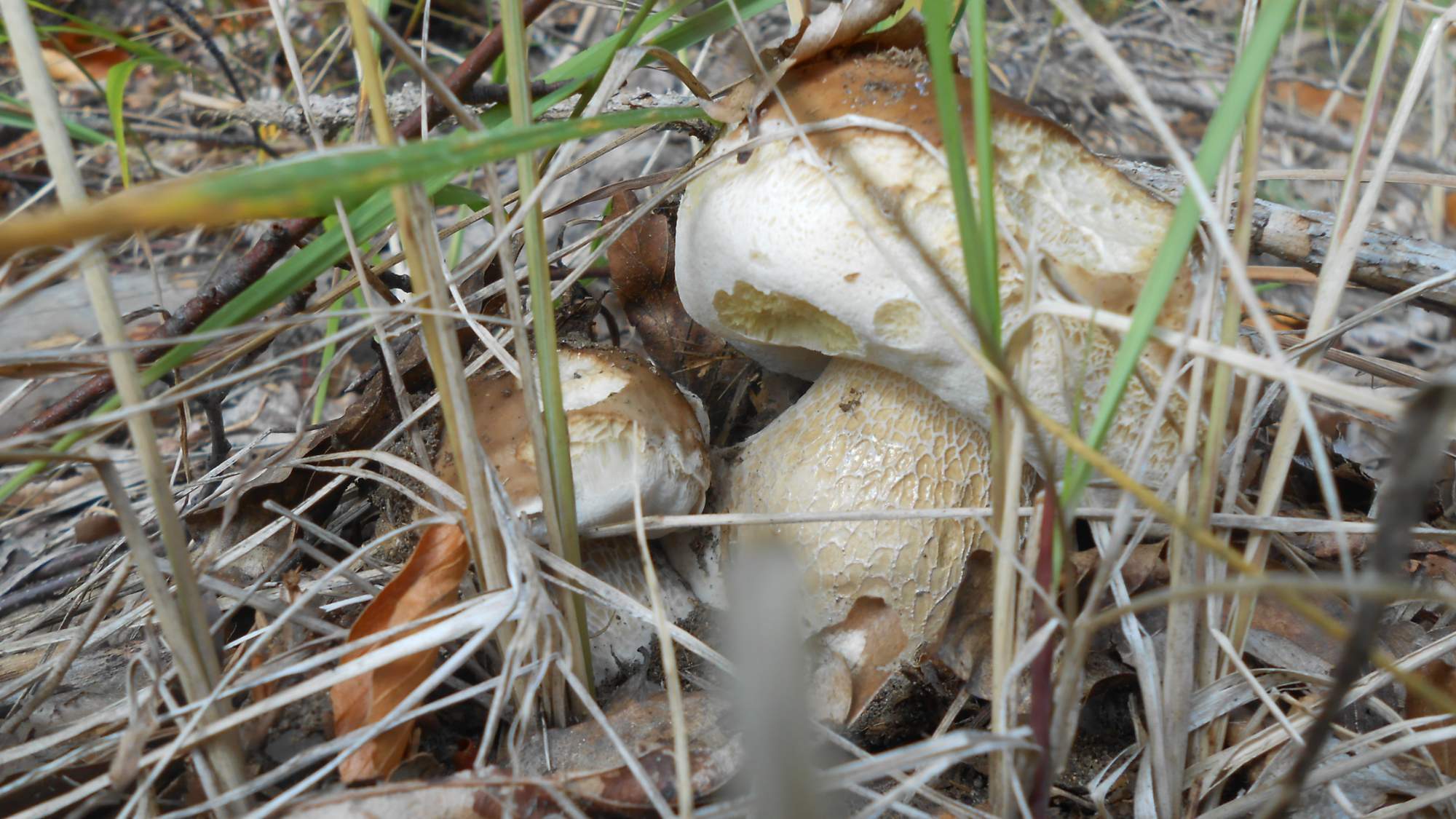 Compared to the 2016 hike, I turned left (westward) instead of right when I reached the border, walking towards a pass with a former border crossing (all hail Schengen agreement!) now turned into seasonal bufet for cyclists (in summer) and cross-country skiers (in winter). Being between cycling and skiing seasons, it was closed, but they had some interesting decorations outside…
My walk then continued along the border for another hour before turning back inland. I found a few more photo-worthy mushrooms.
Then turned towards a chalet and eventually a nearby ski resort where a new lookout tower was built last year. Unfortunately, the weather was not as favorable for looking out as I'd like. They also built a 'relaxation room' for weary skiers just below the lookout tower (which is near the top end of the longest ski lift).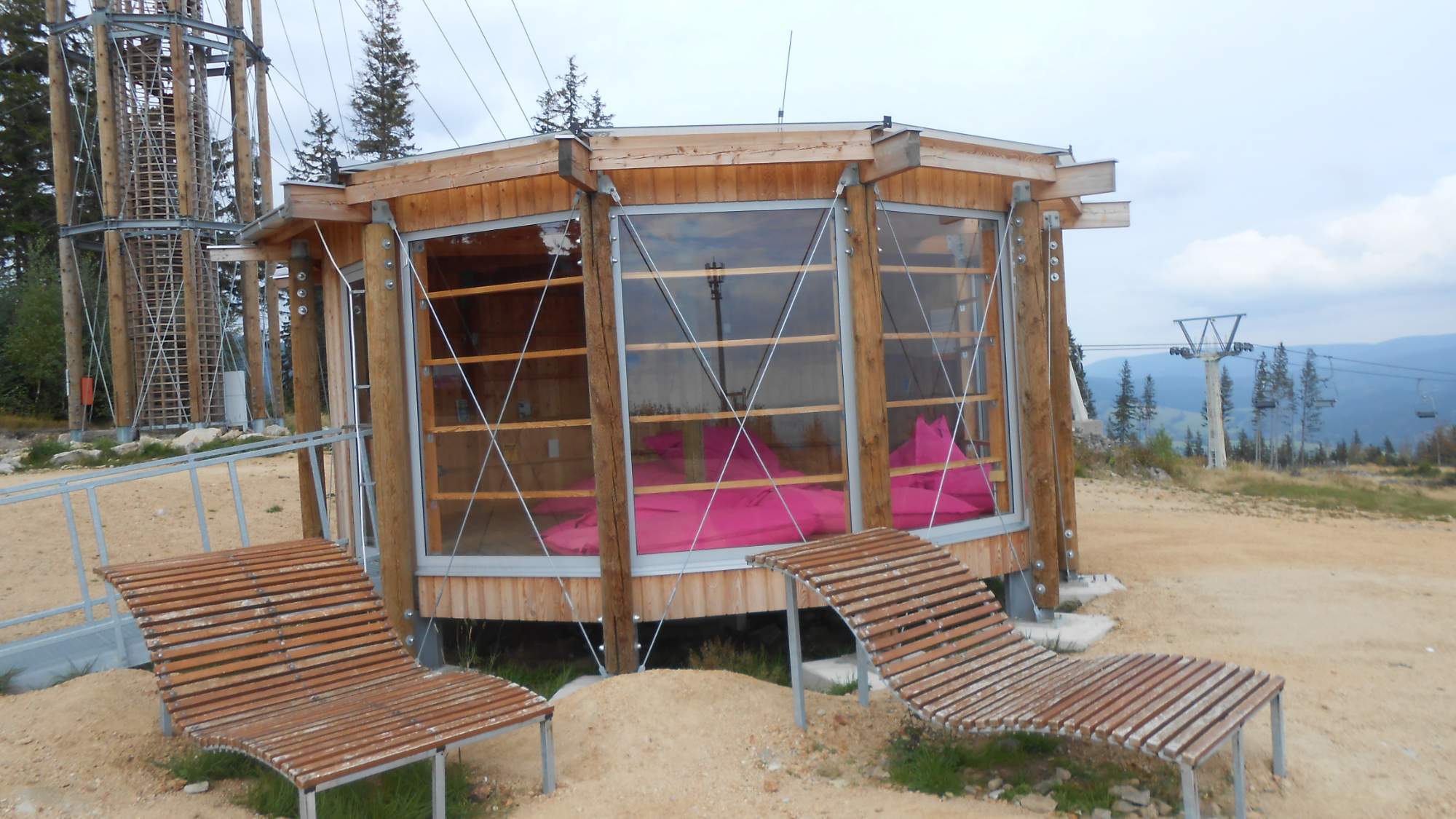 I guess offering comfort to people doing outdoor sports is becoming a bit more common these days, though I was shightly befuddled by the outdoor benches: the resort is not (yet) equipped for summer use (such as downhill mountain bike trails) yet they seem too low for winter use.
And, by the end, I saw some hints of the autumn's colors as well.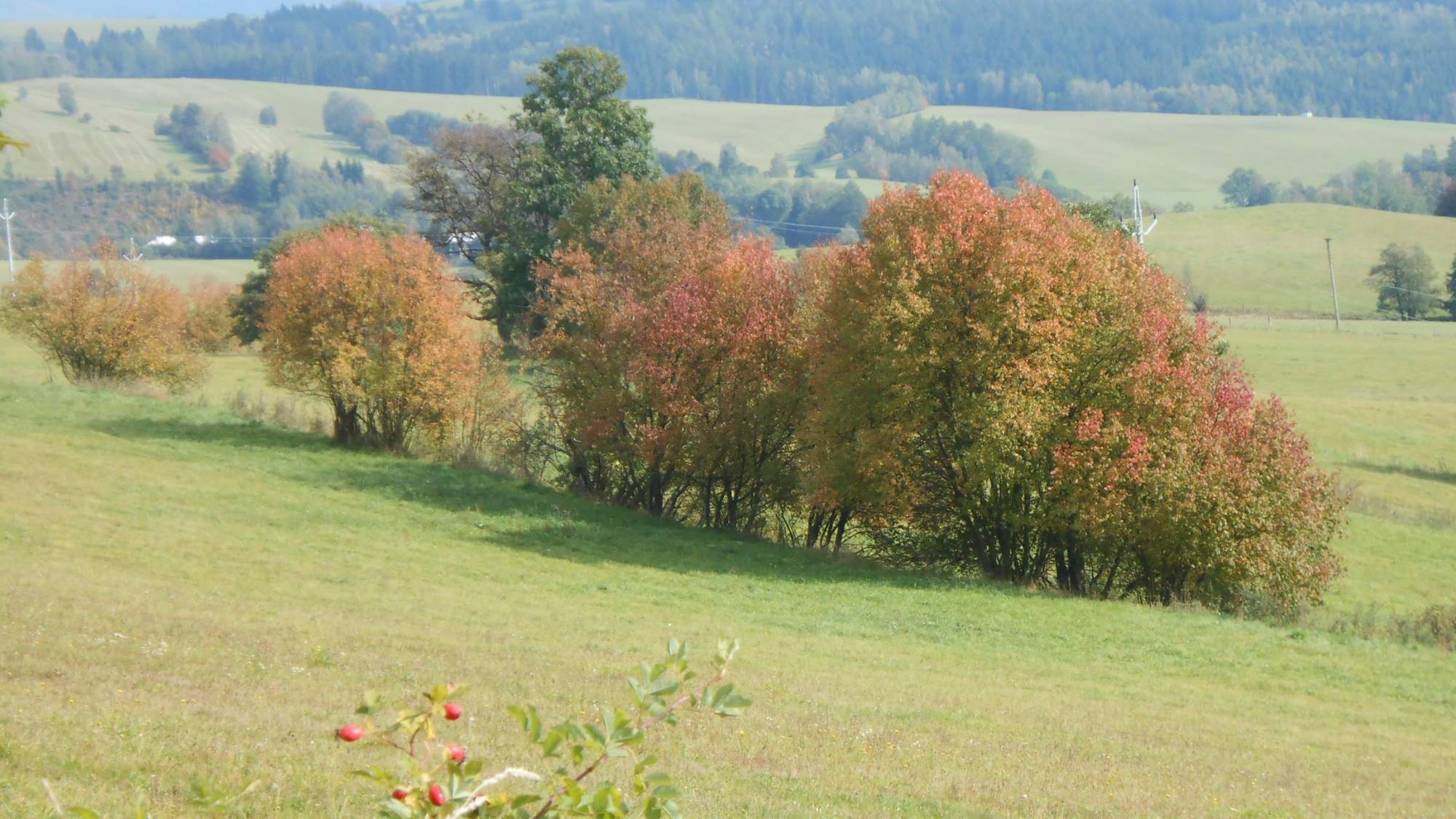 ---
The third hike was much closer to my home again. Close enough that it felt strange departing around 7:00 (when my usual is 5:00-5:30 between April and October, included). I was heading for one of the main parts of the Polish Beskid Slaski mountain range, a place I visited on 1.6.2013 – in a weather very cold for the first day of June.
This time, is was much warmer (around 15°C compared to 5°C in 2013). I had a lot of time at my disposal but the landscaping and the location of the 'meetup point' (as this was a group hike) gave me a few options to push it from 19km to something more – but a friend gave me a small advice that eventually helped me to make it almost 33.
Anyway, in the beginning, I had the chance to took a few more pictures of fungi both edible and inedible.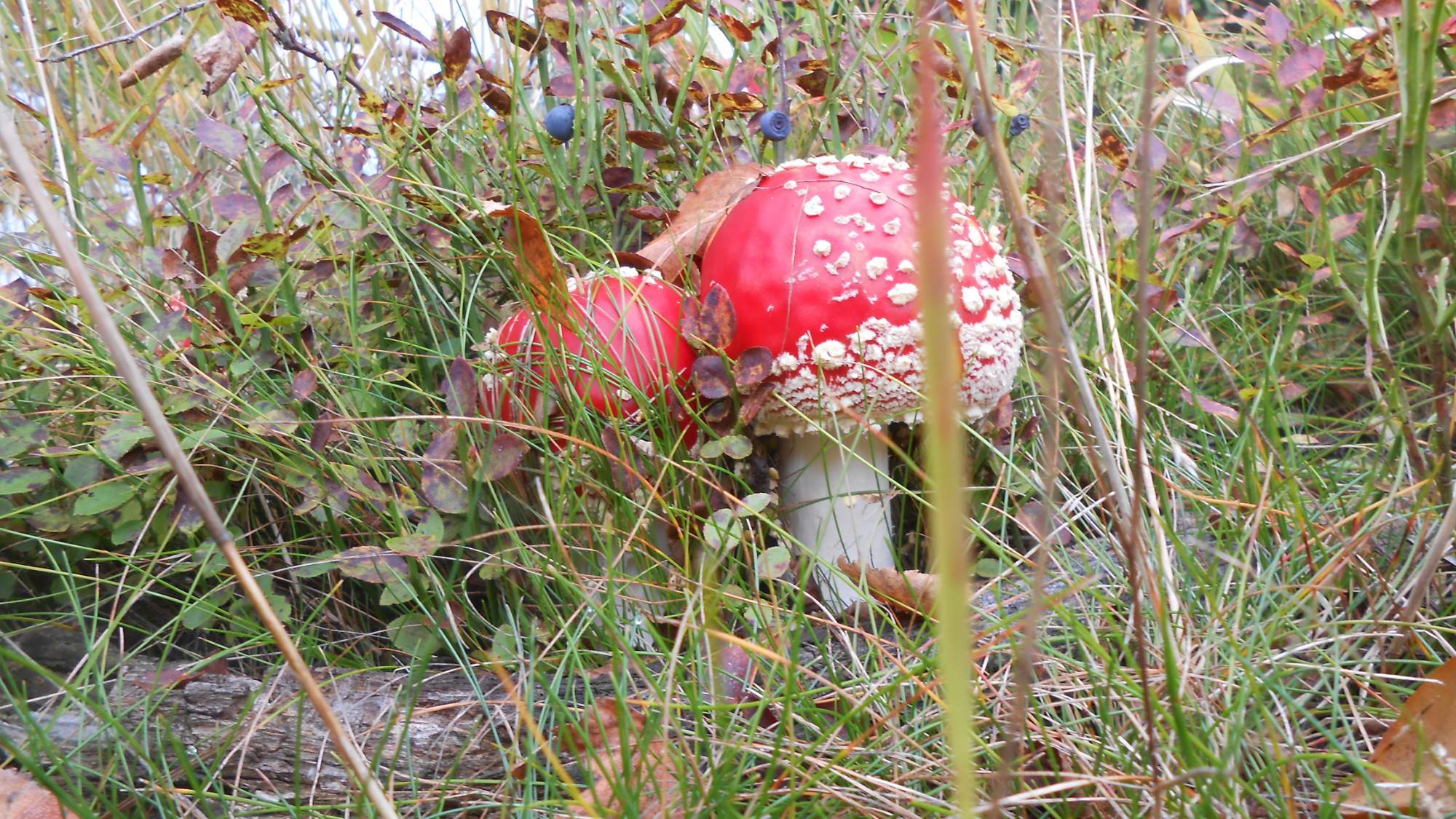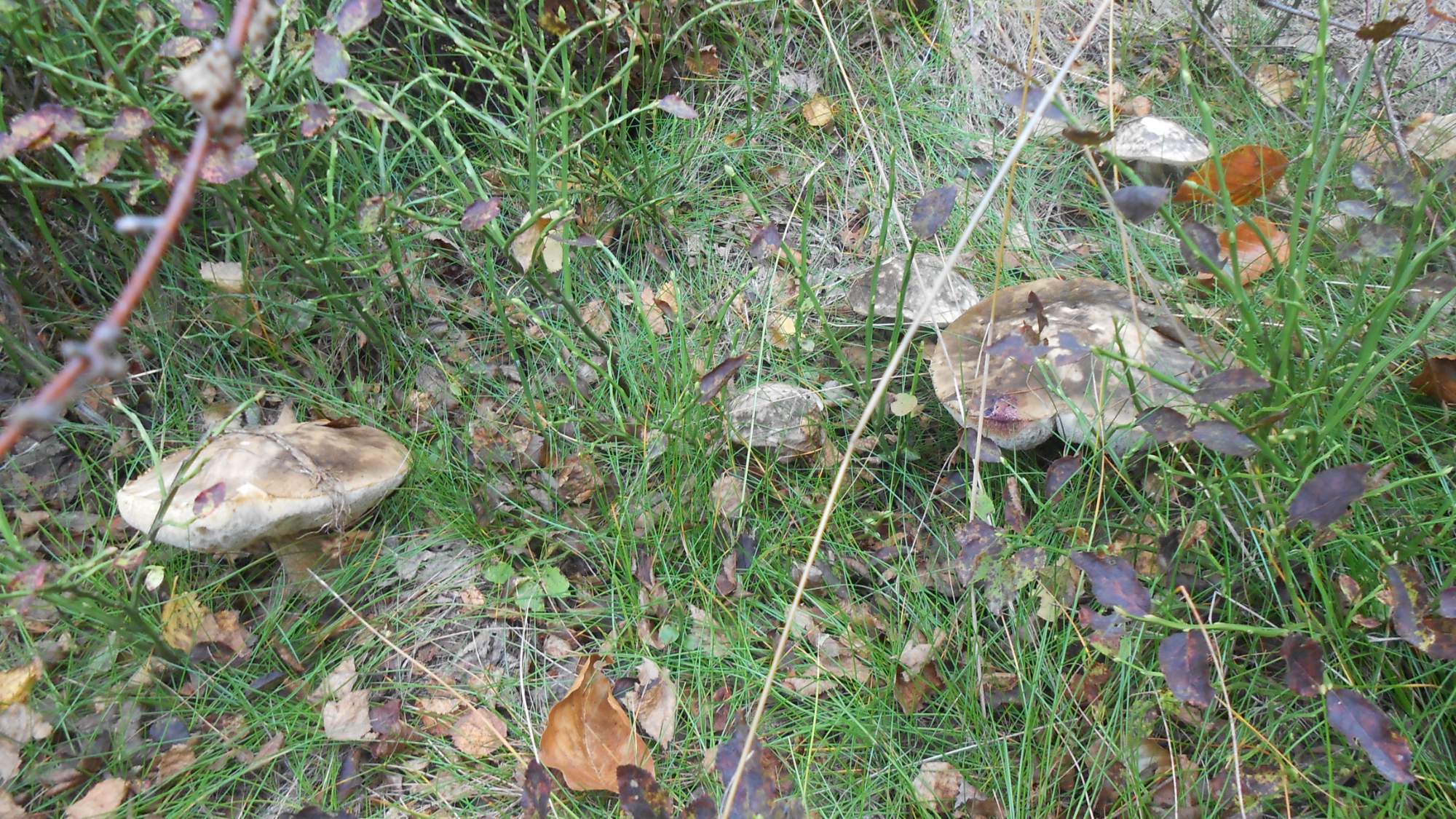 After reaching the main trail and taking a short break, I picked up my pace – the clouds came and the deforested mountaintops were exposed to the winds and I decided to keep myself warm with movement rather than put on my hoodie and risk that I'd overheat the moment the trail begins to ascend.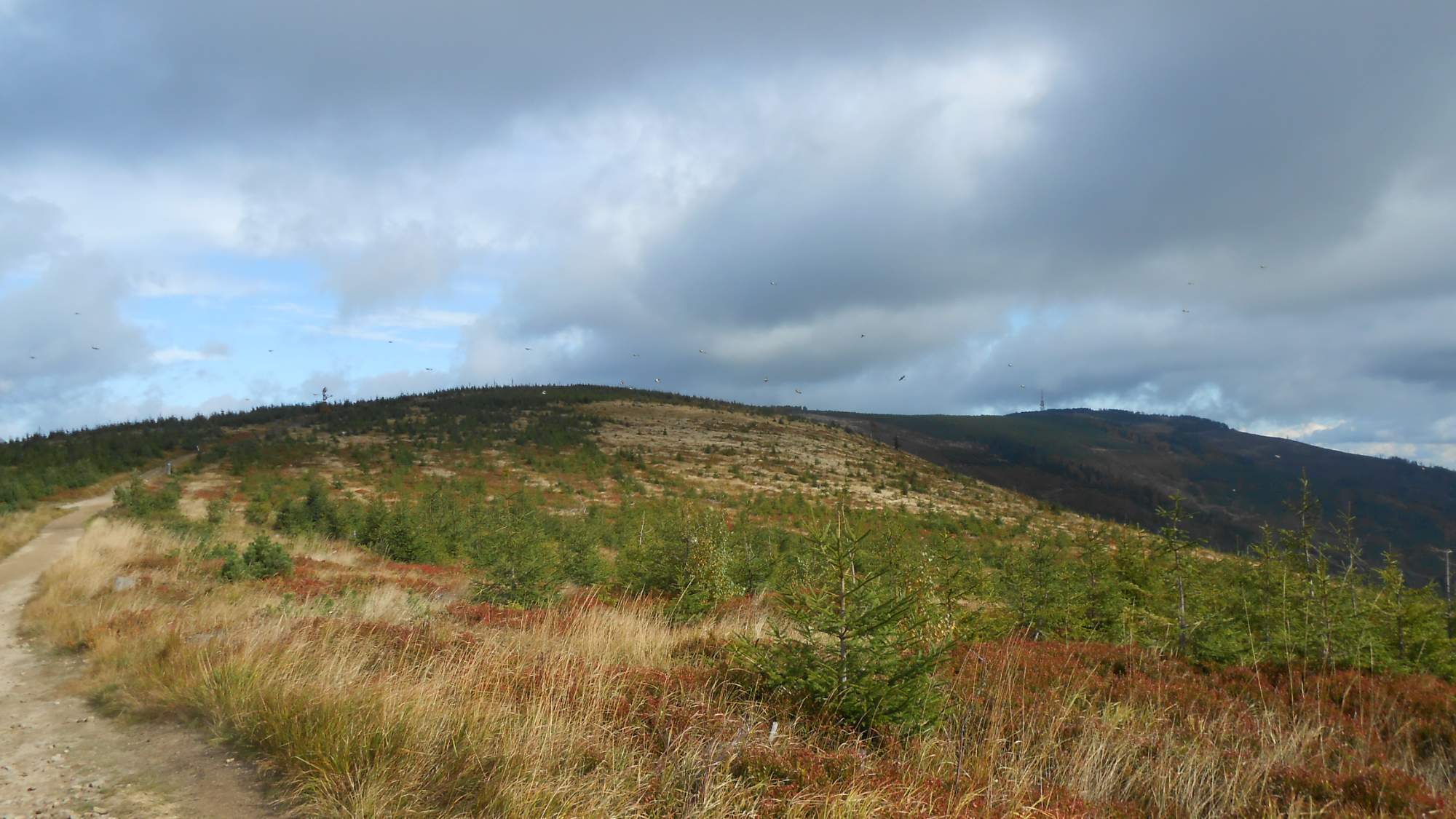 The fact the trail was pretty much level (the peak where I reached it at ~1150m ASL, Skrzyczne at 1256m ASL, and Barania Góra at 1212m ASL) meant I could cover the distance pretty fast – and did so in one go, only taking a break at Barania góra – by which time the clouds gathered enough to make the small lookout tower of little impact. At this point, I surrendered to the weather and put on the hoodie as the wind became stronger.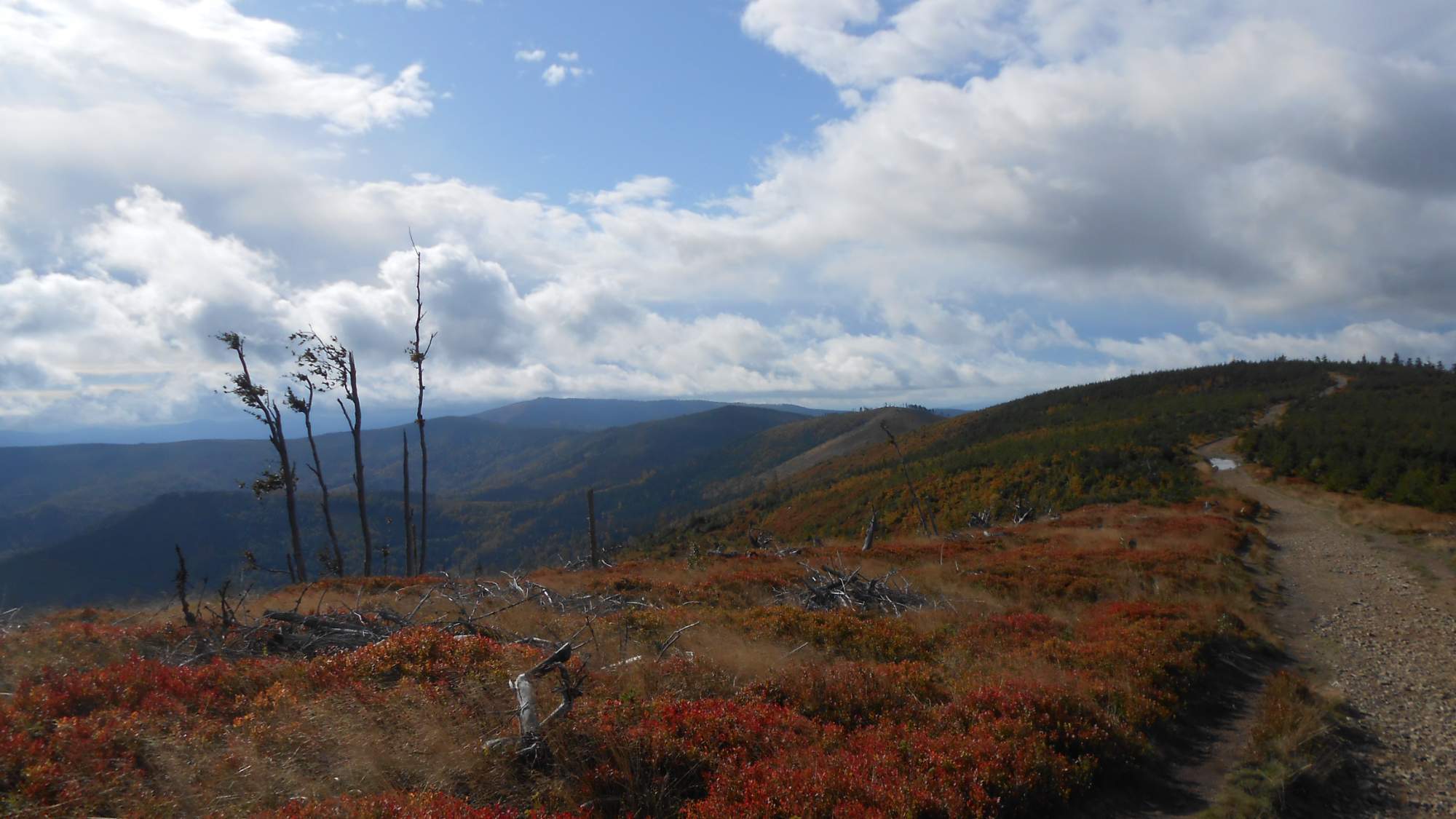 After descending from the peak, I reached a nearby chalet in hopes of warm tea but it was so crowded I gave up and moved on to the next one. Probably to make sure the 'low chance of rain' forecast is not wasted, I was hit by maybe six drops of rain on that section of the trail.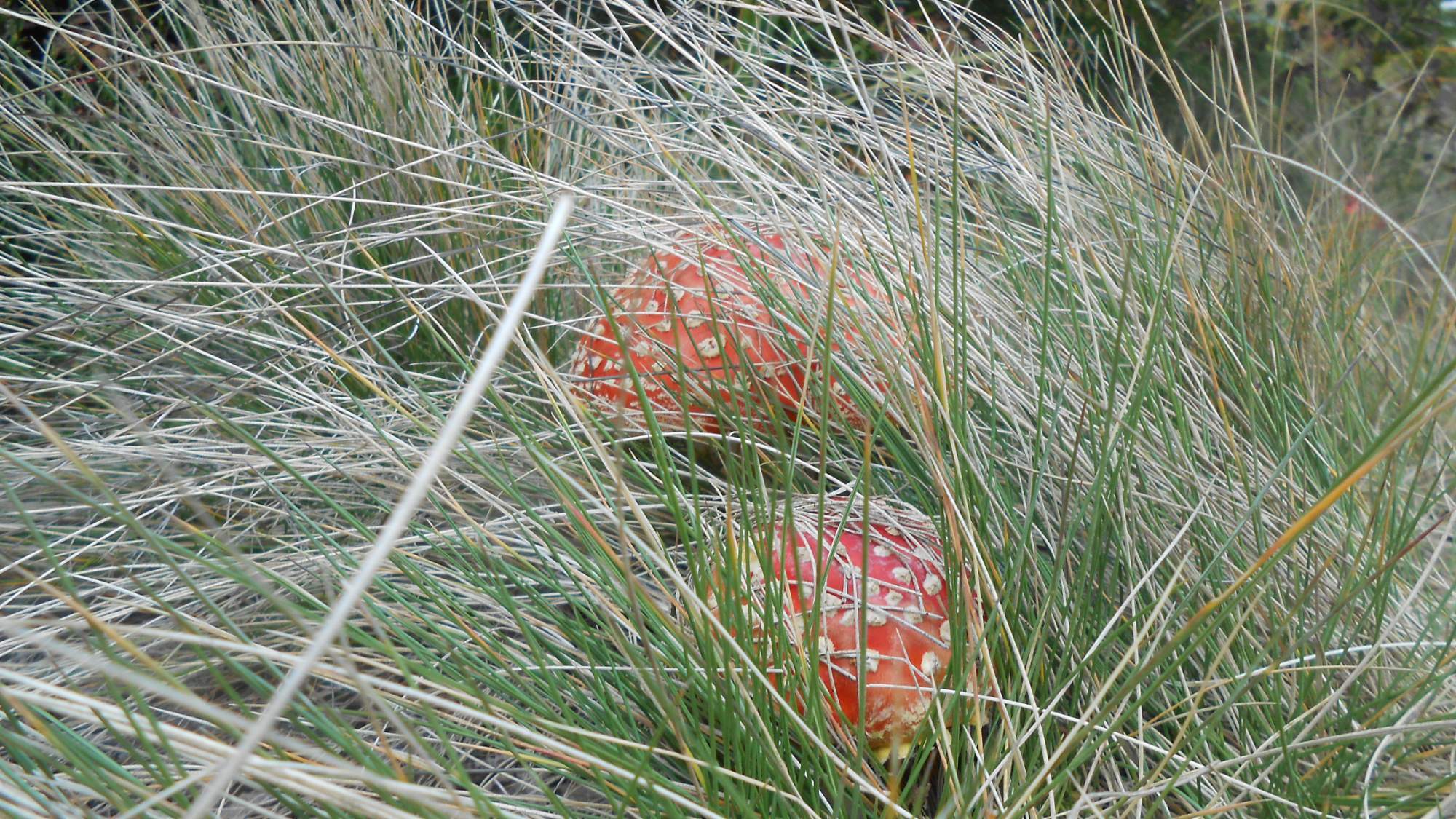 The second chalet was almost empty so I had my warm tea there, then turned towards the meeting point. This portion was pretty annoying as it took me on a road used to supply those chalets and walking 8km on asphalt and at full speed gets boring.
Most of the road followed the Czarna Wisełka stream – one of the two sources of Wisła, Poland's longest river. Both sources (joining in a reservoir where their respective valleys meet) have a few small cascades and the other one a small waterfall as well.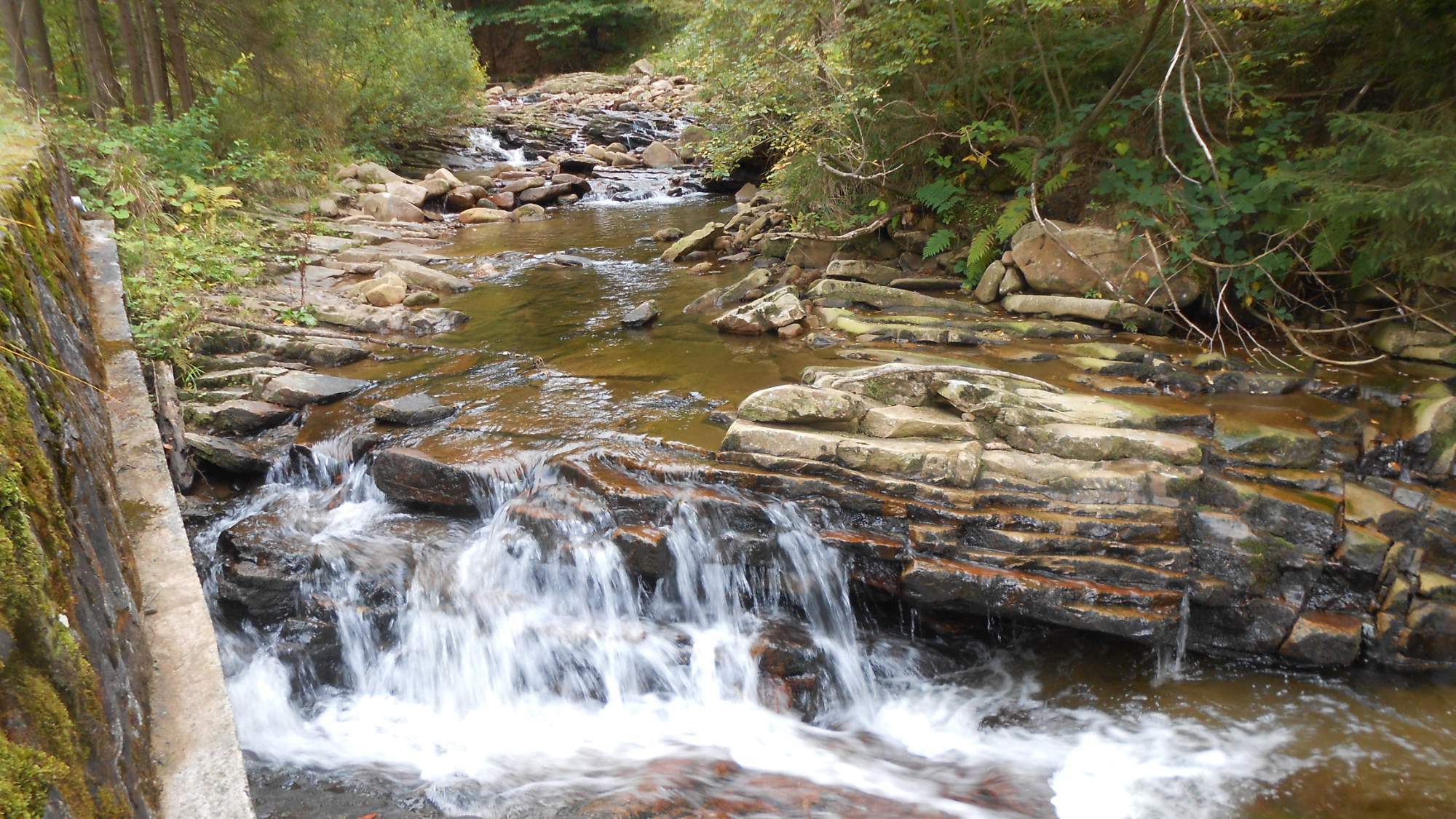 And, by that, my September hikes ended. Before I wrap this up, I'll mention that I used the fast walk and the relative solitude during the last hike to think about a dilemma I am facing in regards to my writing – but the details are something for another day, when the dilemma is solved. For now, have fun and dream on.
And, as usual, comments and questions welcome.