After the rainy May, June seems back to the 2018 standards: awfully hot, often over 30°C. Yet, I went for a few hikes during the first half of June – and will share something about it now (including not-so-few photos).
The first was to be a walk in the park quite near in the lowlands. Due to the easy terrain and warm days and nights, I packed light and took just sandals. The 25km mostly in forest was relaxing but reminded me of one thing: fitting sandals for long walks is not easy and I returned home with a few scratches on my feet due to either having them fastened too much or not enough.
It would be of no issue, if not for the fact the second hike was just two days after – and I knew it to be a tough one (which was the reason I took it easy with the first). It was one the hiking club had planned for late June 2011 but, in those times, my family did not really bother to coordinate those events and family events so, because of my grandma celebrating her birthday, I missed it. In early 2018, I managed to push returning there into our 2019 plan. It was well worth it…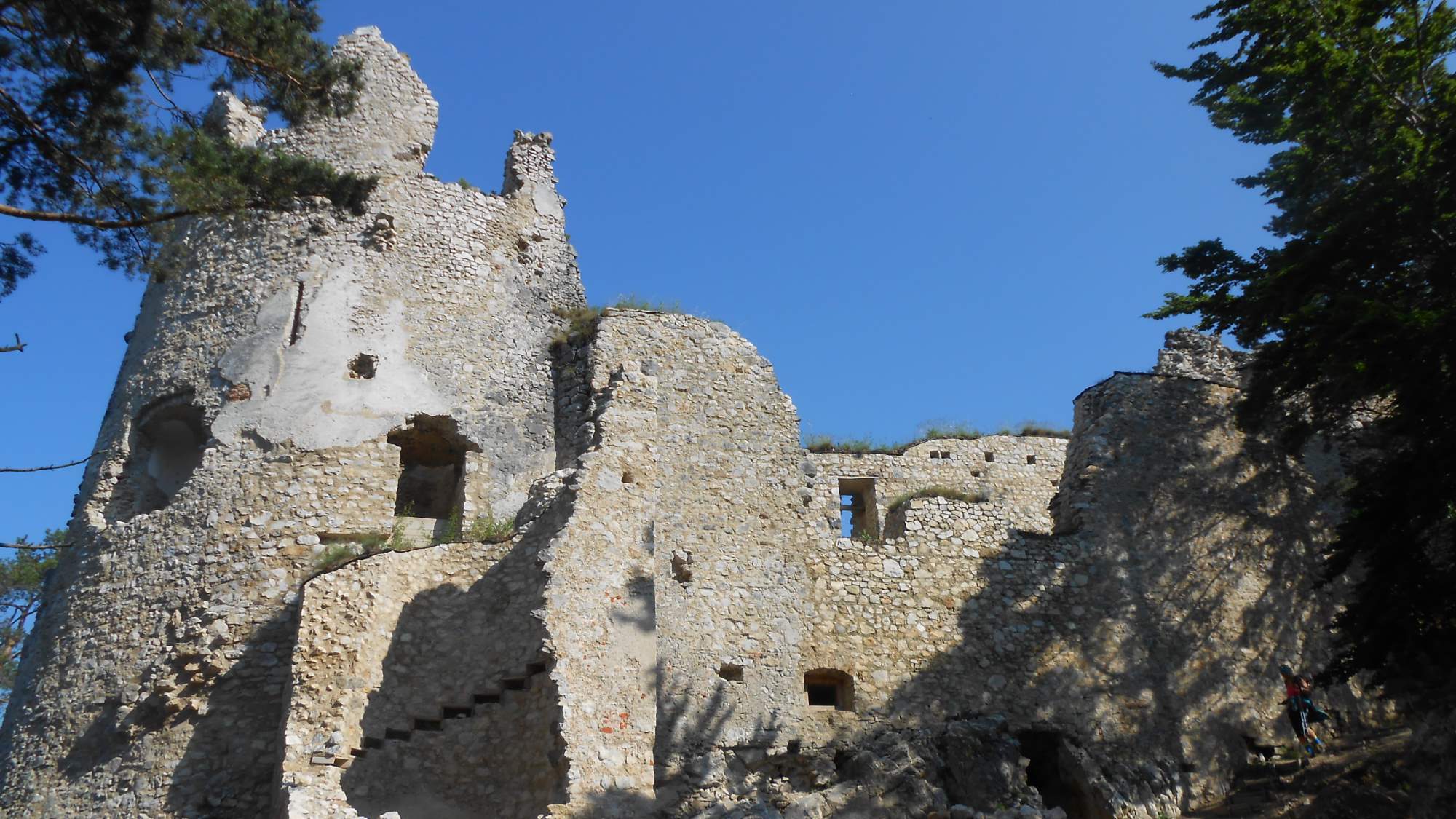 The hike started in a village named Blatnica, below ruins of a castle with the same name. Taking photo of those ruins was challenging, because it's undergoing some renovations and the shot above is the only view not ruined by scaffolding, tools, and barrels with material.
From there, we returned to the valley and took a side valley, scending slowly at first and sharply after a few minutes. It took us along a cave where some remains of ancient humans and animals were found. Still in a deep valley and in forest, it was poor for taking pictures, at least with my equipment (a pocket camera). Then, the trail started ascending and we could enjoy the nature – and the scorching sun.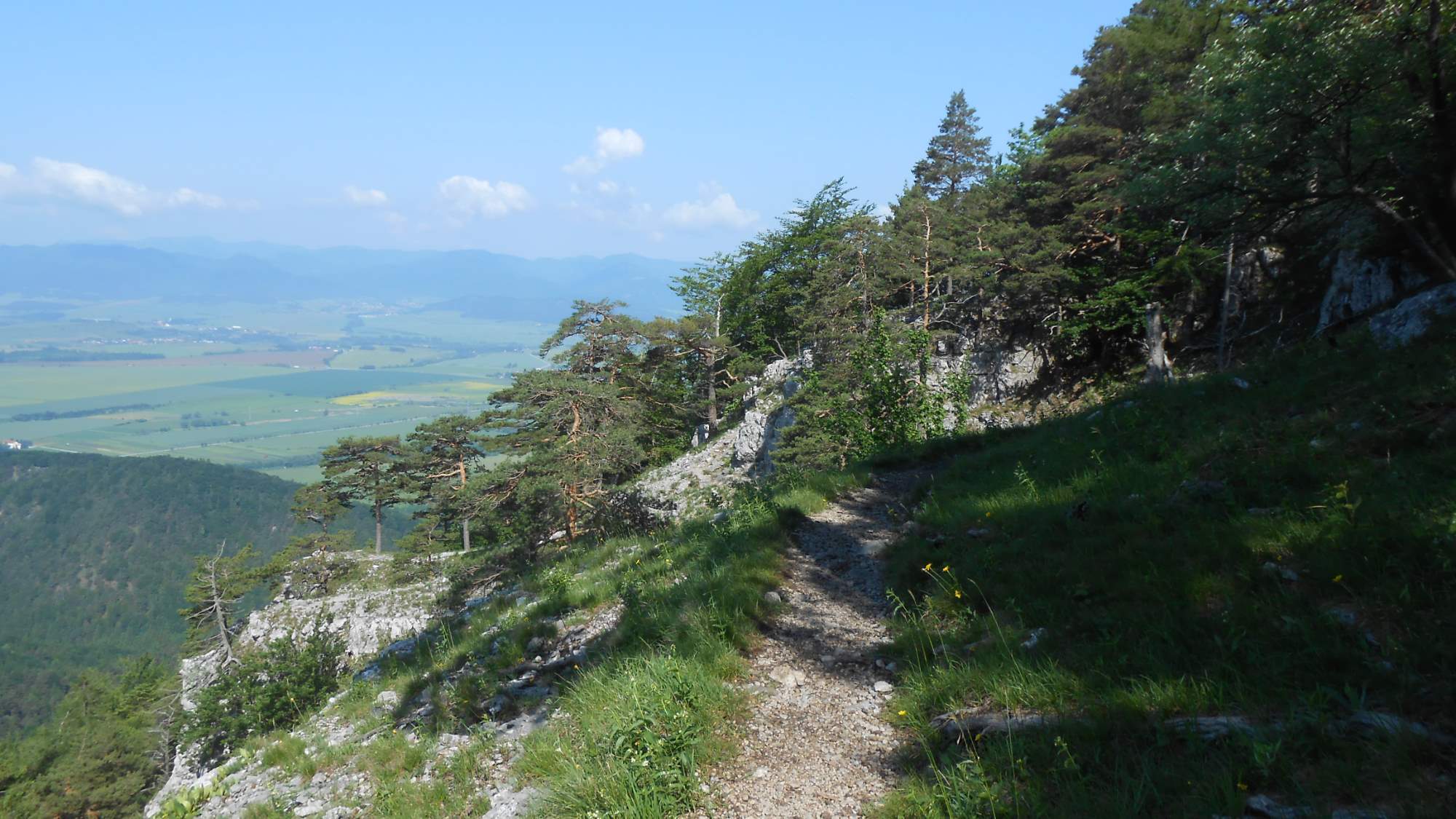 I've said it many times: I love the scenery limestone and dolomite can create. I am somewhat glad those are rare here because they make it so mor enjoyable and unique to visit those places. Anyway, we reached the first peak, took a short break and some group photos there, and walked in a half-circle around the valley we used in the first part of the ascension, to get to the second major peak.
There were a few strange moments on the first peak when I pointed to what seemed like a jagged double-peak (see picture above), saying that's where we're going to go and pointing in a rough estimate of the half-circle we were to make. Some told me they don't think so but my spatial awareness and knowledge of cartography was demonstrated some two hours ago when we ended up exactly where I was pointing to.
After some stay on the peak and taking several puctures – landscape and group photos – we started our descent. There were a few nicer places on the way down but few to stand up to the peak above. I'll end talking about this hike with a picture of the 'trail' just a bit below the very peak.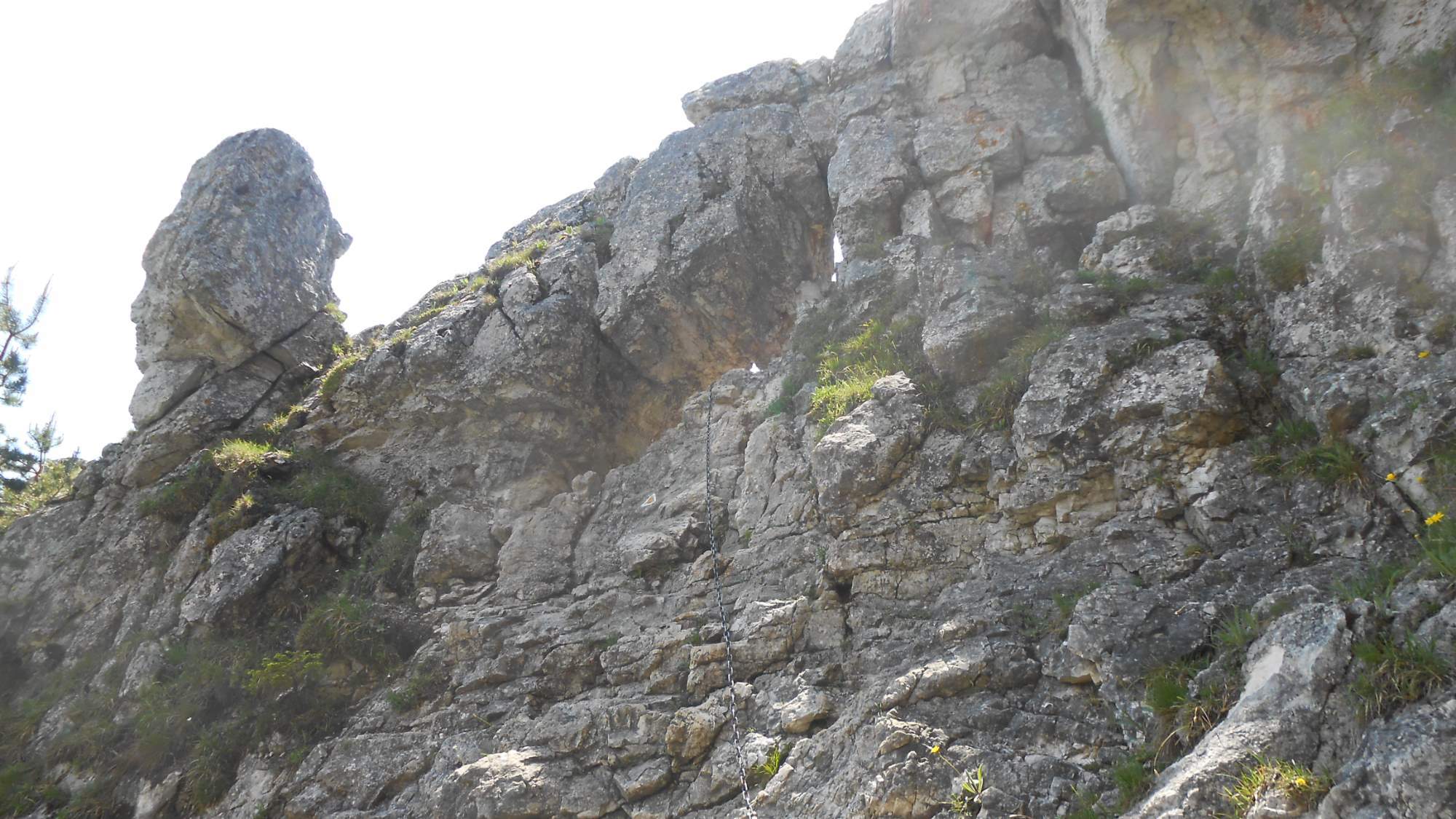 So now, on to the last hike…
Again, a bit of background: there's a rock formation (photo below) seen from 'Praděd', the highest peak of my home region. I've wondered a few times where it is and I've known there's no official marked trail there (otherwise it'd be known). Yet, I was willing to discover where it is, one day…
I've studied the map and found the likely place. With this came the need to find a way to get there. Worse, I've found a few more places on the way that could be interesting, maybe even worse for reach…
I've started on a parking above the spa town Karlova Studánka but took a route few take (as most head for the one I eventually took on my return), towards a smaller rock formation above the spa (where direct sun right against me combined with the forest disallowed me to take a decent photo…again), then took a side road to the nearby pass (surprised to see a relatively new asphalt – the last time I was there, as a driver, it looked more like a tank practice field). At the pass, I took a side road used by foresters and, in winter, by cross-country skiers.
After an hour of a brisk walk, I reached the last stream below the formation – and what eventually made my hike much longer. There are supposed to be some small waterfalls on the stream and I set out to try and find them but the terrain was not proving cooperative – dense forest, sharp slopes, and lack of anything resembling a path (at least close enough to the stream) meant I had to fight hard for even a mediocre photo.
When I got as far as I could, I took my phone and tried to get my bearings to the footbath that would get me to the rock formation – and walked for endless minutes through dense spruce woods, being scratched by the spruces and the blueberry underbrush, sweating hard and expending a great deal of precious energy with every step. But, eventually, I reached the rock formation around noon, letting the wind dry my shirt (thank the science for merino wool).
Then, I took a 'shortcut' (I pretty much cut down the shortest – and steepset – way to the other valley to reach a trail I used back in 2003 on my first climb of Praděd. I've forgotten how nice – and underrated – that trail is, even though it was not as much compared to what I've seen a few minutes before. This was the last real ascension I was to undergo that day and, in the immense heat combining with the exhaustion of making my own way, I was glad for that. After reaching the chalet, I'd ascend slightly but that'd be a slow ascension on a shoddy road (used by cyclists, search-and-rescue teams, and supply runs).
I'll wrap it here as the passage from the chalet is something I've walked several times in the past few years – and thus it was not about finding unknown places anymore. And because I've already made this a bit long story.
I'll see how weather and my time will allow for some more adventuring – there's one hike planned for very soon and then it'll be a break for the club for a while so it'll be down to my own planning – which I had not delved into yet. Anyway, that's all I will say for today.
Until next time, have fun and enjoy the summer!