Things have caught me a bit behind once again, and so it's only now, mid-way through May, I'm looking back at my April hikes. But better late than never, right?
1.4. – A damp beginning
The first hike was right on the first of April. And the weather matched the date. The forecast – rain showers. Cloudy skies made a poor atmosphere for photos in flat lowlands, which meant I took very little of them.
There was a short rain shower roughly in the middle of the hike, but it soon reverted back to only cloudy. I reached my destination relatively soon, and thus spent some time in a local restaurant – during that time, I "missed" a larger rain shower that drenched some of the other people who took part in this trip. Another rain shower came just as we were about to depart. And, guess what – during the bus journey back home (and after), it was mostly sunny.
15.4. – Sun, flowers, and high water
Well, it should be in the opposite order. The days leading to the hike were rich on rain and while that stopped during the Friday morning, giving good hopes that the weekend will be without further rain, it had made its mark on the streams and the landscape – flood warnings were issued on Wednesday (even if taken down within 24 hours) and the terrain turned muddy.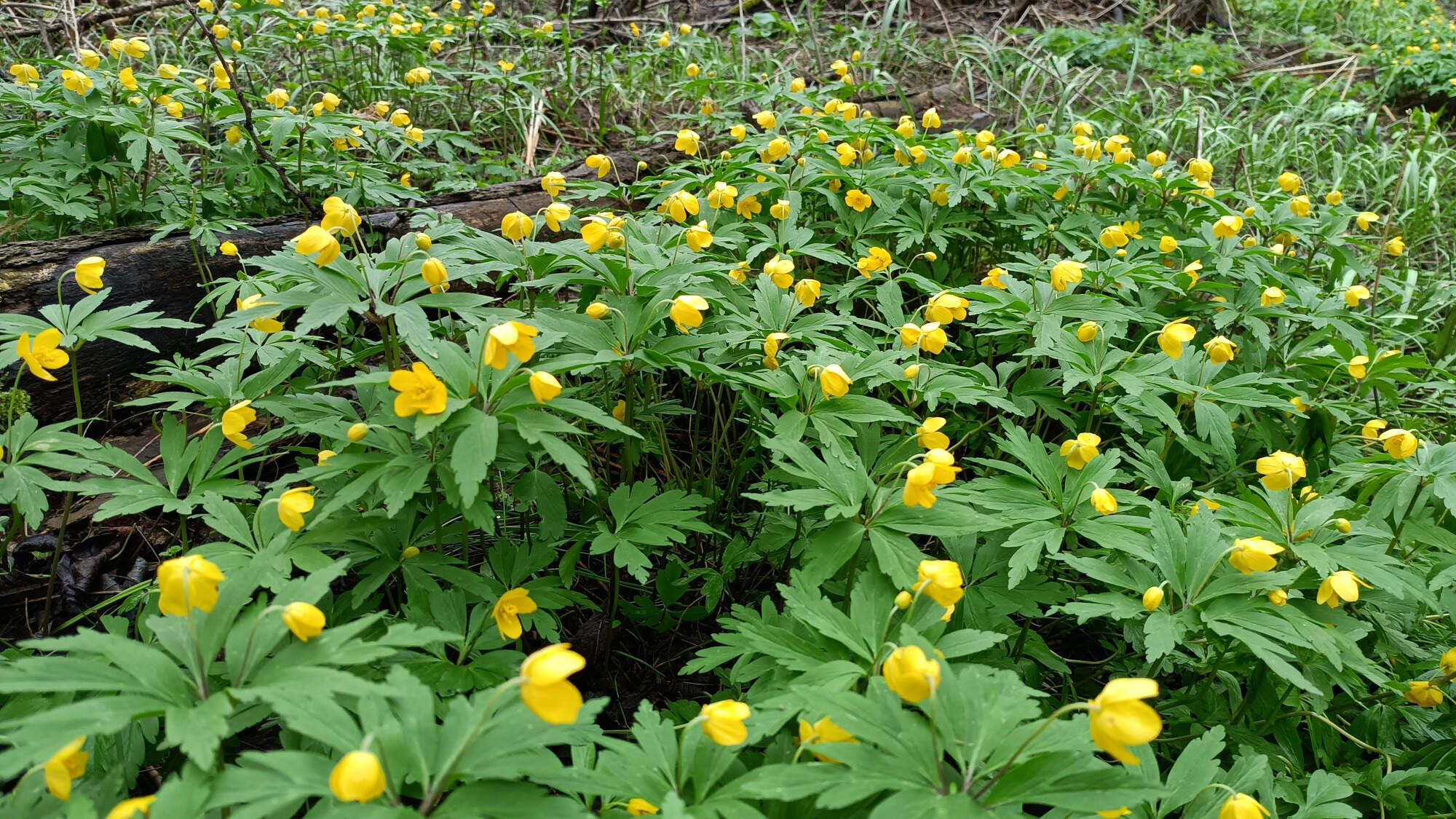 Too bad the first part of my hike led me around a stream. The waters were almost touching the faint trail at many places and I hoped that I won't end up having to turn around at some point because the trail would end up underwater – the stream was dirty and flowing fast and as a landlubber who can't swim, I wouldn't risk as much as going ankle-deep.
My luck lasted only for a while. When the trail passed under a railway bridge, it got underwater. Fortunately, I could scramble up and keep my feet dry. Right now, that was relatively okay – but, somewhat later, the trail markings told me to CROSS the stream. Normally maybe 5 meters wide, it was much more. I could barely see the small footbridge in the middle of a shallow, flooded wood.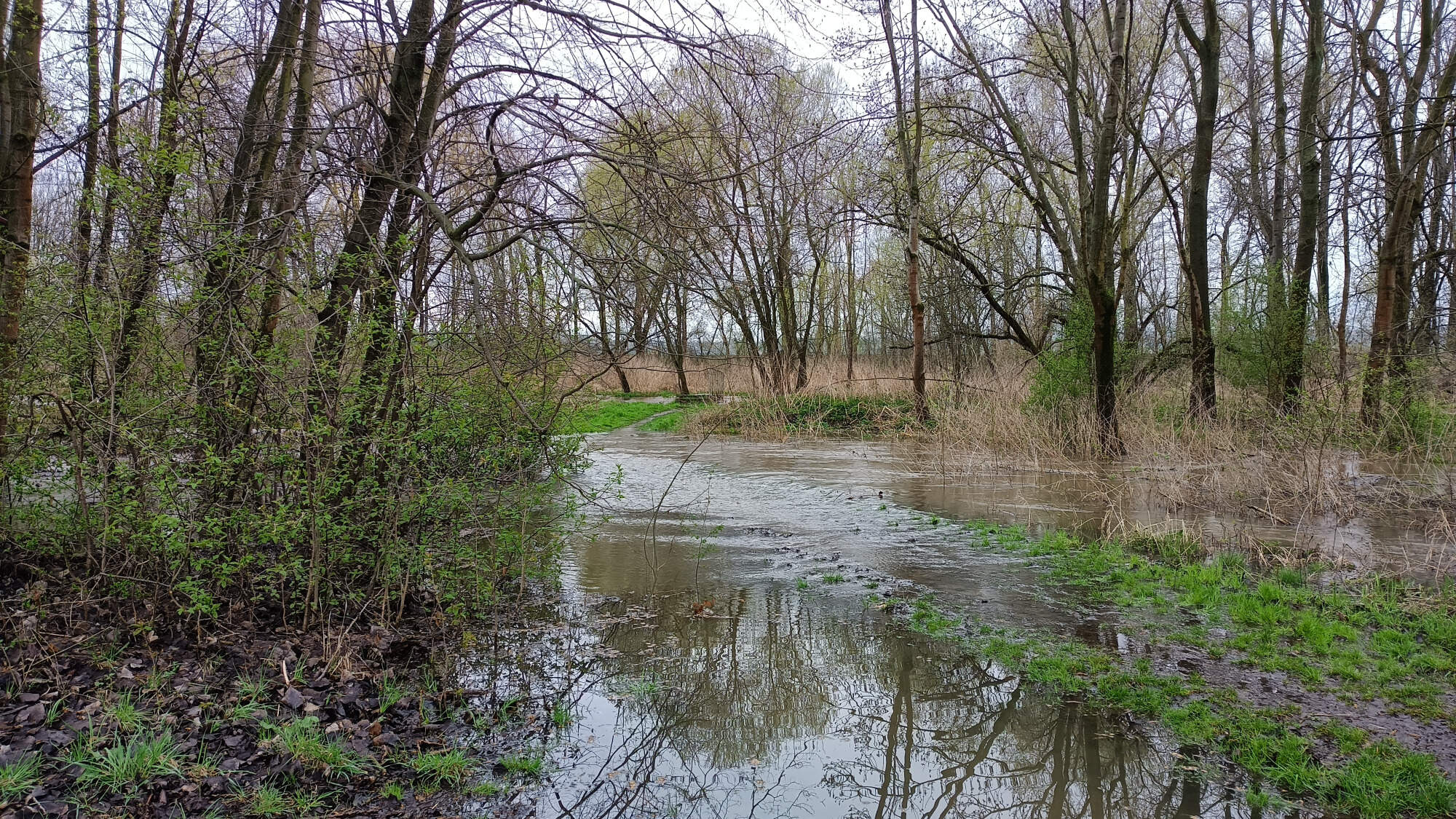 And neither I could see much of the nearby memorial.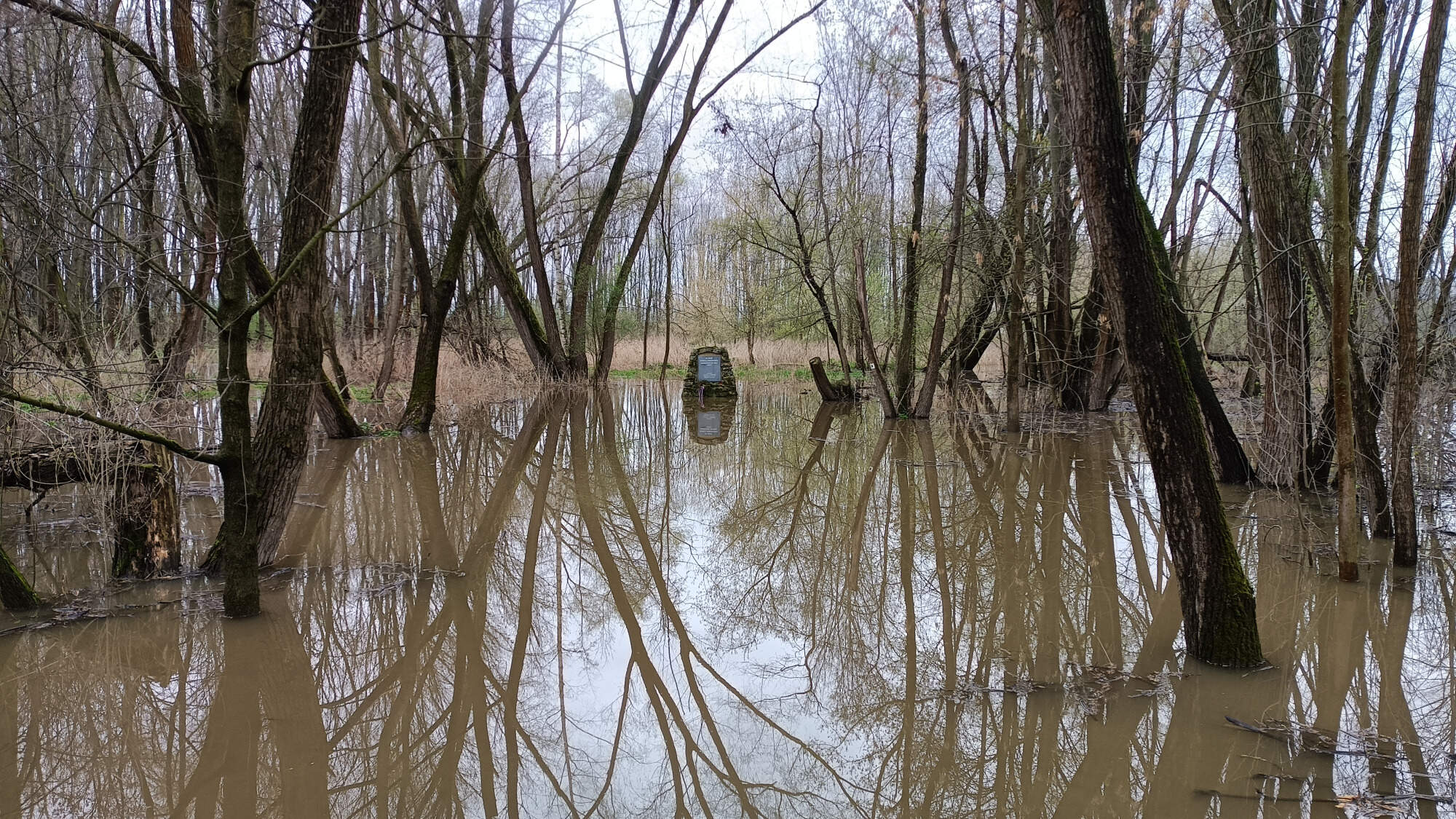 Fortunately, there was a footpath sticking to my side of the stream (the trail was to follow it for a long time and, eventually, cross back to my side of the stream), so I kept to my side, hoping to avoid any such surprises – which I managed. Eventually, I turned away from the stream and headed toward the nearby hills. I even climbed the lookout and took one photo, but the wind had me descend in just a while.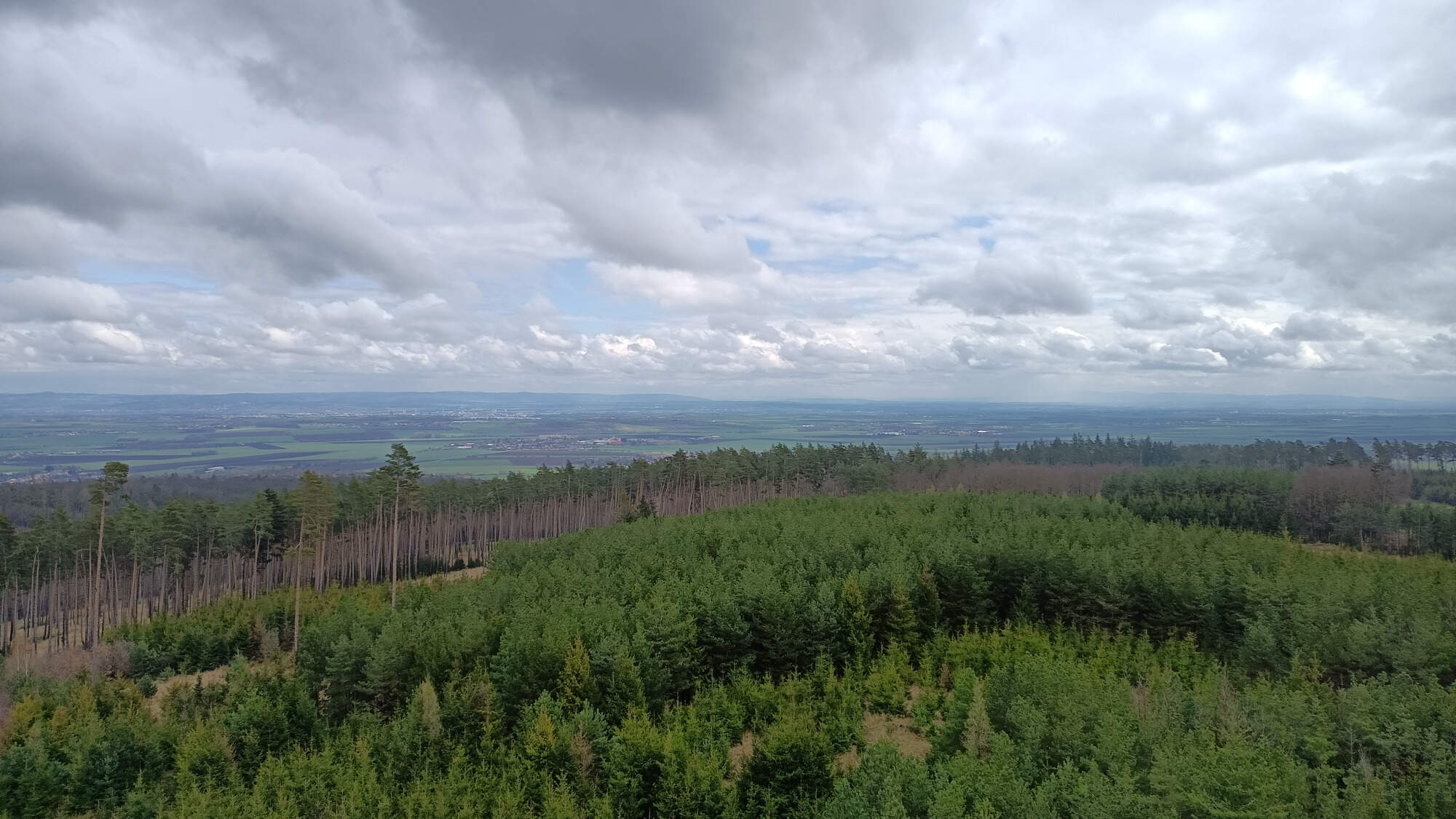 With plenty of time to spare, I headed a bit off my course to see abandoned quarries nearby. I've been to one of them a couple of years ago. This time, I spent a bit more time wandering around, marveling at nature's tenacity to reclaim places that were severely altered by human hands (and tools).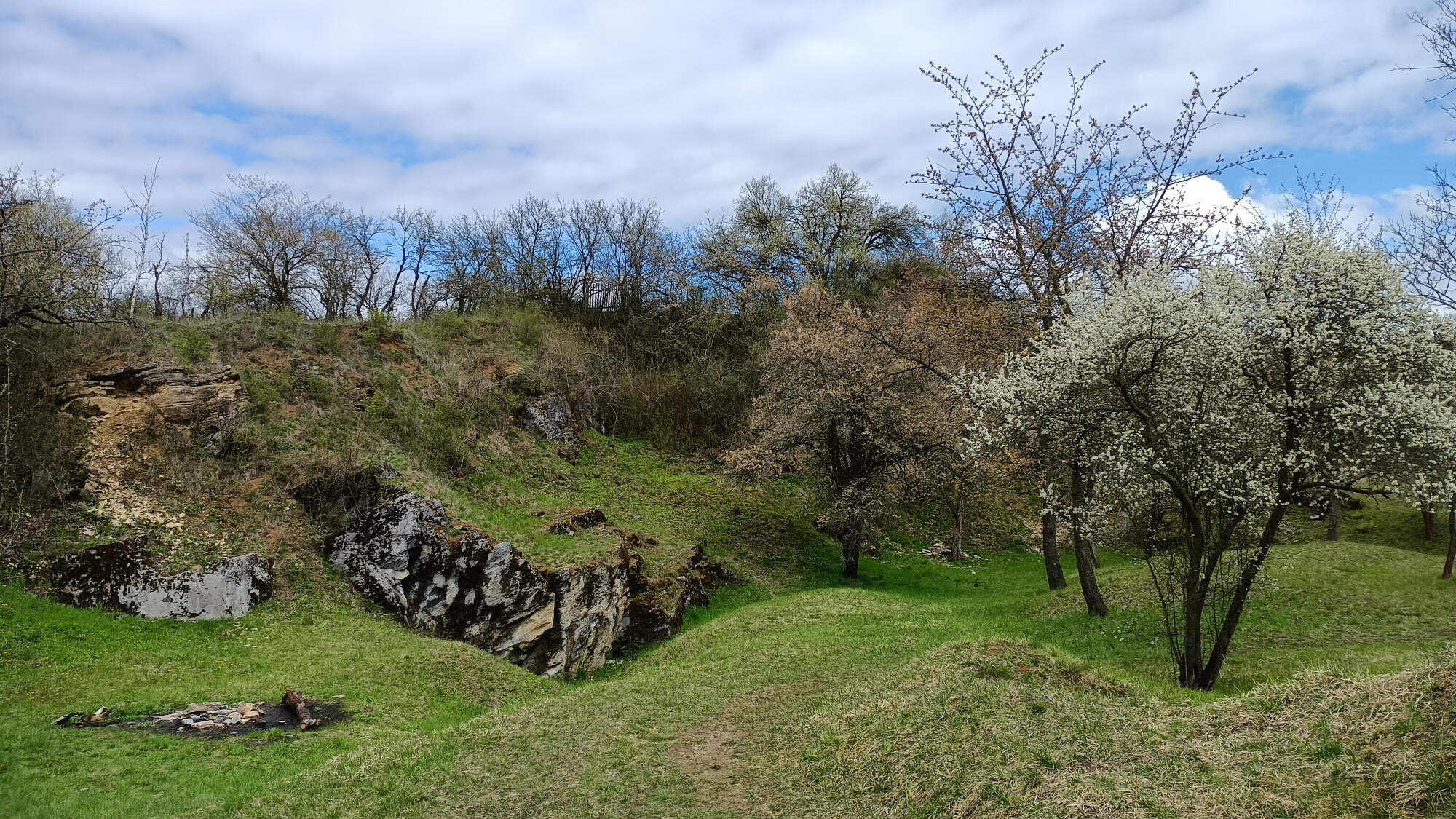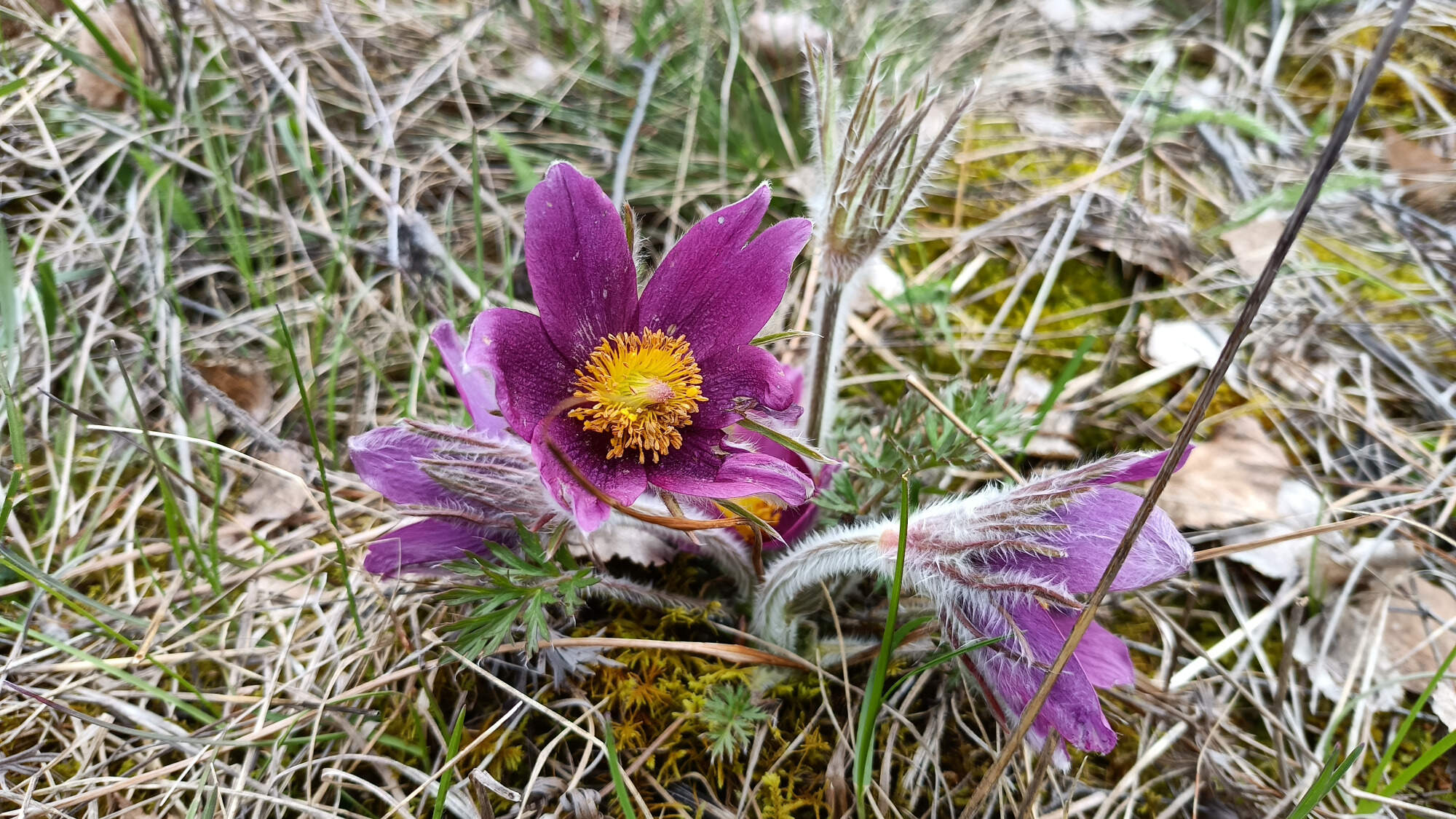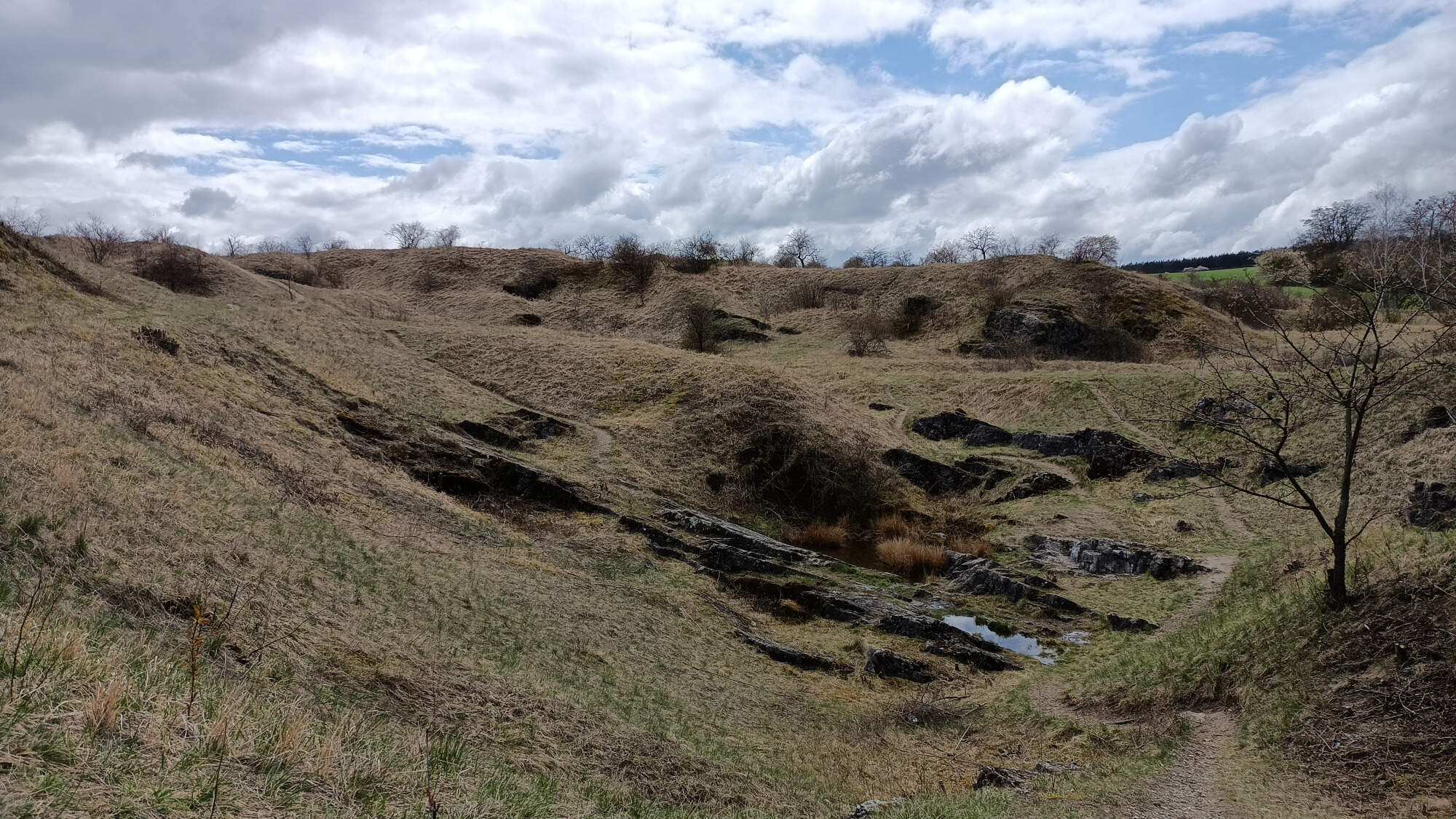 And also the blooming trees around.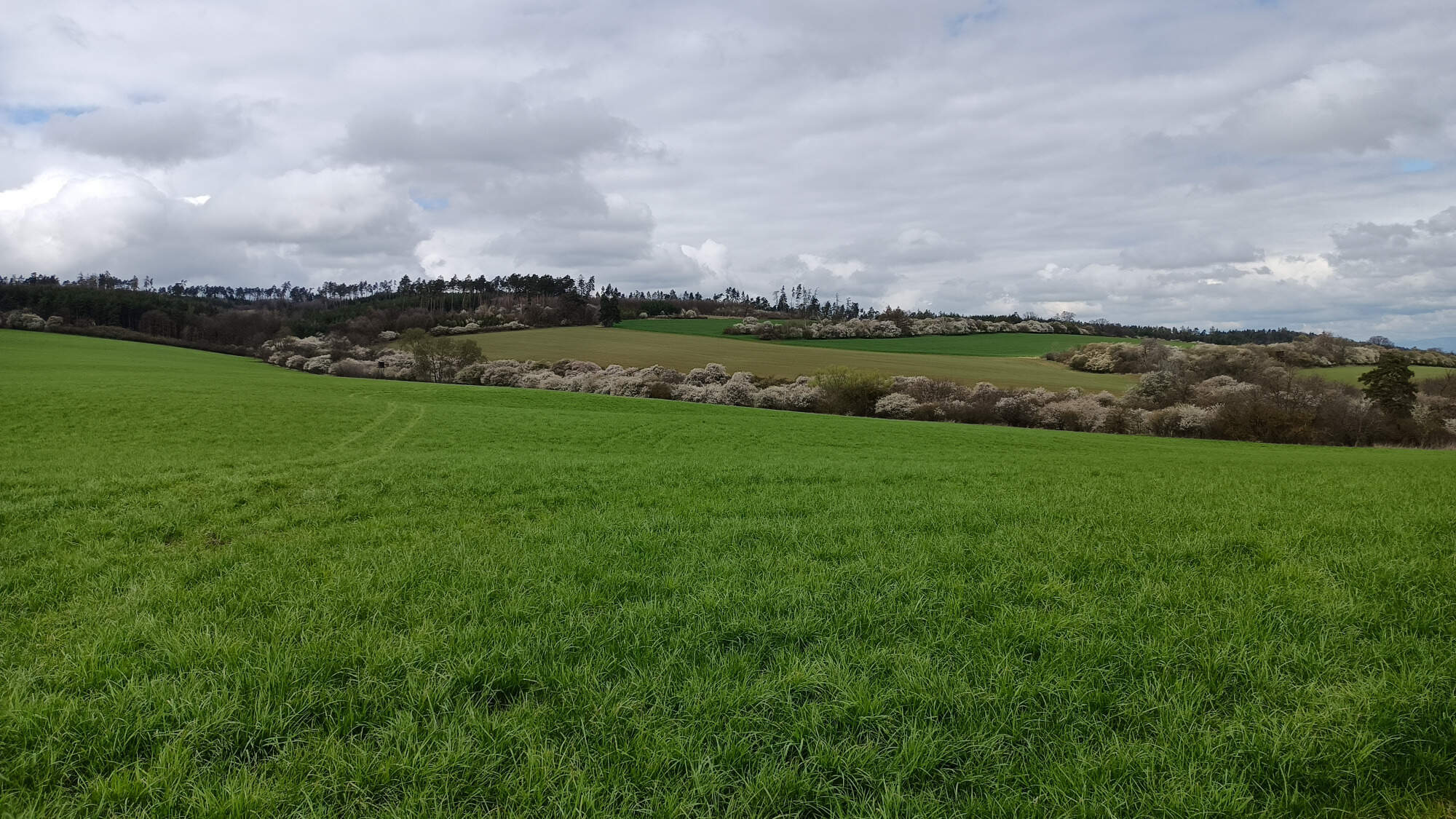 After leaving the last former quarry, I took a couple of paths to get back on a trail toward my original destination. By that time, the weather warmed up. I had an unwanted companion – a small dog, possibly from the nearby villages and lost, followed me for a while. I think it took maybe 15 minutes before it gave up following me. Which was a relief, the last thing I want during a full-day hike is to end up going through a village with a "do you know whose dog it is" face. Especially as small dogs tend to be the most obnoxious.
23.4. – A sunny day, for once
The third hike was on Sunday – I was volunteering at a chalet on Saturday and the weather was nice the whole weekend, so I decided to go on a shorter hike on Sunday. This time to a place I know well. Thus, once again, the photos were few: flowers in the lower portions of the hills…
…and the deforested areas I've seen years ago when the woods still stood.
The warm day with somewhat warm wind made the day quite pleasant, and drew a lot of people outdoors – the chalet at the main peak was crowded with the queue for refreshments reaching outdoors. The dry (for once) weather, however, meant that gusts of wind raised dust into the air, which wasn't as pleasant. Some of the clearings are already being reforested, but it'll take at least a decade or two before the saplings grow into trees taller than humans – and ever-present reminder of the catastrophic combination of climate change and lack of foresight when it comes to forestry and lumber industry by planting uniform spruce groves with minimal resilience.
29.4. – April's damp farewell
The last hike of April was in a similar mood as the first one – cloudy, with a chance of rain showers or even lasting light rain. Various forecasts differed as to when the rain should start, ranging from 10:00 to 14:00. The initial ascension went well, and gave me a chance to spot some smaller wildlife in addition to landscapes, though the cloudy and gray weather made poor photos.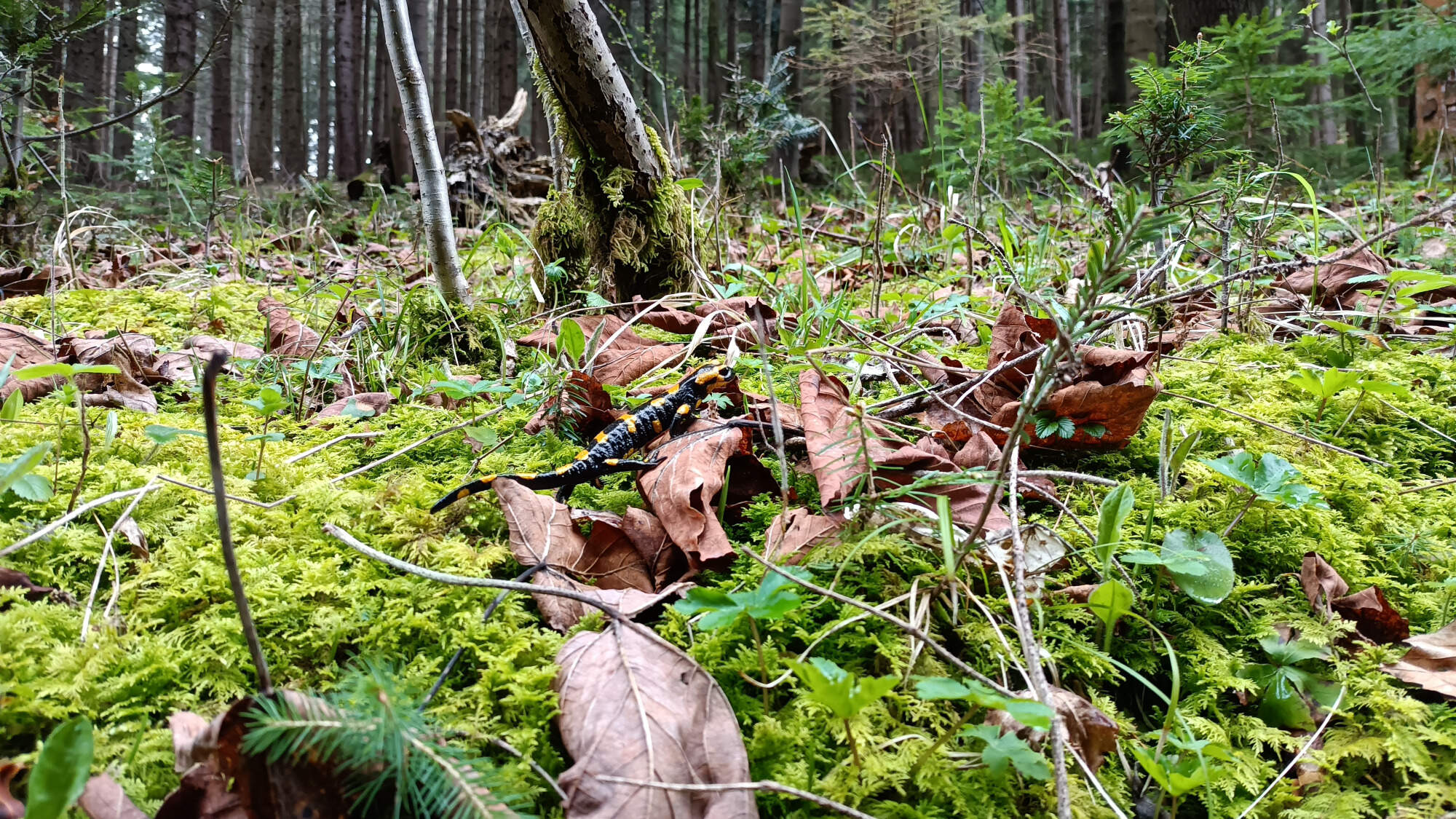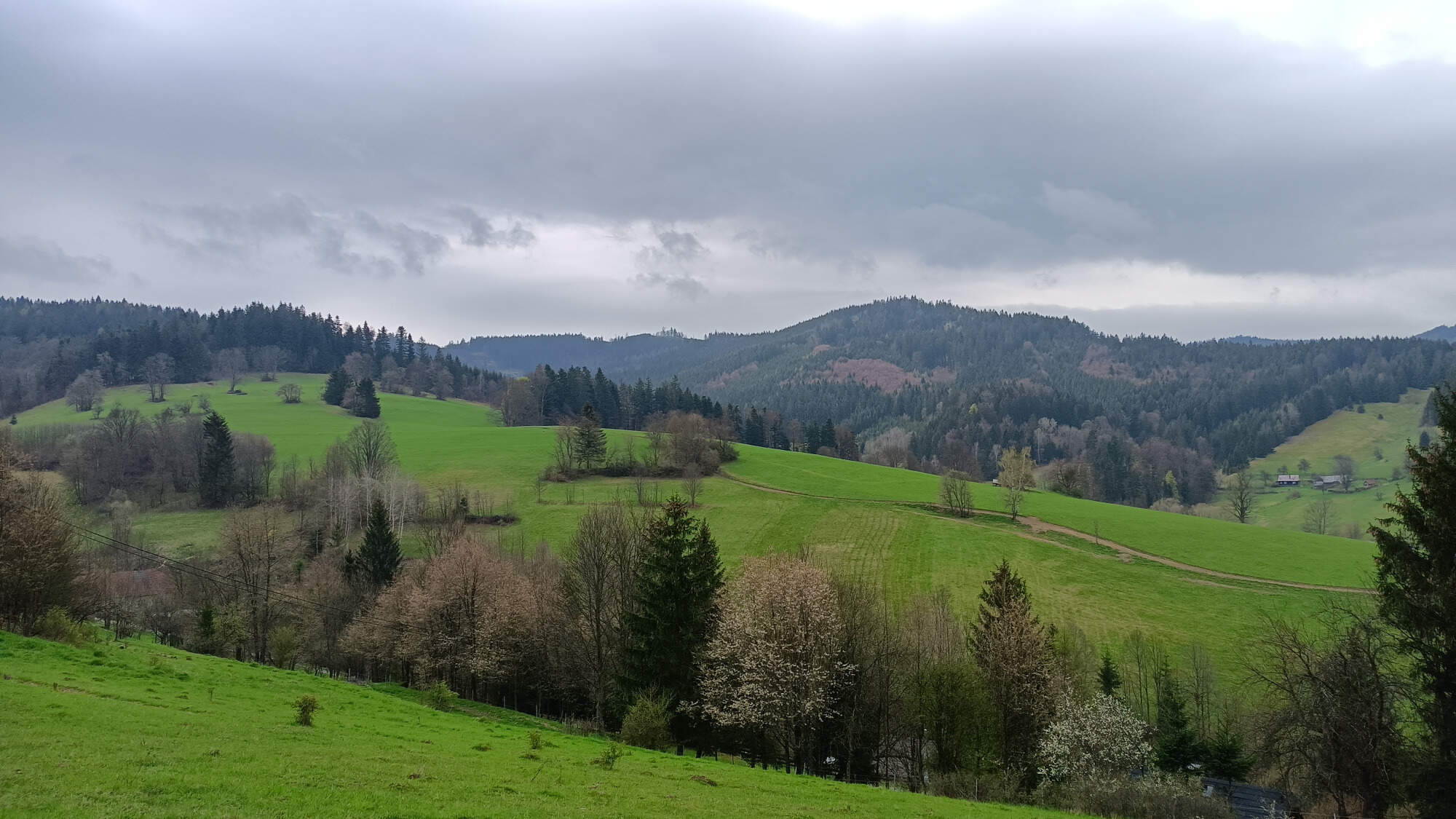 Once on the main trail, many stopped at the (recently renovated) chalet, but its capacity wasn't enough for a group of 50 people, so I decided to continue on. The clouds soon fell lower and, around 11:00, very faint rain started, though this was quite intermittent.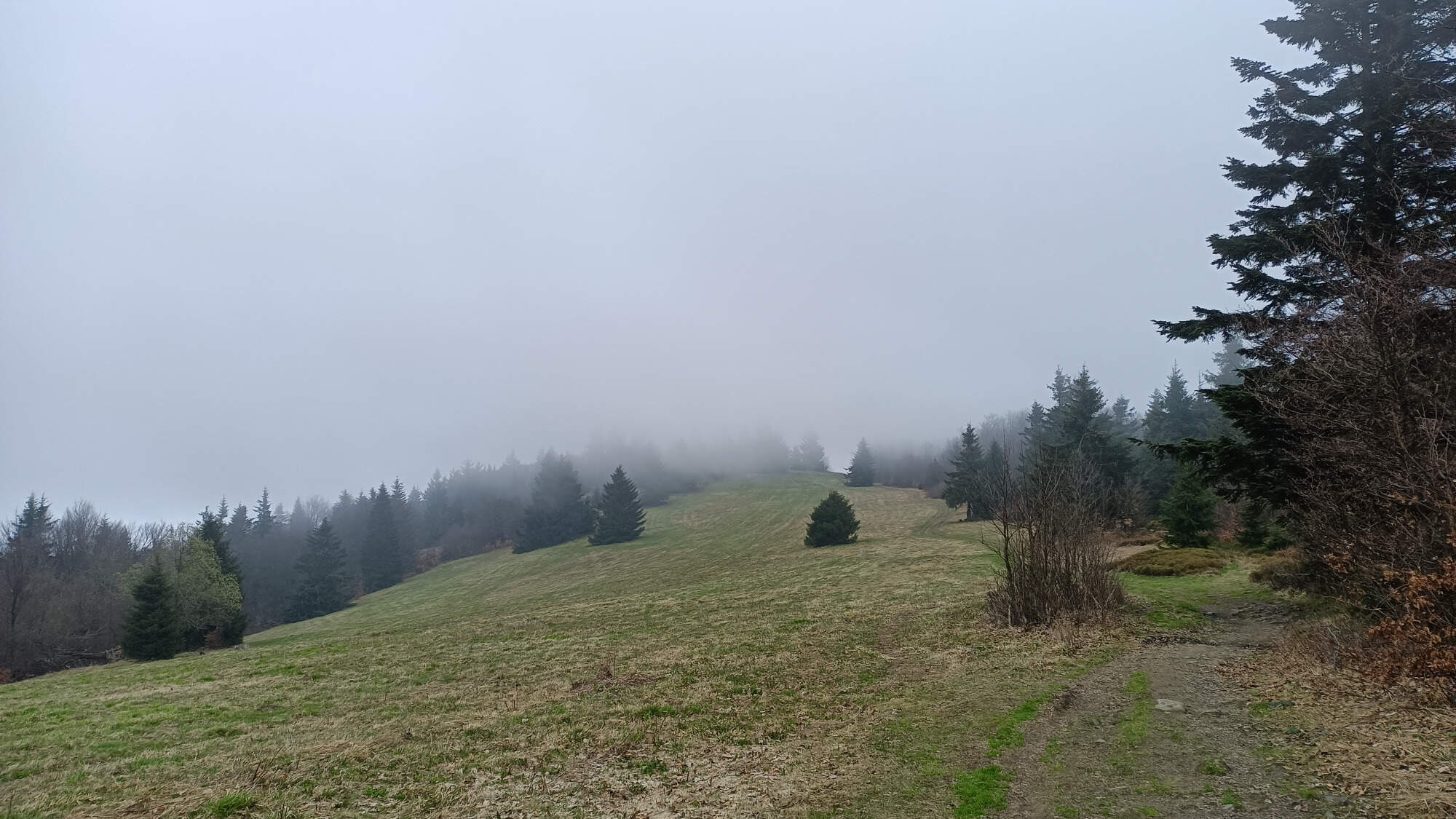 By 13:00, what fell from the skies was serious rain. The light drizzle had already made the trails muddy and my aged, once-waterproof jacket failed in its main purpose. Soon, I was soaked almost down to my underwear, having walked almost 20km already and 10 more to go. The rain didn't last that long – it eased up around 14:00. But it took another half-hour for it to stop completely. The clouds parted, letting us dry off a bit during the final steps toward our meeting point. There, I took a couple of photos of wooden sculptures, of which I show below the general view.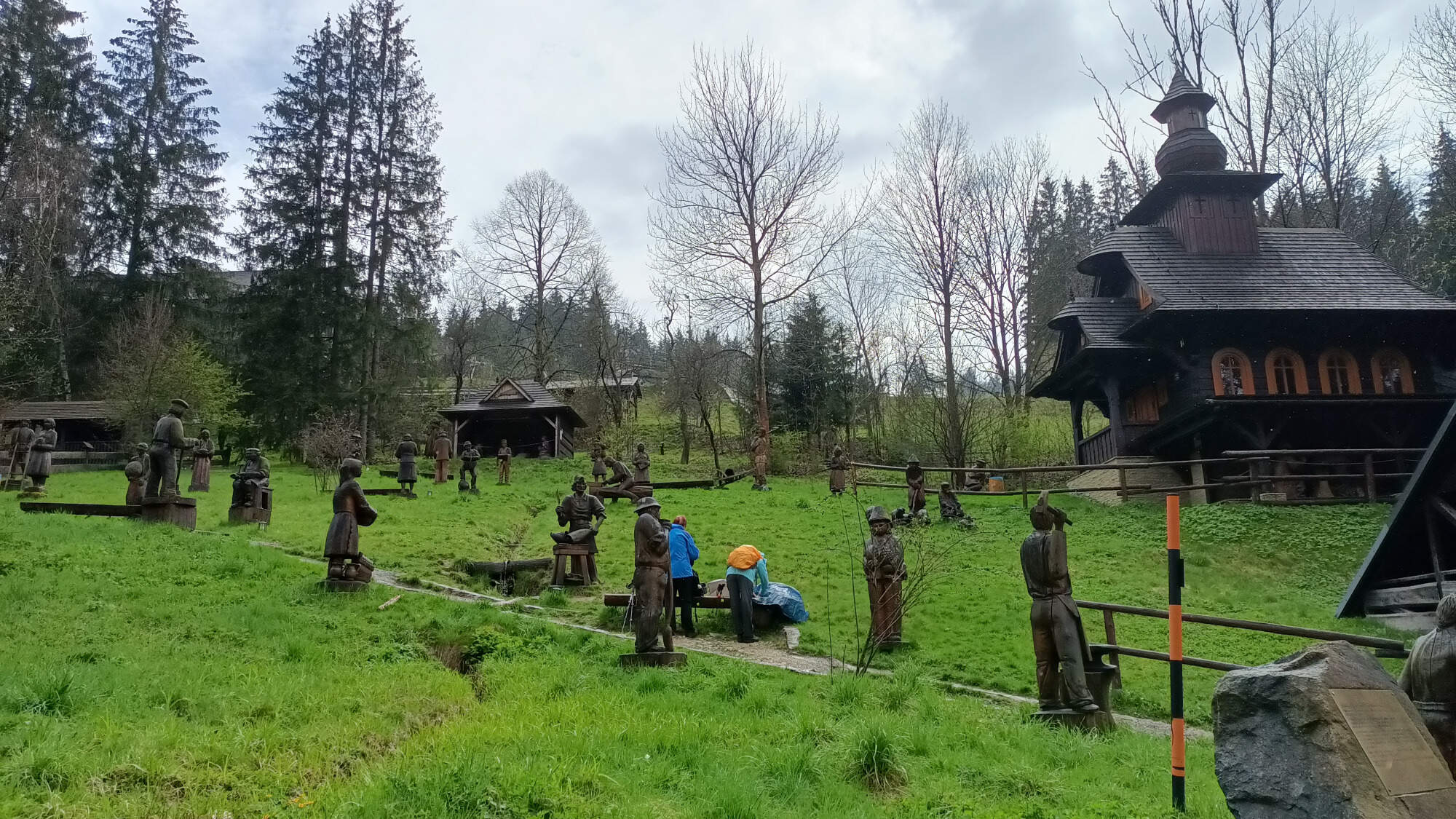 And, like this, my April hikes were over. Totaling a bit over 100km, it was definitely a good month, especially with the weather in mind. There would be no rest for my feet (and boots) as the first May hike was already planned for the first day of the coming month, but that's a story for another time.
---
I hope April's weather pulled fewer pranks on you than it did on me and that you were left with a good feeling at the month's end, whether your hobbies are indoorsy, outdoorsy, or a combination. And that May is treating you well so far.