Because of the autumn wave of restrictions, and my eventuall illness, I've taken almost 6 weeks break from any outdoor activity. So, resuming it was taken with a pair of walk in the nearby suburbs.
The first question I had to answer after I was released from quarantine on 18.11. was: how much had the break and the illness reduced my performance? Thus, I've decided to test it safe and stay near home on the relatively flat terrain, and thus make it a half-day walk each.
---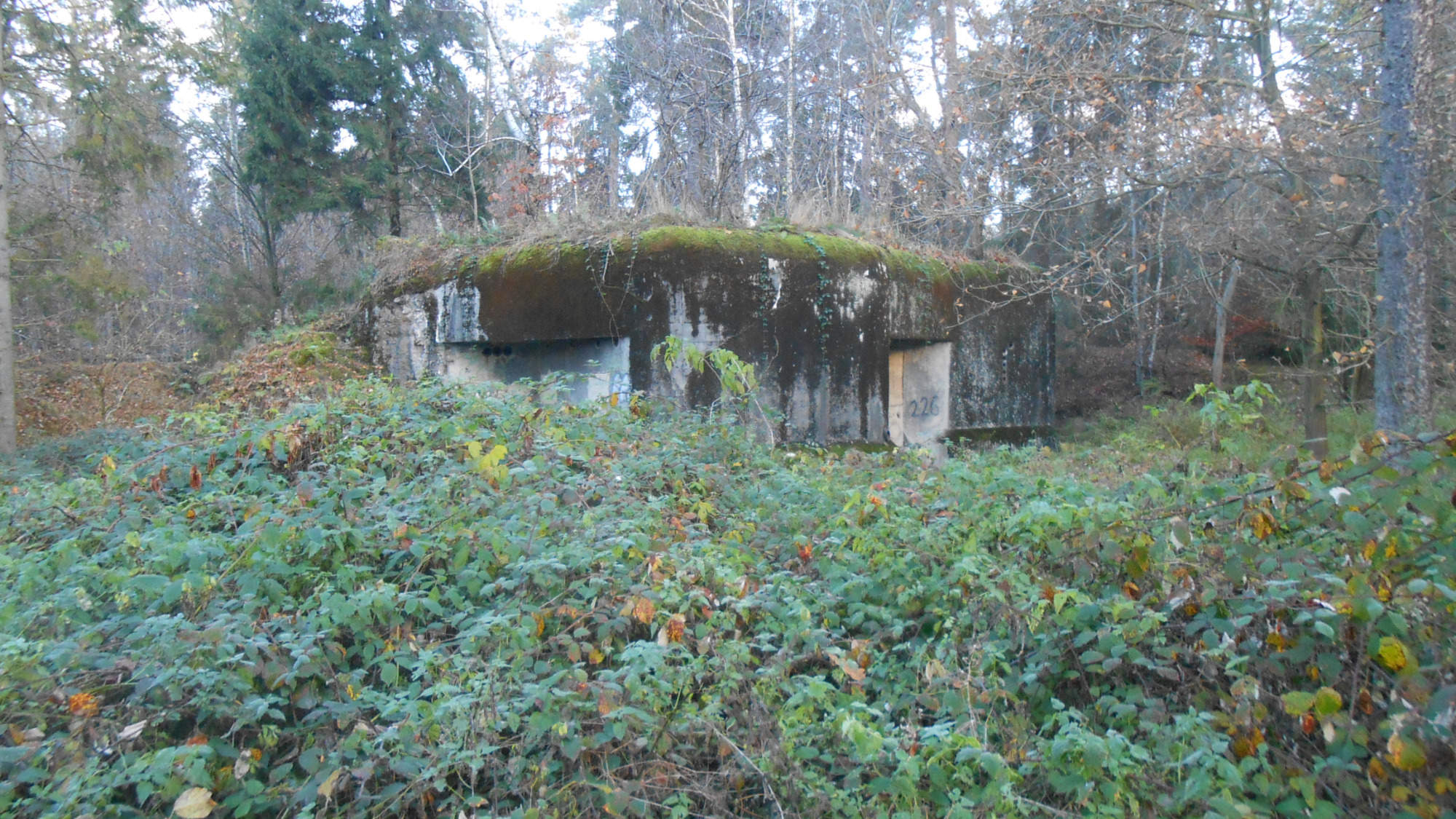 The first hike was through a place that is littered by WWII bukers of various sizes. Some of them only overgrown, others heavily damaged by the war itself. I haven't chosen this place for thinking about history (though I did a bit, and thought about if there's anything of it I could use for inspiration) but because several parts were in mixed or deciduous forests, and I presumed the damp air might be good for my still-recovering respiratory system.
Another aspect was that there was still a ban on being out-of-home between 22:00 and 5:00, barring travel to work, and long-distance trains were limited, which would make reaching many parts of the hills difficult for one or both of those reasons.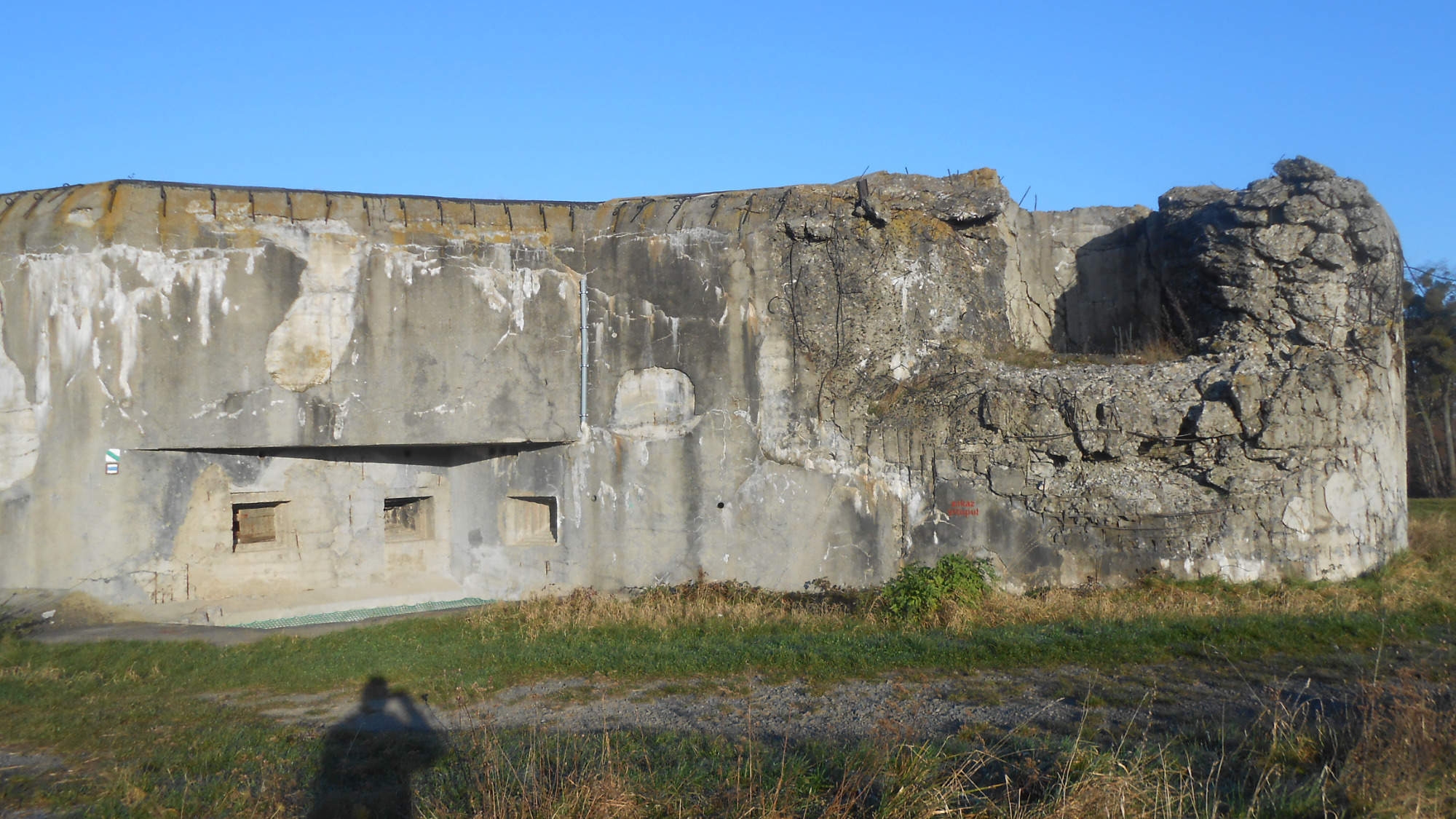 That day, specifically, was around zero, but once the autumn sun got high enough, it wasn't that bad. Wind across the fields was more noticeable, though.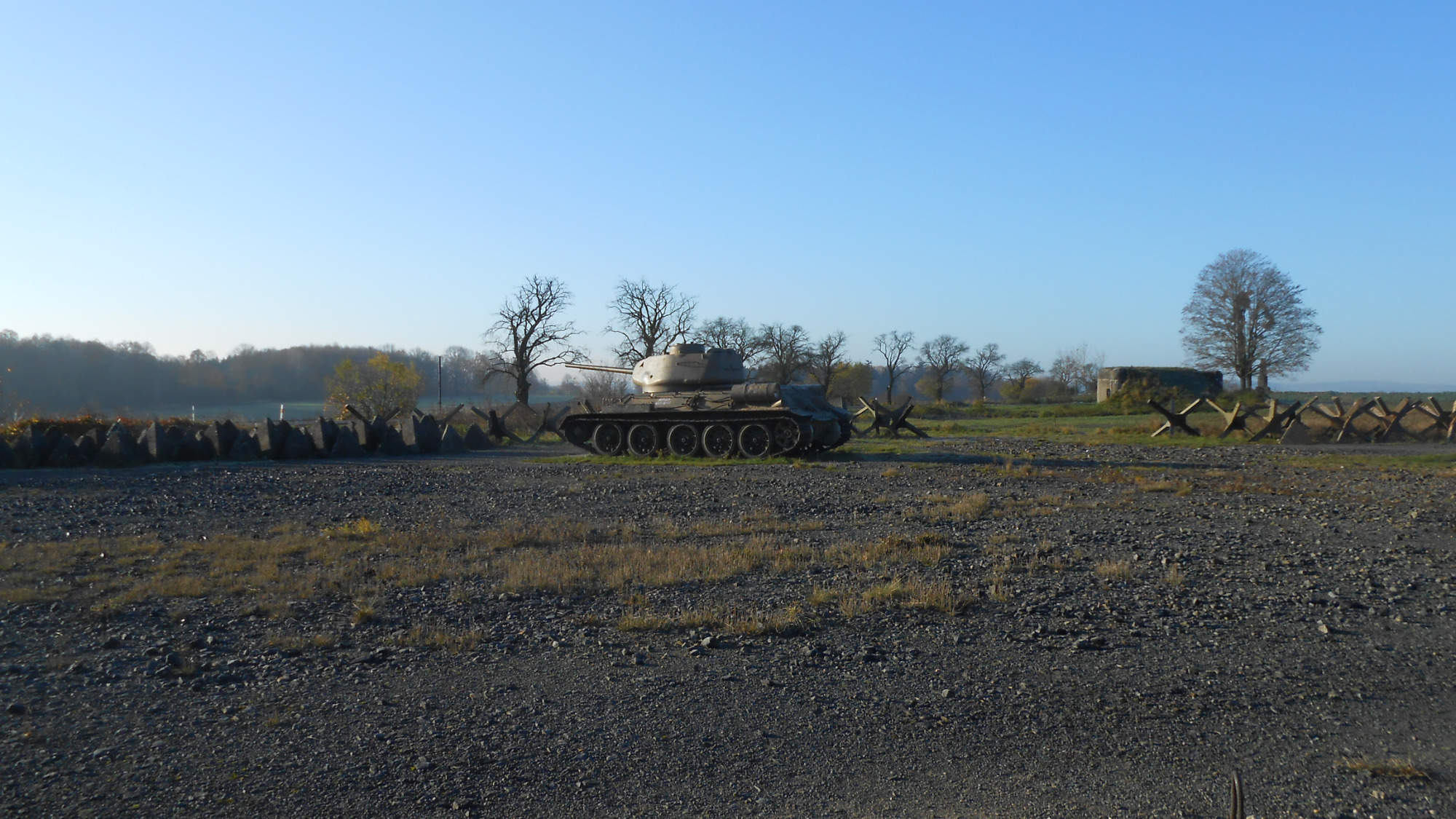 It seems that my condition wasn't as bad as I feared – I've managed to keep steady pace around 5km/h though, after the eventual 18km mark, I was becoming quite stiff.
Thus, I've hoped to go for another similar walk the next weekend…
---
I was, actually, prepared for it, but when I woke, the weather wasn't that good, so I postponed it for a week. For the second walk, the forecast was fitting October more than the first week of December – 10°C and warm wind.
And it was the windy weather that made me reach for the camera before even starting the walk as the skies were painted in shades of blue, orange, and pink – though my pocket camera isn't well-suited for taking pictures in dark or semi-dark and most of them ended up blurry. (If you've read my post about taking a night walk a few months ago, you know.) So, the first few shots were taken at the bus terminal (above), another from the bus itself (below)…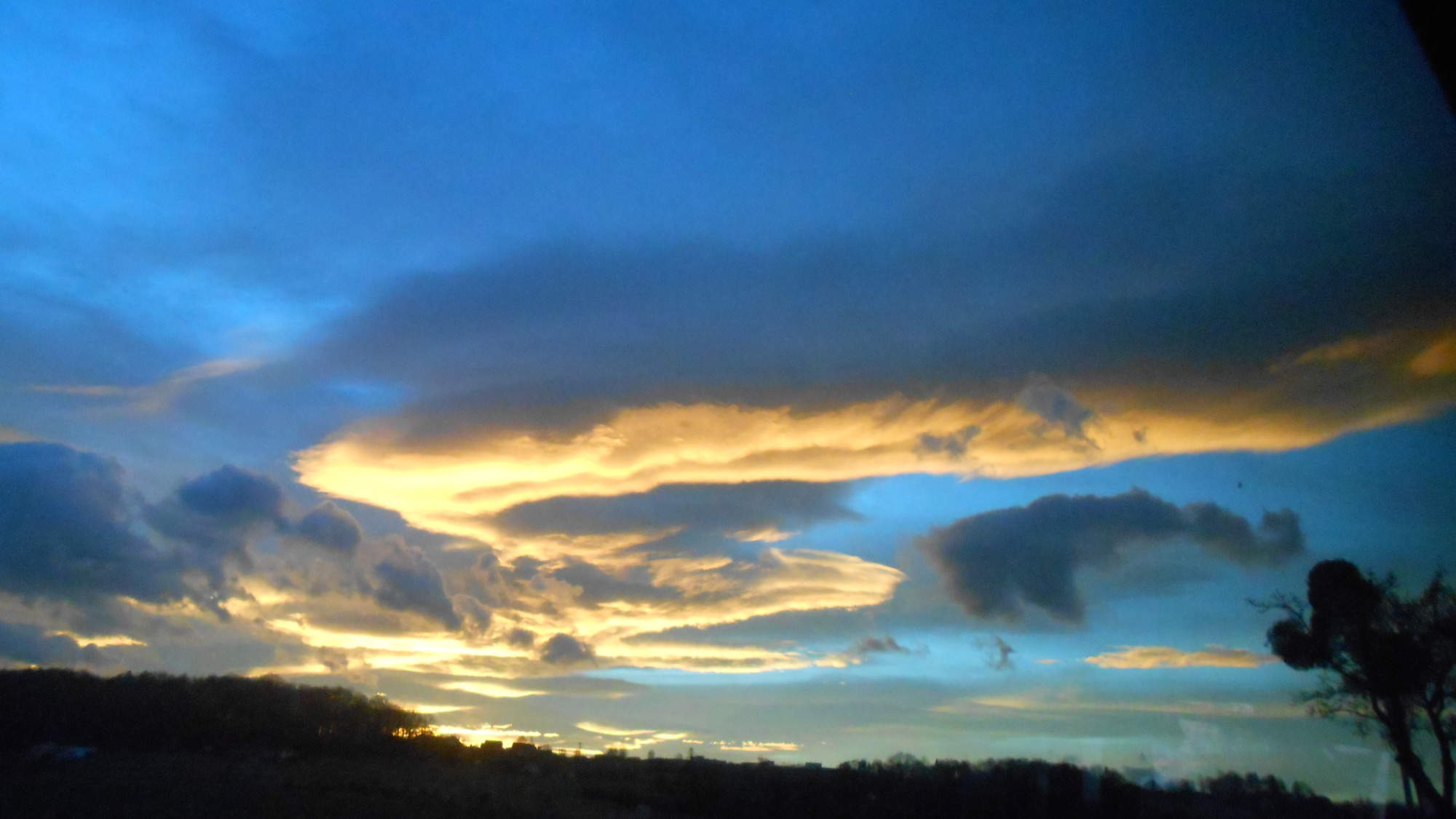 …and the final one after leaving the bus.
After the while it took me to descend from the hill towards the reservior, the sunrise was over and the show of colors was almost gone, but I took one more shot from the dam towards the hills.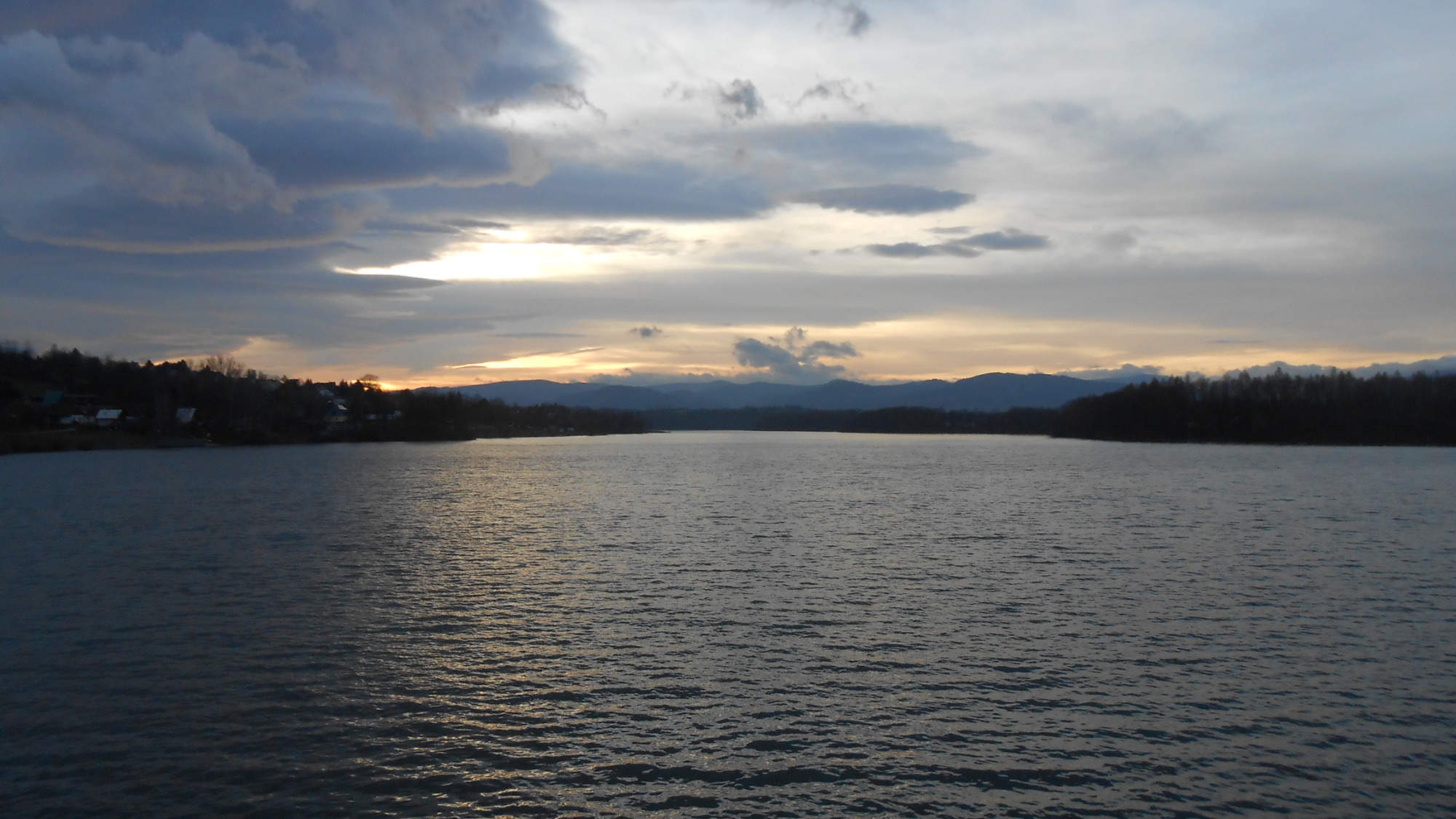 The final photo I took was at the train station in Havířov, as its renovation is nearing close – the building was a lengthy fight between architects, historians, and the owners whether to repair or demolish it. It was built in late 1960s in the 'socialistic realism' style used for towns built – often literally – on green fields across several places of Eastern Europe (just in my nearby area, four train stations were built in similar style, and housing for over 250.000 people). The size, however, is way too big for today's standards, and the building is far from cost-efficient for today's standards (especially when it comes to heating, as it still had the original 1960s windows and insulation). Several ideas were presented, one of them being to use part of the spacious hall as a gallery, though I admit I don't know which of them was selected.
To close this off: I'll need some time to get back to my full hiking strength, and a lot will depend on both the weather and the intensity of restrictions. But I'll try my best to get out (apart from going to work) as much as possible, because the 6-week break was way too long for my liking.
That's it for today, and see you soon.