May has passed by and thus it's time to look back at my hikes during that month. While April was about rocks, May was about water.
9.5. – A hint of warm days
2019 was extremely hot here – so hot that it was pretty much summer since mid-April by both day and night temperatures.
2020 is the exact opposite, night temperatures were often dropping below 5°C and day temperature stayed in 15-20°C range. In other words, the weather was NORMAL, of all things, and that's something I haven't seen in a while.
My first hike was on one of the warmest of those normal days, and the morning was even quite sunny, giving me this vibrant sight on the edge of a field. I started in a mountain pass and headed downhill, to reach a place in a valley, and seek a forgotten trail.
Forgotten did not mean hidden, though – so I found it easily. To my surprise, it was maintained on a very basic level (fallen trees cut just so one can pass). It led me around a mountain stream cascading down the valley – and thus I ascended on quite a steady pace.
It's quite pity the trail did not stay closer to the stream in the nicest places – such as the two small waterfalls.
Anyway, after passing through this trail, I made my way to the plateau in the hills above. The dry winter had made its mark, painting the landscape in bleak colors. And the gathering clouds only helped it.
My descent was through a place I know well – and posted pictures of a few times before – so just one this time. The water level in the falls was higher than during most summers but lower than usual in May due to the lack of snow over the winter.
In the following days, rain became more frequent, but the weather got nice for the weekend…
16.5. – A relaxing loop
My next hike was to be a relaxing loop to see a place I also know well but to reach it from a different side.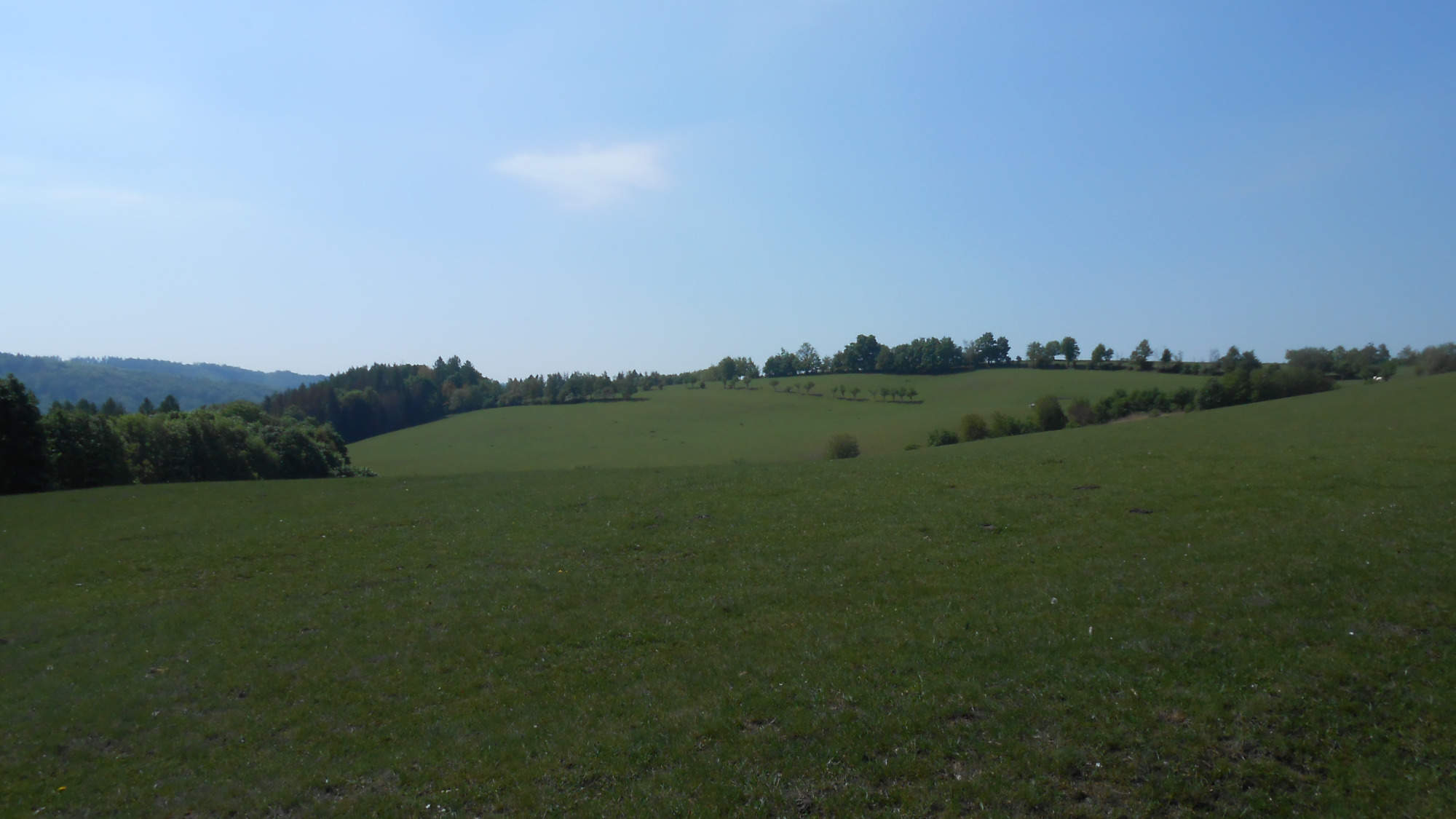 Sometimes, it's strange feeling to be in the foothills and see the relatively vast fields despite knowing I'm just over an hour's ride from a major town.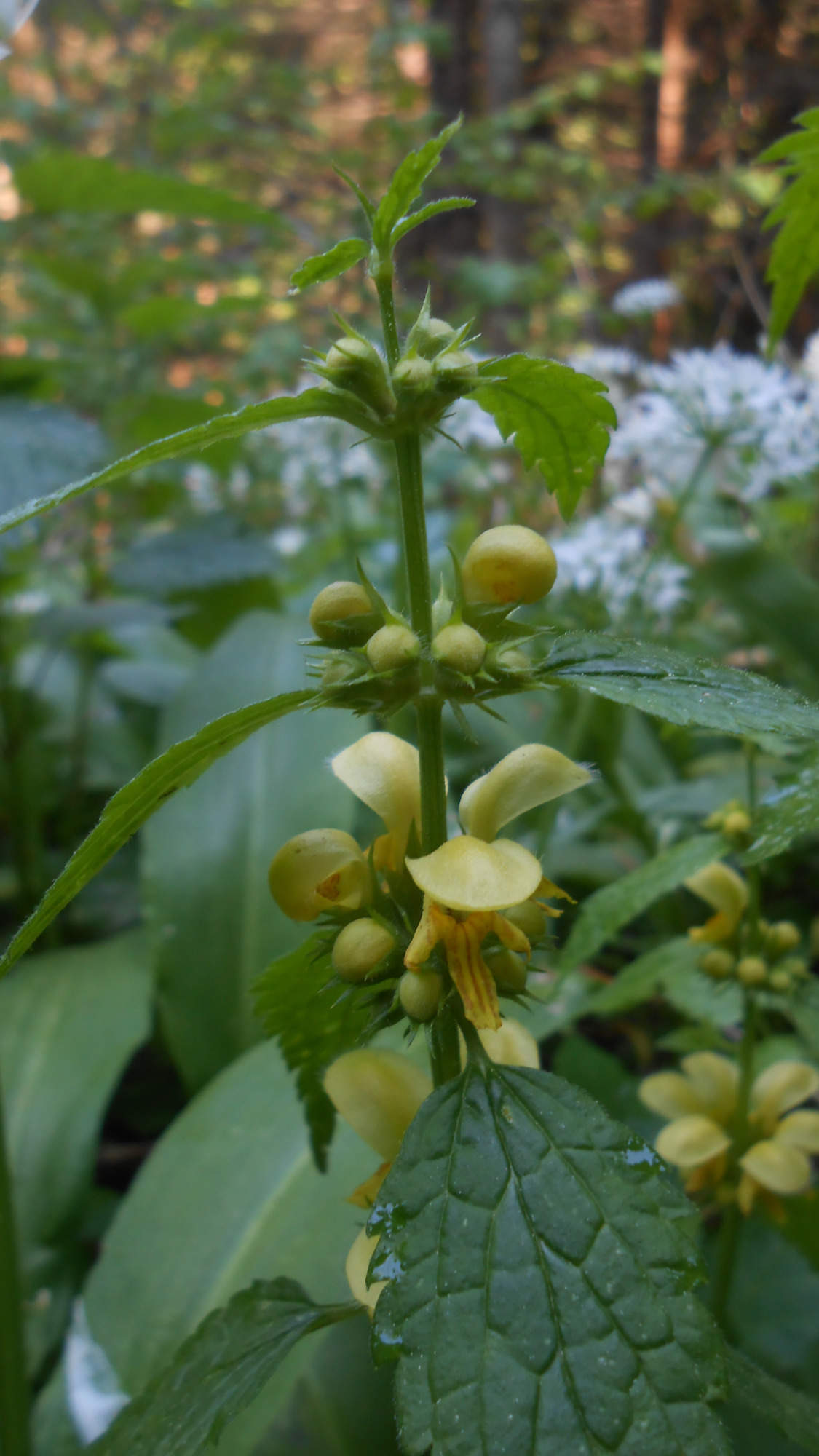 Anyway, mid-May meant I could still get some nice flower photos…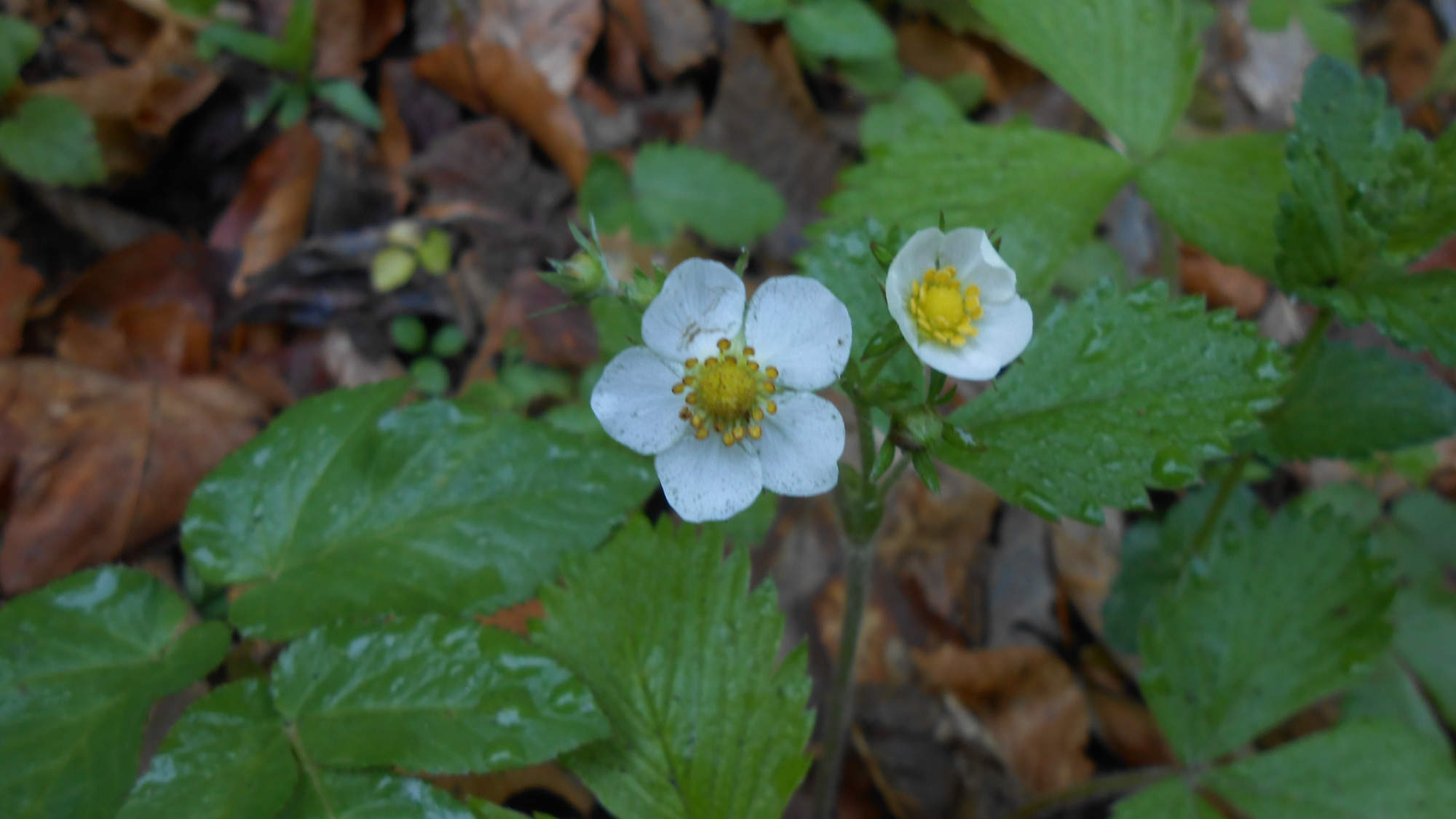 …though I guess wild strawberry is technically not a flower.
Then, after a short ascension, I crossed another field. There, this domesticated horse was willing to pose for a short moment – I guess until it was clear I had no treat to give.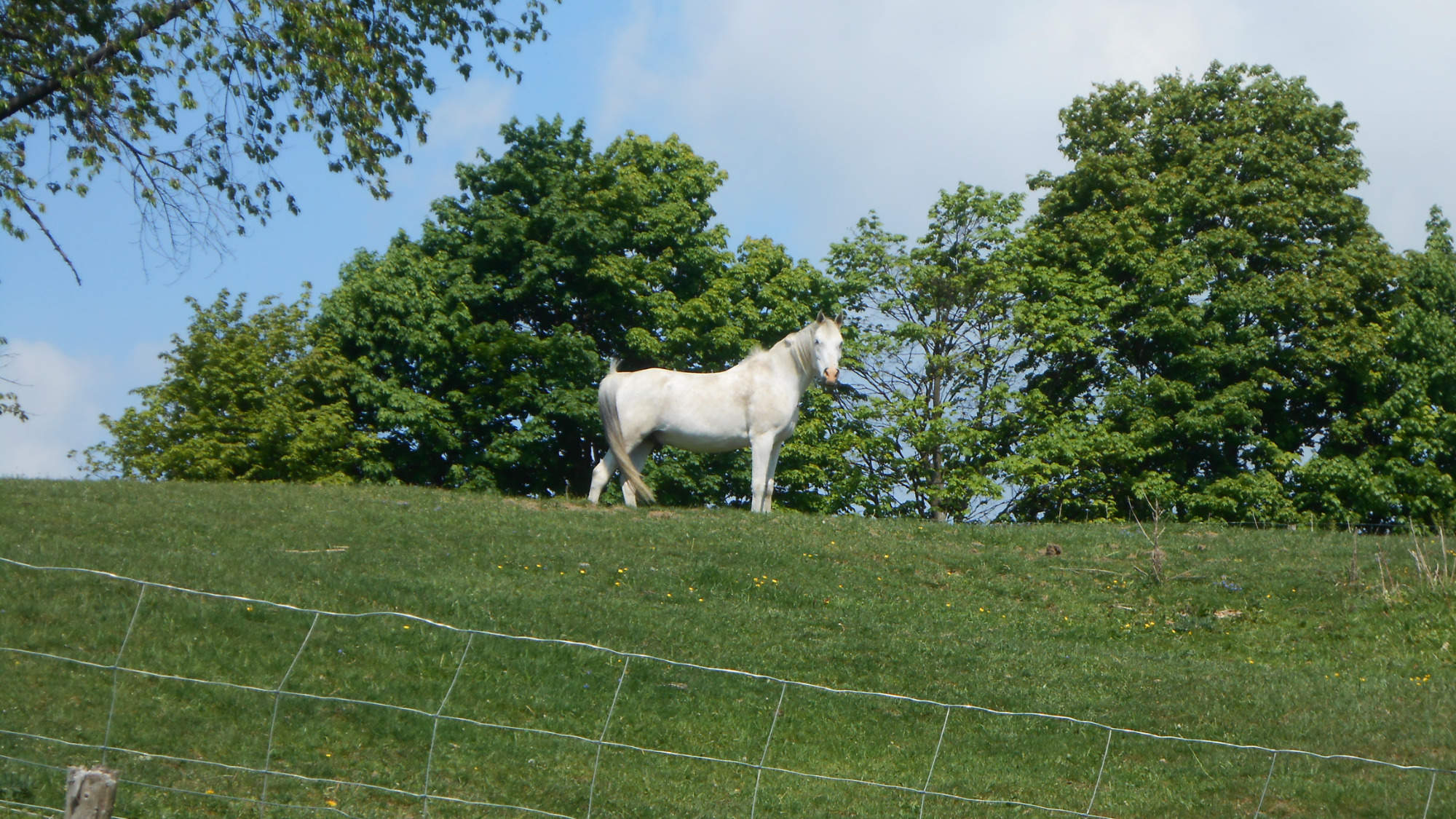 Crossing the whole field wasn't that clam, though – the far end of the pasture was occupied by a large herd of cows and I believe I've mentioned how the difference in weight ratio unsettles me even with just one cow, let alone 100+, so I was careful to make no rush movements as I walked on.
After calming myself down with a snack, I continued towards the falls – a place in good reach meant it was relatively busy (at least for the present times) and so I took just a few photos (it's not that long since I was there in Autumn 2018 where the colors seemed a better fit).
After which I was on my way to close the loop.
30.5. – Group travel reallowed
As the restrictions loosened, group travel was again a possibility. And it wouldn't be me to be stopped from exploring by the fact I was a part of group tour – not even the fact I was the author/leader. Once giving everyone instructions for their chosen journey and guiding the driver to the drop-off points, I left on the very last one and went off in hopes of finding some hidden treasure.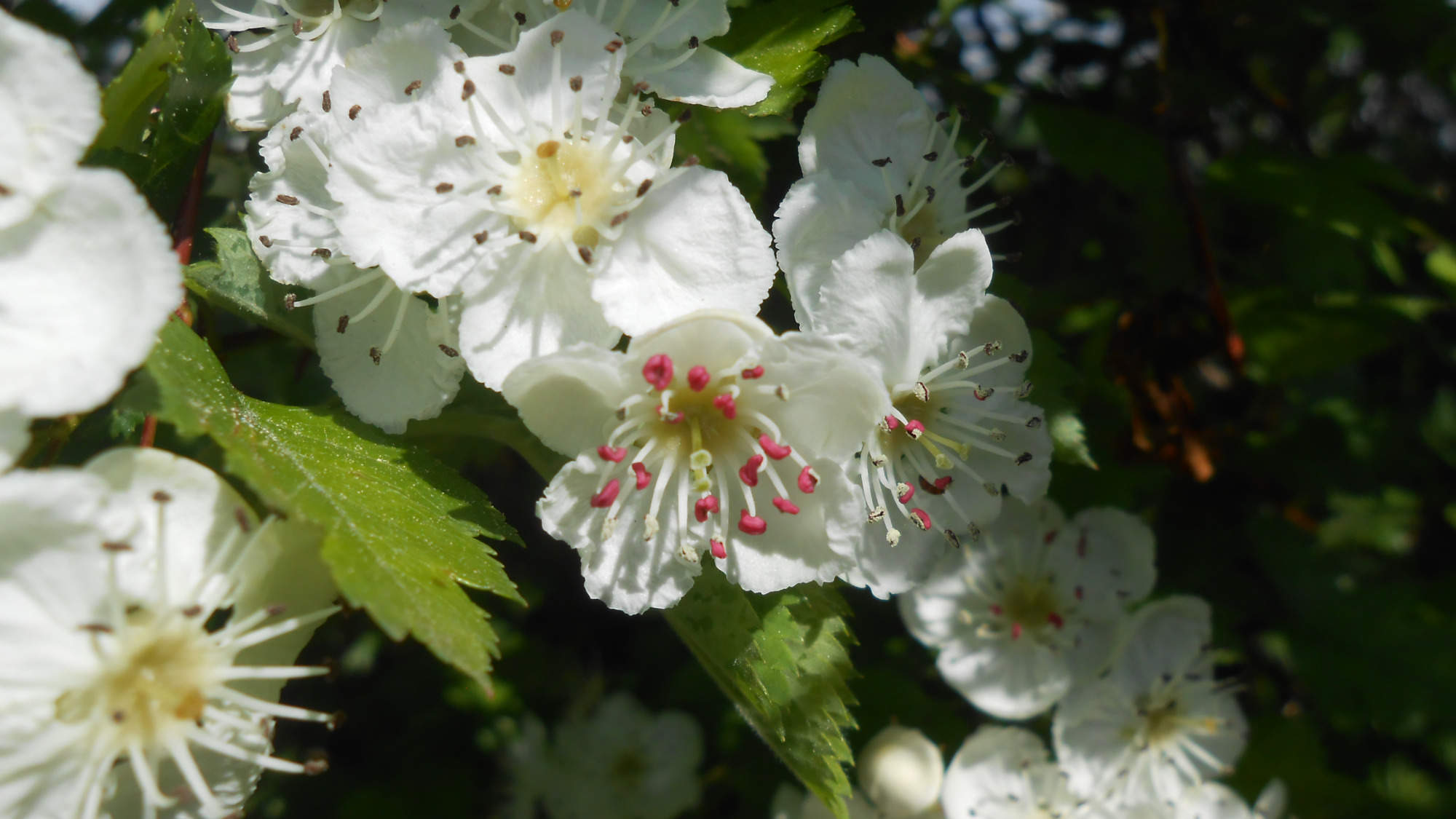 And I found it, figuratively speaking – in the form of an unknown waterfall.
Getting to the stream was quite easy – a lengthy walk an unused forest road.
It was getting from the bridge to the actual falls that was a challenge. A map from 2007 shows there should've been a path following the stream, but most of it was reclaimed by the woods since.
And the above-picture is a short section where there's anything left of the path (and you can see a hint of one of the falls between the trees).
The place is a set of three ot four falls around 6-8m tall, several waterslides, and many smaller cascades. The total length of this vanished path is around 250 meters, featuring a 160m vertical climb.
Taking pictures was another challenge – sometimes I pretty much walked on the stream's 'shore' – and finding a stable position on the wet stones during a steep uphill walk wasn't easy.
Including the time needed to take photos, this 0,5km of wilderness took me 25 minutes to walk – but it was a time well spent, just me and the nature. Then, I headed towards the main trail, to two peaks I've shown many times even here on this blog (so I took no pictures, especially as I was shrouded by a cloud during my break on the peak), and then took the path down, searching for one more small waterfall.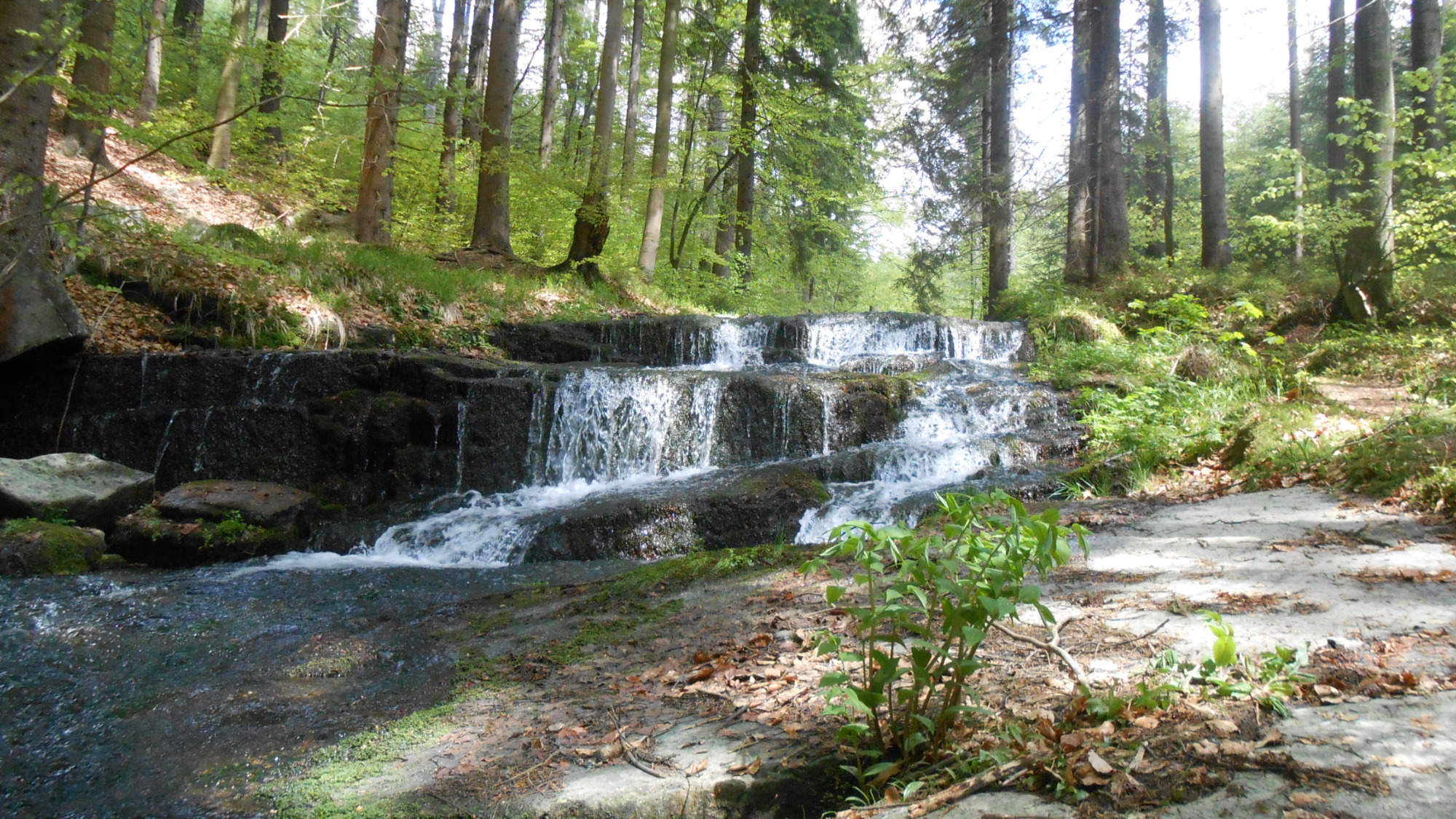 And I managed to find it – while it was near a marked trail, the 50m wide strip of forest between the stream and the trail is enough to mask it well – I was searching for it with my ears, straining them to find where the stream rumbled the most.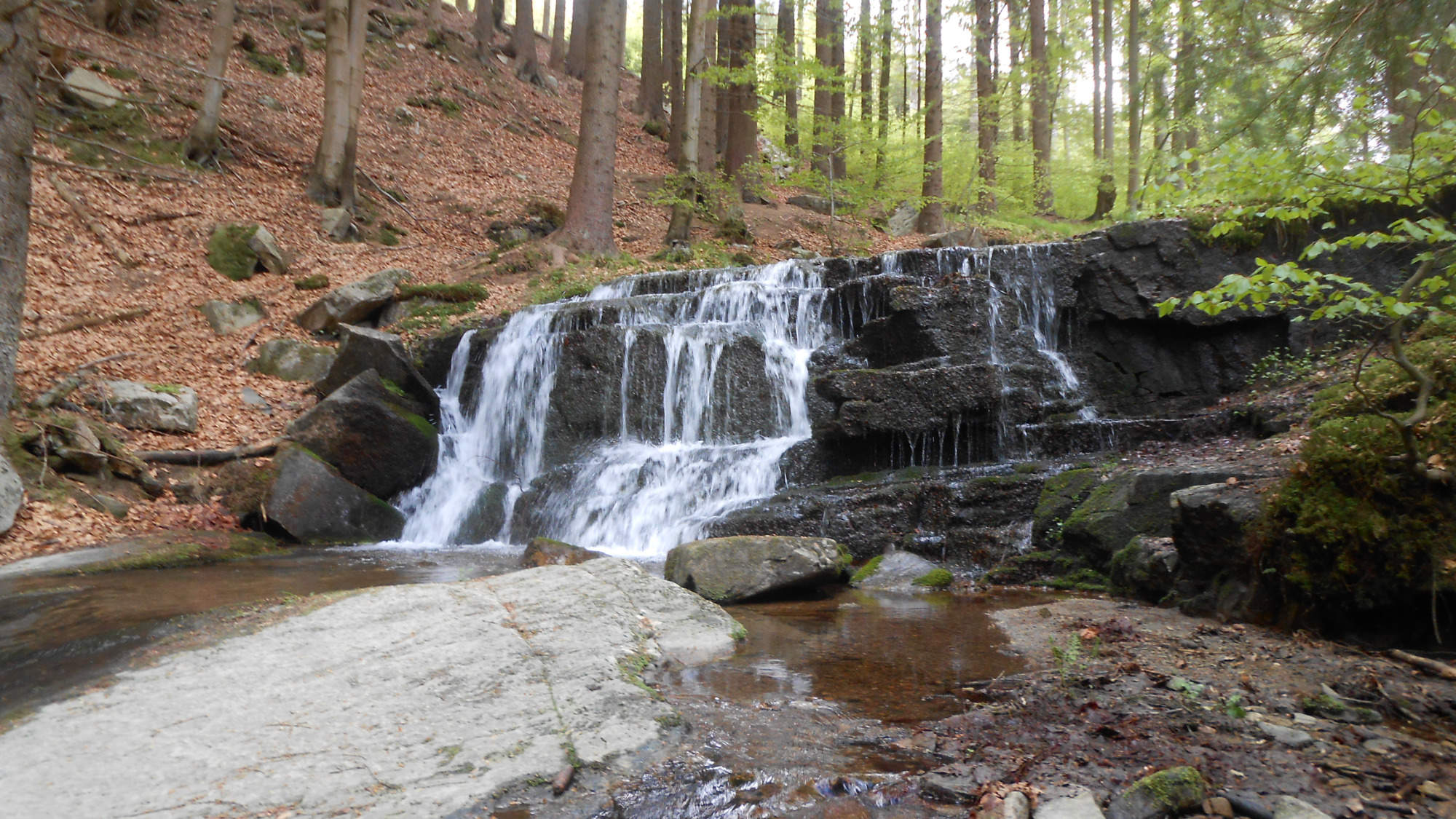 After that, all I had left was to reach the village where we were to be picked up. And with that moment, another month worth of hiking was over.
---
So, that's it for May 2020. I have some ideas for June, though I won't share them yet. I want to visit some places a bit more out of reach – and if I manage to do so, you'll know it, with pictures.
For now, stay healthy and have fun.