Something I mentioned earlier this year was that I was about to co-lead a week-long hiking event for a group of people. Now that it's behind me, let's have a look at how my time off went – with a some photos included.
I've already led a few one-day trips but this was the first time I was the 'brain' behind a week-long schedule. While the more experienced people in the hiking club took care of securing accomodation, I had to not only plan the hikes (with enough options for people of different physical strength) but also serve as a guide for the bus driver (mostly to let him know where he'll drop us out or pick us up, and when). And, mostly, to tell the people where – and why – are we going that day.
For someone who hates publicity, speeches, and anything that gets me to the spotlight, not as great.
The first day, I warned the people that one of the options led through a place with thickly-growing young spruces – only to see some of them were removed to make the trail passable. And, in a twist, another section of the trail led through dense shrubbery where I did not expect it – and was poorly marked, to make it worse. But no one got lost, at least.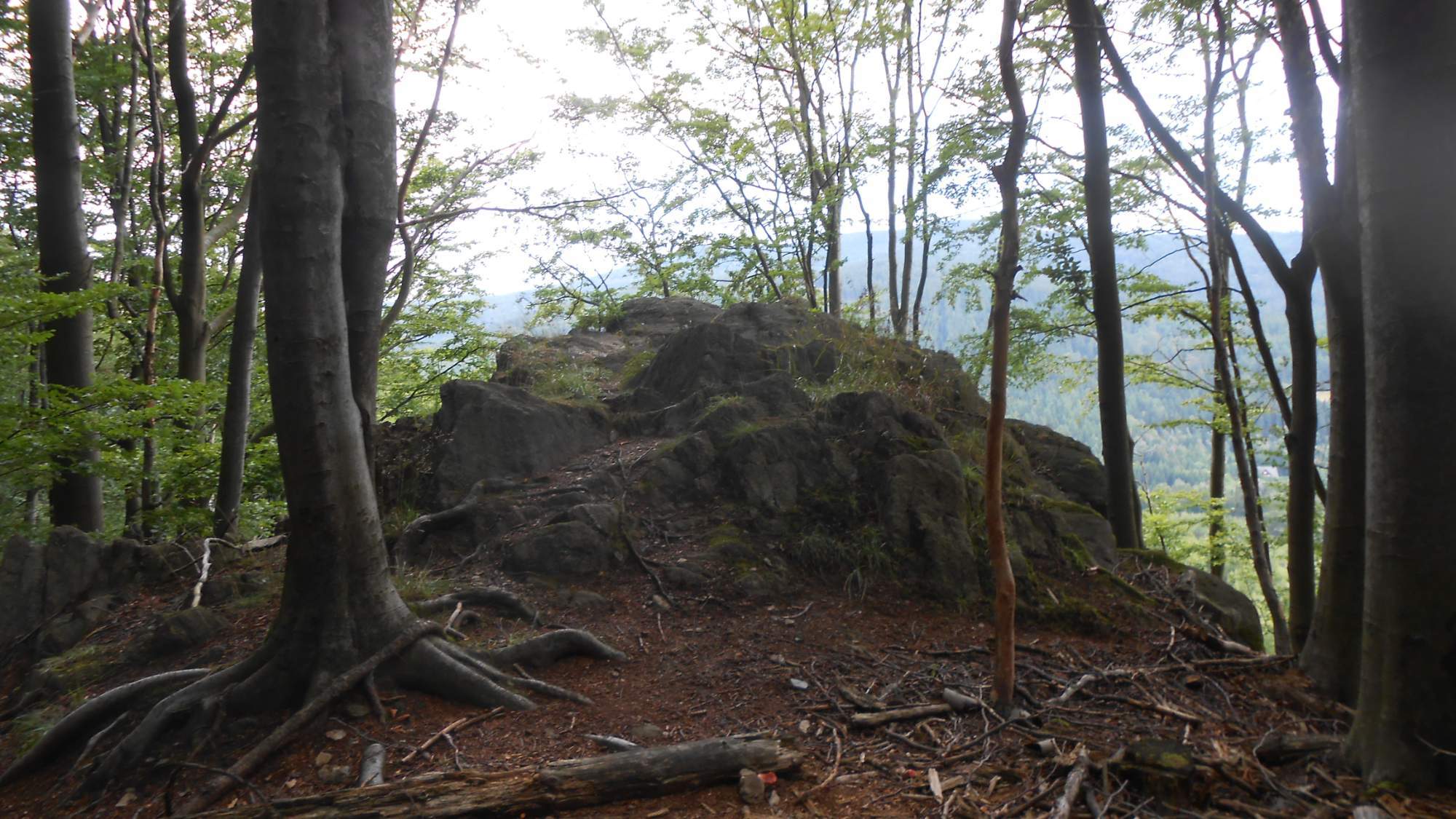 The day also began cloudy and remained that way for the major part, with some wind on the top of the lookout tower. Some 30 minutes before departure, rain came (though most people were at or close to the pick-up point already) and remained for all the 45-minute journey to the hotel.
The second day was typical summer – a warm, sunny day, a bright morning.
And, as I well know, 80%+ of success on any kind of hiking event is weather. In good weather, people will forget small issues. In bad weather, they'll grumble about it… a lot. The forecast was not making it wasy for me – I could've just as well rolled a dice and decide based on that – so I went with 'be prepared for anything'.
Even though I am not one to stay at one place too long and tend to walk at steady pace without stop, I remained at the peak 'Czernica' for over 30 minutes, by which the faster half made it there and I personally named the peaks around, showing where we were the previous day and where we were to walk the next.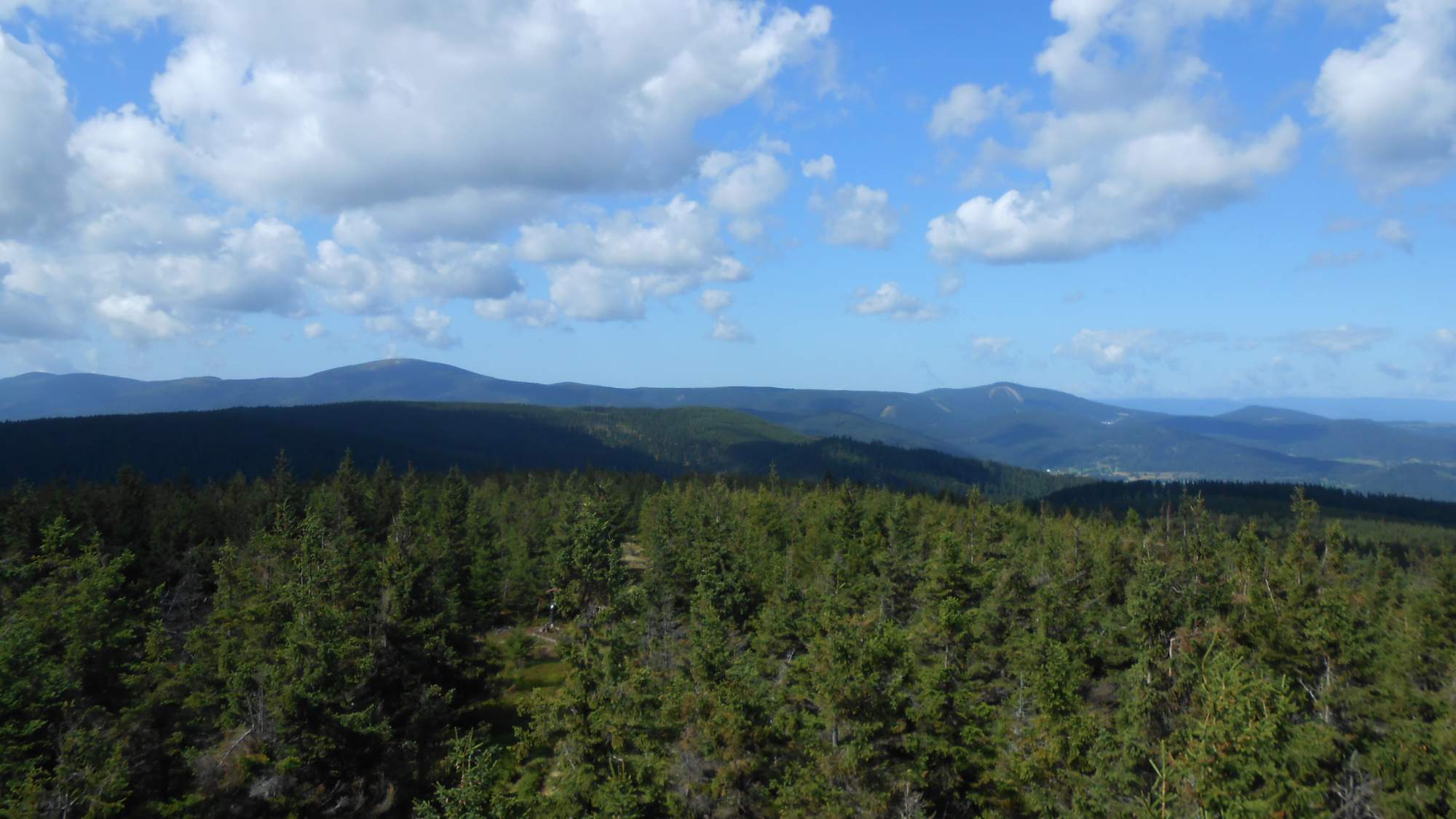 From there, it was a relaxing walk on what's a shoddy forest road used more in winter for cross-country skiing than in summer for walking. This relaxing journey was made a bit more interesting during a break we had later, when we tried in vain to take a photo of a beautiful butterfly – but it kept its wings folded for most of the time. The slower pace (as I was in the head of group of seven people) meant wandering thoughts and random looks into the nearby shrubs, which was not completely in vain…
…though carrying this 'harvest' for the next three hours became pretty tiring. The hike ended in a small town where the railroad was closed a few years ago but they preserved the historical station building.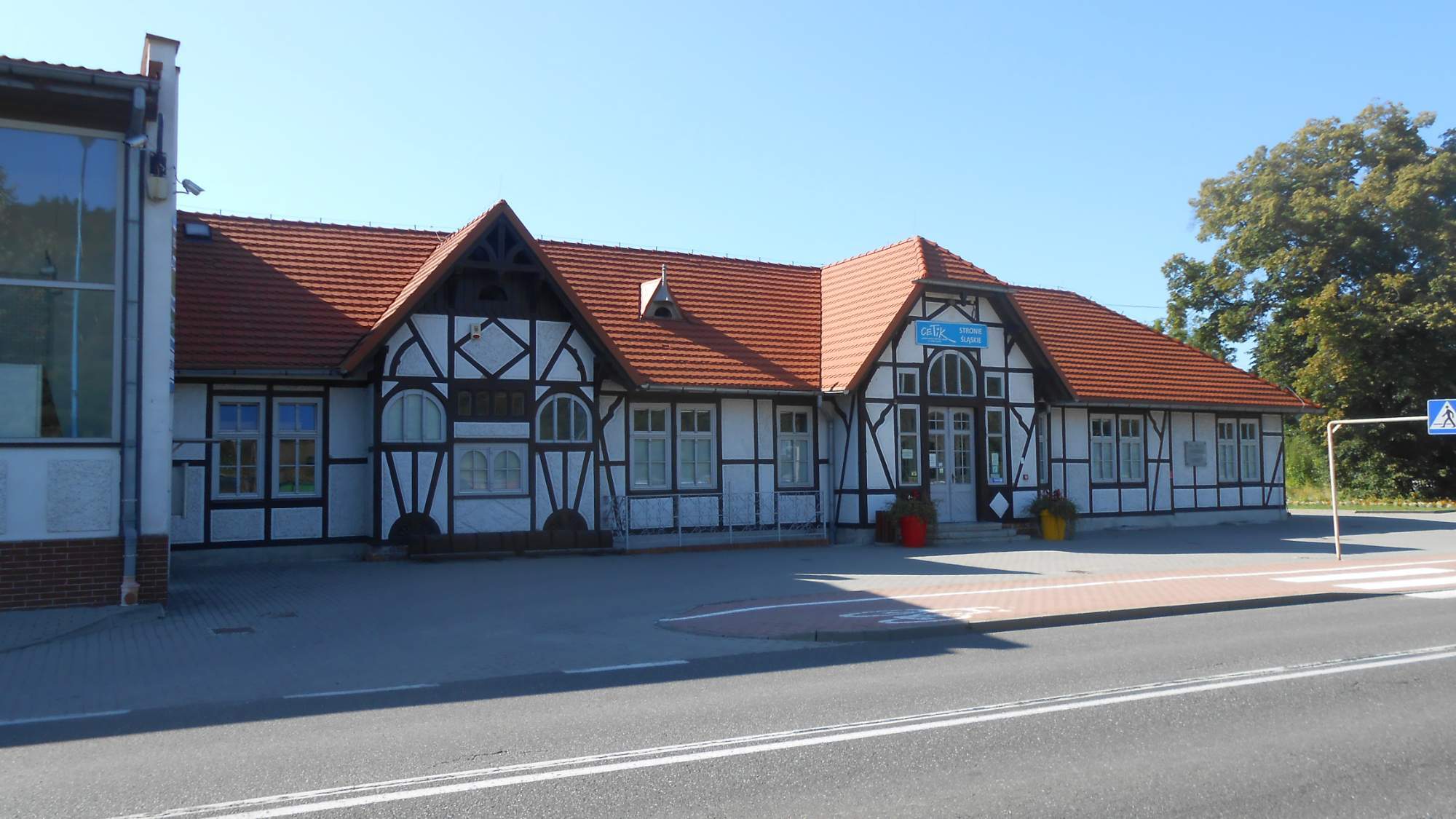 To our luck, the rain came in the night, and was gone before the morning – which also cooled down the landscape somehow. Yet, the clouds were not absent for the third day.
So, the third hike started in a village named 'Miedzygorze' – literally meaning 'between the mountains' in Polish. Pretty much in the middle of the village is a waterfall which was, once, artifically heightened – until the 1997 flood that tore the extension apart, so it's back to its original height now. There are several walkways around the place, allowing views from several angles (including from right above).
We went up to the 'Czarna Gora' peak, where a small lookout tower was supposed to stand. It was still there but the wood was significantly deteriorated and a simple fense wrapped around it, with warning signs. So, we went on to the main peak, and then to a parking below the mountains, where we were completely alone as many landmarks are closed on Monday in Poland (which I did not know). We also forgot to give the driver some local money, so he paid the guy in parking booth (who was there despite the caves being closed that day) in beer. Just Slavic things, huh?
The fourth day was free, to avoid issues with the laws regarding bus drivers. The next three days – when we visited a place full of sandstone rock formations – is something I'll cover in another post in a week.